Ethan Laidlaw and Bob Kortman
Ethan Laidlaw (right) and Bob Kortman (left), both of whom each appeared in over 20 serials, were featured in the 1941 serial "The Green Hornet Strikes Again". Both of these actors began their work in motion pictures during the silent era. Kortman made his first feature in 1914, and Laidlaw's earliest known feature was in '25. Both served in World War I, and both made quite a career of playing henchmen in Westerns; Kortman with William S. Hart and Laidlaw with Tom Tyler; each worked with Buck Jones and Tom Mix.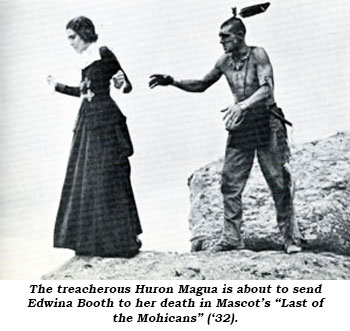 Of their serial work, who can forget Kortman's treacherous Magua opposite Harry Carey in "Last of the Mohicans"? Or his heavy roles in "The Miracle Rider" and "Adventures of Red Ryder". Ethan Laidlaw's roles were usually smaller, but his portrayal of Pete in "Gordon of Ghost City" is a good example of his work.
Ethan Laidlaw was born November 25, 1899, in Butte, MT, and gained an engineering degree. He worked various jobs, such as bus driver, mechanic, steam fitter, painter, policeman,

and salesman. For some reason he made his way to Chicago, IL, where he married in 1923 to Mildred Carter; and shortly afterward made his way to California, where an undocumented report states he played a bit role in Lon Chaney's "Hunchback of Notre Dame", which also featured Bob Kortman. Ethan's first work of record in a film was in '25 for "Crack O' Doom", followed by two Westerns that started him on a career in silent pictures opposite Tom Tyler, Bob Custer, Hoot Gibson, and others .His final silent Western was in '29 opposite Tom Mix in "Outlawed", followed a short time later that same year as one of the stars (as the bad guy, of course) in "Bride of the Desert". He made an easy sound transition from there, appearing in over 200 films. His first serial we can find record of was "Airmail Mystery" in '32, and the final one was 10 years later, "Gangbusters". Other serials were "Tim Tyler's Luck", "Phantom of the Air", "Junior G-Men", "Great Adventures of Wild Bill Hickok", "Perils of Pauline", "Dick Tracy's G-Men" and "Don Winslow of the Navy". Ethan would often show up to work riding his motorcycle, and continued working in features (one of his best roles in his later years being a nice part as John Dehner's henchman Lame Jack Bennett in the '53 Rory Calhoun Western, "Powder River") and eventually small bits in TV shows (especially "Wyatt Earp") until his death on May 25, 1963 in L.A.
Ethan and Bob Kortman worked together in the Santa Cruz Mountains of California in the '42 release, "The Forest Rangers", at which time a reporter from the local newspaper visited the set and interviewed Laidlaw. It was reported at this time Ethan had been credited by "Ripley's Believe It or Not" to have died more times on screen than any other actor. This reporter also noted, "Ethan Laidlaw and Bob Kortman wouldn't play anything but the part of a villain." Laidlaw told the reporter, "Bob and I are always heavies in pictures. We are always chosen to be the meanies. We've been doing this kind of work for 20 years. I've died more times than any other fellow on the screen today. Bob, incidentally, used to be William S. Hart's assistant, as well as being a heavy." Ethan went on to explain to the reporter, "It takes me a day to get a good growth of beard and I'll let my hair grow pretty long so I look the part. Kortman and I wear gray plaid lumberjack shirts, pants that are far too tight and too short for us (for this picture). We're not satisfied with wearing our costumes on the set only, we wear them in the lobby of the hotel and on the street."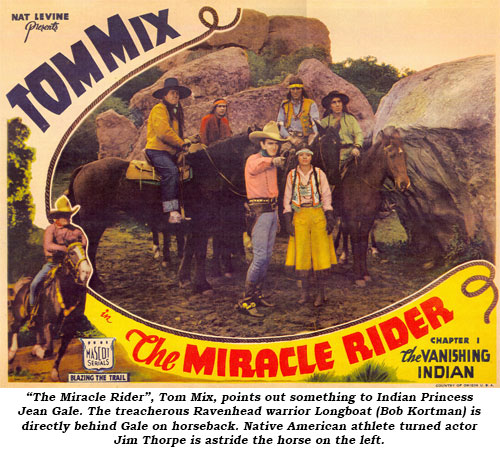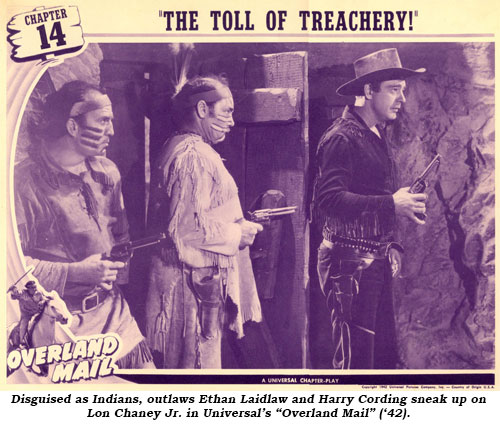 Bob Kortman was born December 24, 1887, in the state of New York, and was educated in England and Germany. Before arriving in Hollywood by 1911 where he worked as a horse trainer for Thomas Ince, Bob spent six years with the U.S. Cavalry. His first known film, "Desert Gold", led to several films with William S. Hart from 1915-1919. In 1920, Bob appeared in his first of some 29 serials, "The Great Radium Mystery". Several of his other serials include "Mystery Mountain", "Vigilantes Are Coming" and "Zorro Rides Again".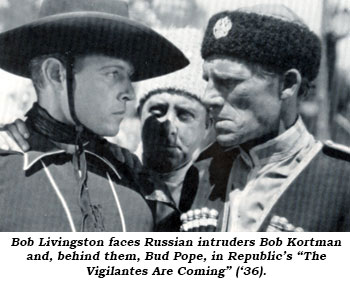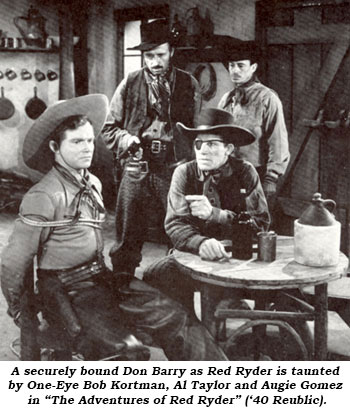 Bob, who appeared in over 250 films (including "The Virginian"—also with Ethan Laidlaw—"Trail of the Lonesome Pine", "Sandflow", "Whispering Skull", "Along Came Jones", "Streets of Laredo", and his final film, "Aaron Slick from Punkin Crick" in '52) spent his final years working as a janitor for the Directors Guild. He died March 13, 1967, at the Veterans Hospital in Long Beach, CA. For an insight into the career of many of these great feature players, one should read BEST OF THE BADMEN by Boyd Magers, Bob Nareau and Bobby Copeland, as well as FEATURE PLAYERS: STORIES BEHIND THE FACES by Tom and Jim Goldrup.
Classic Photo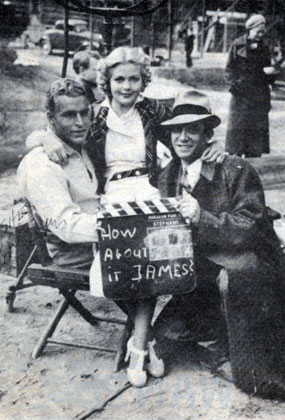 Gag photo of Buster Crabbe, Jean Rogers and Frederick Stephani taken on the "Flash Gordon" set in 1936 for Jean Rogers' boyfriend at the time, James.
German born Stephani (1903-1962) co-wrote the serial with Ella O'Neill, George Plympton and Basil Dickey and co-directed with Ray Taylor. Stephani continued to write and direct until his death.