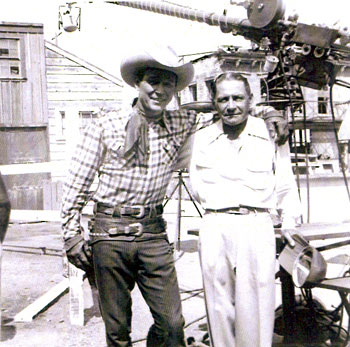 Director Joe Kane visits Roy Rogers on the set of his TV series. Kane had earlier served as director and associate producer on dozens of Roy's pictures at Republic in the '30s and '40s.
Here's one for the ladies. Clint "Cheyenne" Walker.
Rex Bell and wife Clara Bow. In silents, Clara was known as the "It" Girl. Rex Bell was a late silents, early '30s B-western star who later became Lt. Governor of Nevada. (Thanx to Bobby Copeland.)
Jack and Tim Holt, who co-starred together in "Arizona Ranger" ('48 RKO), with Jennifer Holt, daughter of Jack and sister of Tim.
Dale Robertson and daughter Rochelle with their menagerie on Dale's San Fernando Valley ranch in the late '50s.
Kathleen O'Malley, daughter of character actor Pat O'Malley, gets together for a little music with Universal B-western comic Fuzzy Knight on the set of O'Malley's film, "Lady on a Train" ('45) which starred Deanna Durbin.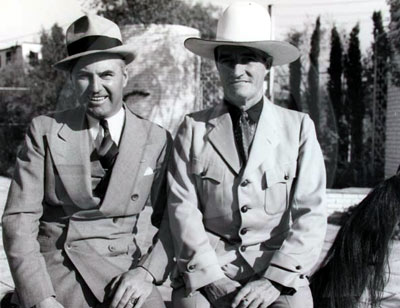 Boxing legend Jack Dempsey with cowboy legend Tom Mix. Circa mid '30s. Dempsey was World Heavy Weight Champion from 1919-1926. (Photo courtesy Bobby Copeland.)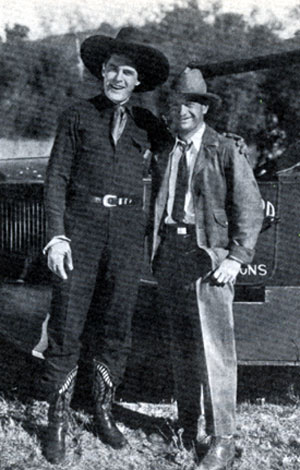 Ken Maynard beside producer/director Harry Joe Brown. Brown produced and/or directed many of Ken's late '20s- early '30s westerns at First National and Universal. Brown later produced over 100 films, notably in conjunction with Randolph Scott
from '47-'60.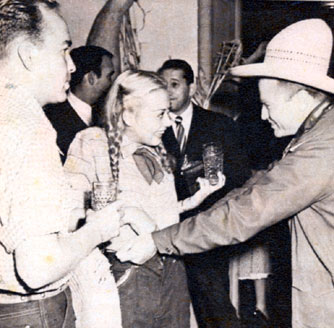 Don Barry clowns around with a pig-tailed Adele Mara as he attempts to pull the rope holding up Adele's blue jeans.
Clayton Moore as the Lone Ranger at a public appearance in Kansas City with local dignitary Matt Plunkett (2/11/56).
Roy Rogers views his new born son, Roy Rogers Jr., on October 28, 1946. Roy was on route from Chicago at the time of Dusty's birth. Six days after Roy Jr. was born, Mrs. Arline Rogers became ill and died. (Photo courtesy Bobby Copeland.)
Monogram B-western star Johnny Mack Brown shares a dance with June Horne, Mrs. Jackie Cooper, in November '45.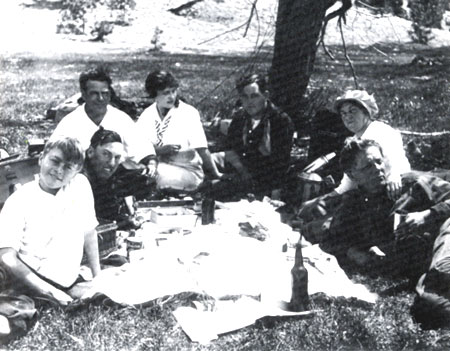 Silent stars Helen Holmes and Leo Maloney (center) circa 1915 during a lunch break while filming a chapter of Holmes' "Hazards of Helen" Kalem serial.
Kirby Grant, best known as TV's "Sky King", is perched here on the flight deck of the new Sky Knight which he just test-hopped at the Wichita, Kansas, aircraft plant in the Fall of '62. Kirby took his annual refresher course in Wichita and at the same time toured the assembly line at the factory.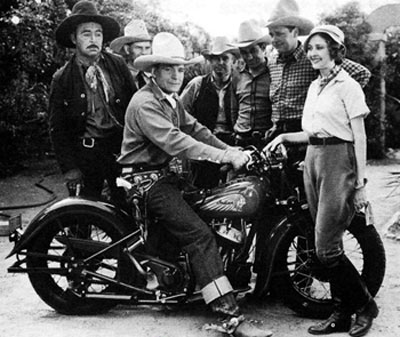 Buck Jones is mighty proud of his new Indian motorcycle. Standing in front is "Red Rider" serial heroine Marion Shilling. Beside her in the checkered shirt is Ed Cobb. Photo taken in 1934 during the making of that Universal serial. (Photo courtesy Bobby Copeland.)
Beverly Tyler and Audie Murphy study their script for "The Cimarron Kid"
('51 Universal).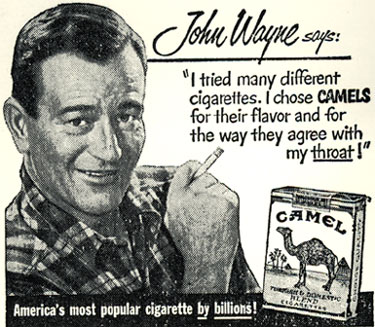 Cowboy cancer alert!
RCA Victor gag photo as band leader Tommy Dorsey holds up Tex Williams with two records instead of two guns (11/48).
Randolph Scott and an official of the annual Sheriff's Rodeo at the L. A. Colisseum make a rifle and ribbon presentation to Gene Autry. (Thanx to Bobby Copeland.)
William S. Hart coaches Johnny Mack Brown on how to do a crouper mount during the filming of "Billy the Kid" ('30 MGM).
Yvonne De Carlo gets a lesson in gun-handling from Rod Cameron while the couple
were co-starring in "Frontier Gal" ('45 Universal).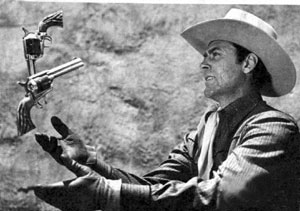 Republic's B-western star Allan "Rocky" Lane practices his gun tricks in this August 1947 publicity photo.
A cowboy legend and a music legend...Sunset Carson and Marty Robbins.
Circa late '70s.
William Boyd as Hopalong Cassidy presents a gorgeous bouquet of roses to Norweigan figure skating champion Sonja Heinie. Heinie won more Olympic and World titles than any other ladies figure skater. (Photo courtesy Bobby Copeland.)
In the '60s and '70s Loretta Brauckmann worked in Hollywood as a film caterer. She's seen here with James Arness and Fess Parker on the sets of "Gunsmoke" and "Daniel Boone", both in '64. (Pictures taken from REMINISCE magazine April 2010.