A Tribute to the King of the Cowboys, Roy Rogers!
Born November 5, 1911
Died July 6, 1998.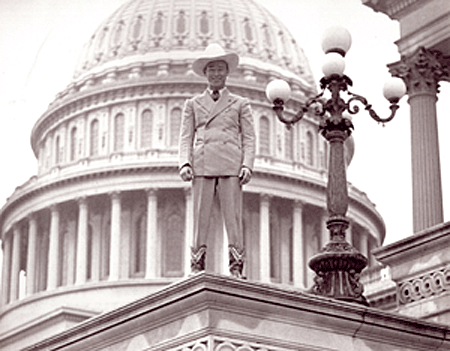 Roy in Washington.
Roy has a little monkeyshines going on.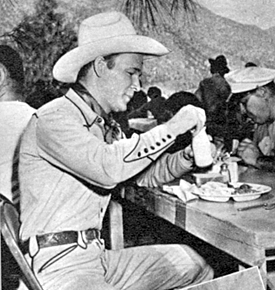 Roy grabs a bite on location in 1945.
Roy relaxes after a screen fight with ??
Opera singer Helen Trauble learns how to hold a gun on a visit to a dude ranch with Roy and Dale on TV.
Rodeo Champions of 1942. World Championship Rodeo at Madison Square Garden. (L-R) Jerry Amblen (Saddle Bronc), Roy Rogers, Erbie Munday (Wild Calf Milking), Jack Favors (Steer Wrestling), Mr. Colburn (Rodeo Producer), Dick Griffin (Bull Riding).
Roy's making a breakfast omelet.
Roy with Cheryl, Dale, Linda at a Hawaiian show in 1950.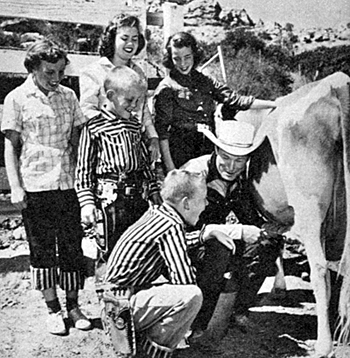 Roy teaches his children the art of miling a cow.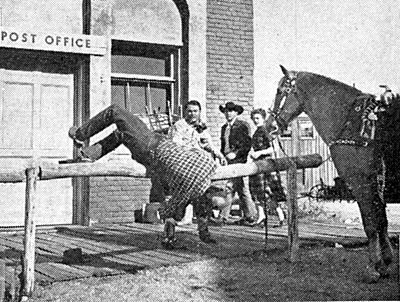 Roy in one of his many fight scenes for his TV show in May, 1953.
Roy clowns with Joan Davis and Rudy Vallee on their network radio show.
Roy with ?? relax on one of Roy's boats.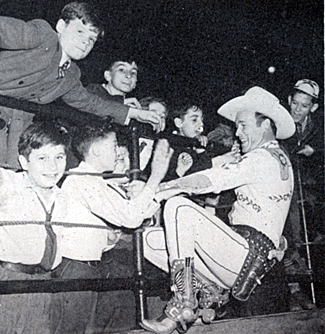 Roy gives a performance for crippled children at the World's Championship Rodeo in Madison Square Garden.
Time for a swim.
Sid Grauman for the famous Chinese Theatre helps Roy place his six-gun in Grauman's cement Hall of Fame in April 1949. In the background Foy Willing and the Riders of the Purple Sage including Pat Brady. Hoot Gibson and Eddie Dean on the far right.
Now Trigger gets to include his footprint. Pat Brady above Dale, Sid Grauman above Roy next to Foy Willing. Eddie Dean on the far right.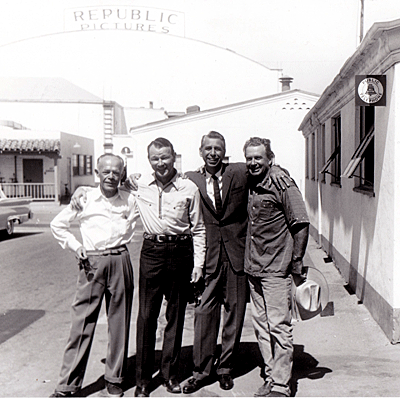 Roy visits the filming of "Master of the World" at the old Republic lot.
(Thanx to Tom Weaver.)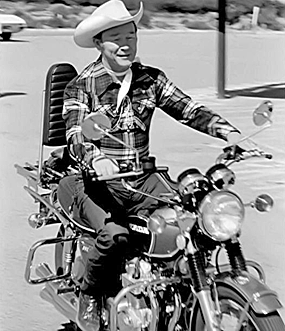 Roy trades Trigger for a motorcycle. (Thanx to Jerry Whittington.)
Three generations go fishing! Roy, son Dusty and "Pop" Andrew Slye at California's Big Bear Lake in Spring 1955.
An historic October 28, 1952 meeting. Roy introduces adopted Sandy (left) to Roy Jr. (Dusty) for the first time.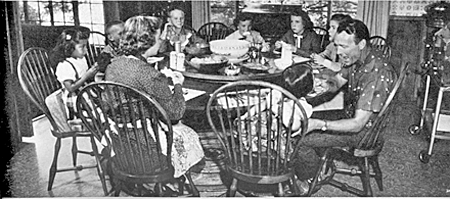 Mealtime with the Rogers family at a table made by George Montgomery.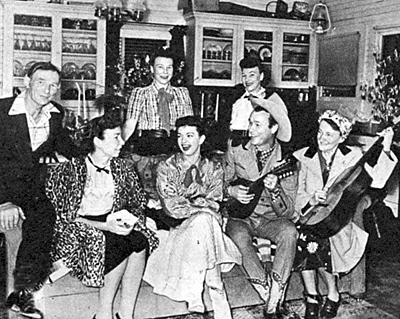 Roy's mom (right) and dad (left) and other family members join Roy and Dale.
(Thanx to Roy Bonario.)
Dale and the kids look on as Trigger decides to act up a little during the "This Is Your Life" telecast to Roy.