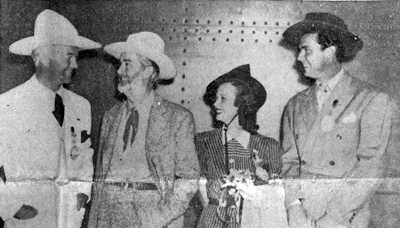 (Top photo): Jan Clayton, Russell Hayden, William Boyd and Gabby Hayes at the premier of "In Old Mexico" in El Paso, TX on 8/5/38.
(Bottom photo): William Boyd, Gabby Hayes, Jan Clayton, Russell Hayden.
Jan Clayton came from Tularosa, New Mexico. This was her first film and was currently the off screen fiancee of Russell Hayden.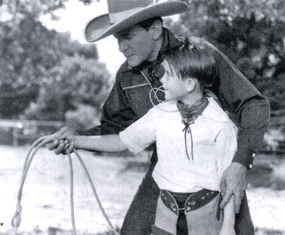 Buck Jones teaches young Dick Jones a few rope tricks during the making of "Hollywood Roundup" ('37 Columbia). (Courtesy Ann Snuggs.)
Tex Ritter meets members of Dodge City, Kansas 4-H Clubs in 1956.
John Wayne with son Ethan on the set of "El Dorado" ('67 Paramount).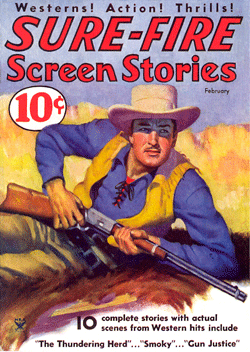 Randolph Scott in "The Thundering Herd" on the cover of SURE-FIRE SCREEN STORIES (February, 1934).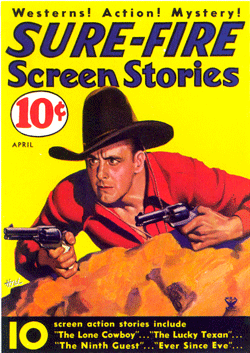 Buck Jones in "The Lone Cowboy" on the cover of SURE-FIRE SCREEN STORIES (April, 1934).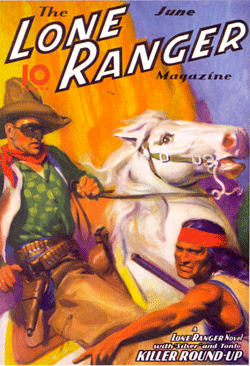 Lone Ranger pulp cover from June, 1937.
Roy Rogers with the famed Australian singing duo The LeGarde Twins.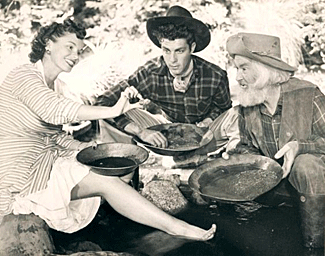 Karin Booth, Dale Robertson and Gabby Hayes have a little fun panning for gold during the making of "Cariboo Trail" ('50).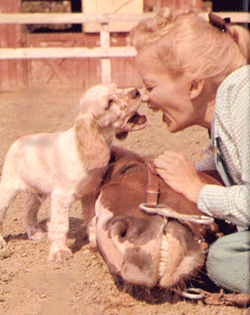 For scenes in a "Sky King" episode Gloria Winters and her cocker spanial Sugar met up with Tony the Wonder Horse. (Not the Tom Mix Tony.)
Neville Brand, William Smith and Peter Brown escort a couple of dancehall cuties during the making of a "Laredo" TV episode.
"Have Gun With Travel" singer Johnny Western with his wife Jo and
Rex Allen in 1986.
Johnny Mack Brown (far left) with friends at a dinner feast in 1934.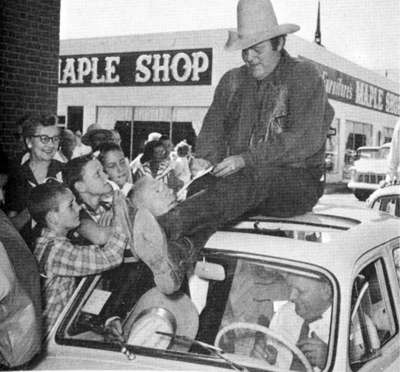 Dan "Hoss" Blocker signs autographs in front of a maple syrup shop.
Rudolph Valentino, William S. Hart, Douglas Fairbanks, Norma Talmadge and famous producer/studio head Joseph Schenck at the L.A. train depot in the '20s.
Tom Mix and fighter Jack Dempsey after boxing four fast rounds. Circa early '30s.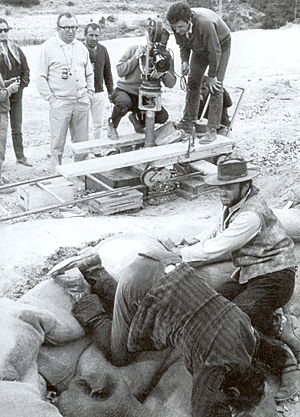 Director Sergio Leone (white shirt) films a scene with Clint Eastwood and Eli Wallach just after the bridge explosion in "The Good, The Bad and The Ugly".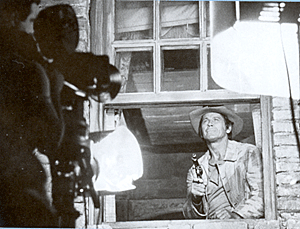 For Sergio Leone's "Once Upon a Time in the West", while seemingly the exterior of a hotel room window in broad daylight, this close up of Charles Bronson shooting the man atop the clock tower across the street was actually filmed in the studio.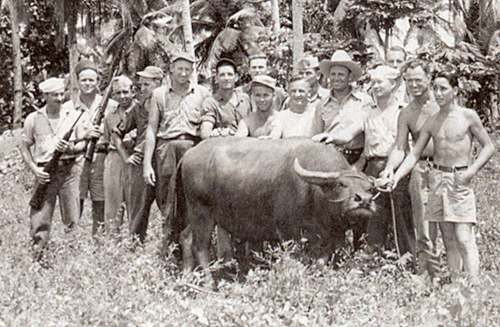 Gene Autry earned his military pilot's wings during his service and traveled to exotic places like India and China. Here, somewhere in the South Pacific, Gene
meets a water buffalo.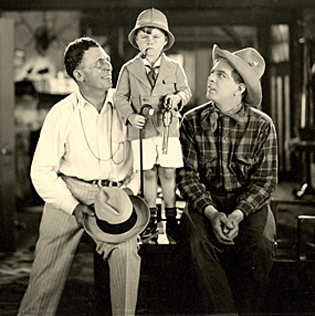 Wish we knew more about this unusal photo. All we know is that's Hoot Gibson on the right in the late '20s.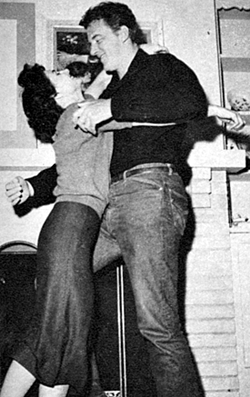 James Arness and wife Virginia.
(L-R) Jack Holmes, Lee Powell, Esther Estrella, Art Davis, Bill Boyd in a scene from "Prairie Pals" ('42 PRC).