Merry Christmas 2021!
Merry Christmas from Gene Autry Entertainment and Western Clippings.
Rory Calhoun studies his "Texan" script. (Thanx to Terry Cutts.)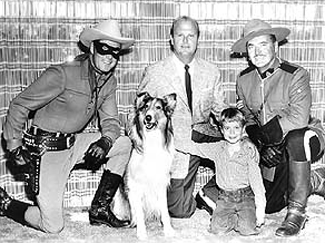 Lassie and Jon Provost, The Lone Ranger and Sgt. Preston with Jack Wrather who owned all of these TV properties. (Thanx in part to Al Dittrich.)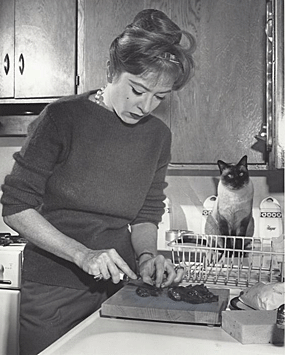 A very domestic Miss Kitty...Amanda Blake...prepares dinner while another "kitty" looks on.
Taking a break from filming "The Kid From Texas", Audie Murphy holds up a bird? in order to let Gale Storm admire it.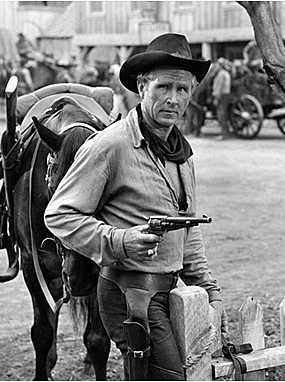 Striking pose of Lloyd Bridges from his vastly overlooked and underrated TV series "The Loner".
Tom Mix entertains the children during a visit to Boston Hospital.
(Thanx to Jerry Whittington.)
Those Maverick brothers...Jack Kelly and James Garner...look over their
next script together.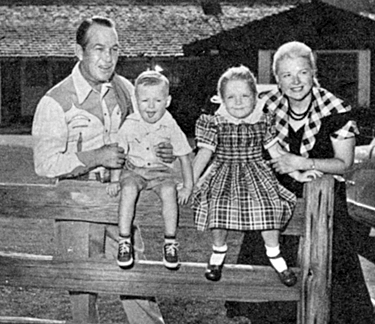 Spade Cooley with his wife Ella and children Donnell and Melody in 1952.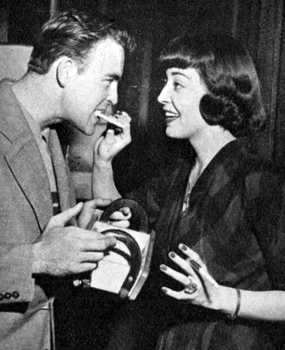 Marie Windsor's got Scott Brady eating right out of her hand. (1950)
Reb Russell and WESTERN CLIPPINGS columnist John Brooker catch up on some tabloid news.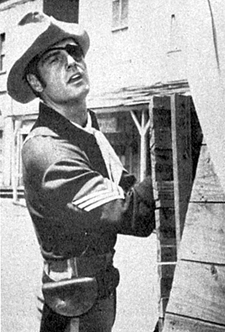 Read Morgan, co-star of Henry Fonda's "The Deputy" TV series in 1960.
Disney's "Texas John Slaughter", Tom Tryon and co-star Betty Lynn in 1960.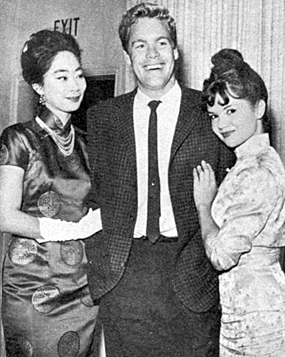 Lisa Lu of "Have Gun Will Travel", Doug McClure, star of "Overland Trail" and Daria Massey of "The Islanders" in 1960.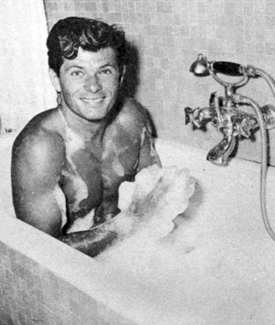 Cleaning up with "Walt Disney Presents Daniel Boone" star Dewey Martin.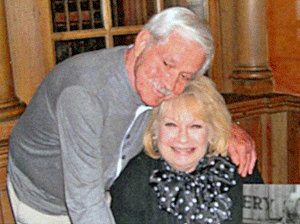 Stntman/actor Bobby Hoy of "The High Chaparral" with casting
director Susan McCray.
Hmmm...wonder if Republic leading lady Lynn Merrick is saying to Don Barry,
"I'll teach you to upstage me!"
Rex Allen and wife Bonnie with six-month-old Rex Jr.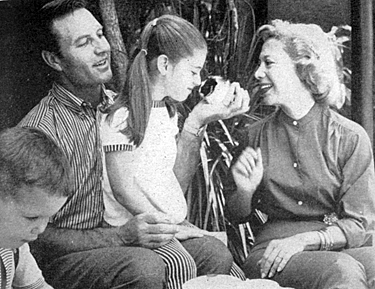 George Montgomery and family. Jody, 4, Missy, 10 and Dinah Shore. June, '59.
Is Clint Walker practicing to be a singing cowboy?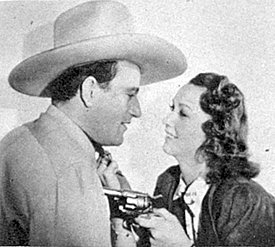 Kidding around, Carole Landis gets the drop on John Wayne on the set of
"Three Texas Steers" ('49 Republic).
Director George Nicholls Jr. lines up a shot with Richard Dix for "Man of Conquest" ('39 Republic).
Lorne Greene puts his nose to the grindstone as he sharpens the sight on his .45.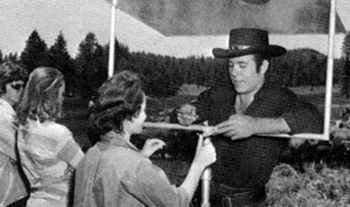 Three teenage girls get autographs from Pernell (Adam Cartwright) Roberts.
Dan (Hoss Cartwright) Blocker picks up a 125 lb. calf as if it were a little kitten.