Arthur Hunnicutt, Charles Starrett, Shirley Patterson and soon to be Governor of Louisiana, Jimmie Davis, in "Riding Through Nevada" ('42 Colubmia).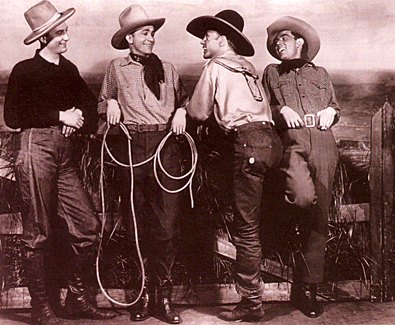 Tex Ritter on Broadway in "Green Grow the Lilacs" (1931). (L-R) H. Bailey, Tex Ritter, Hank Worden, Judd Carvell.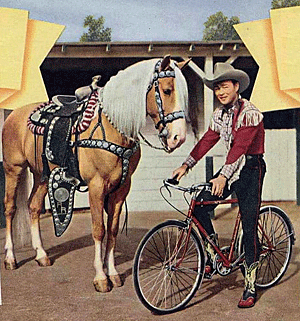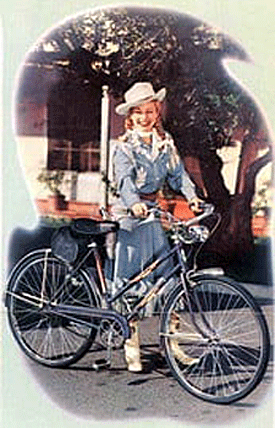 Next to riding Champion, Trigger, Bullseye and Topper, Gene Autry, Roy Rogers, Gail (Annie Oakley) Davis and Hopalong Cassidy say there's nothing like riding a Schwinn.
Setting up a shot in front of the in studio relay station for "Stagecoach to Fury" ('56 Fox) with Wright King facing down some banditos.
William Holden and John Wayne take a break during the filming of "The Horse Soldiers" ('59 UA).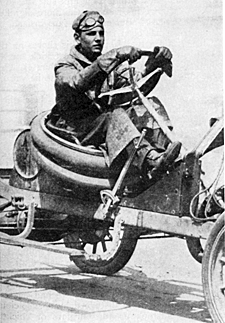 Early photo of Buck Jones in a test car during his time in Indianapolis where he
had a job as a test driver.
A small sharpshooter gets the drop on Sunset Carson.
Bill Elliott answers the phone of Hazel Parker in the casting department
at Republic Pictures.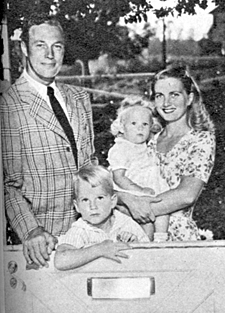 RKO Western star James Warren at home in 1945 with his wife Felice and children Ray (3) and Gale (1).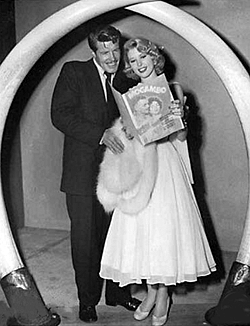 Robert Horton and wife Barbara Ruick at the October 19, 1953 premiere of MGM's "Mogambo" which starred Clark Gable and Ava Gardner.
"The Virginian" James Drury looks over a Spanish version of TV GUIDE
in April of 1967.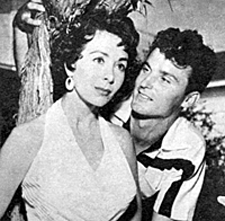 Keith Larsen and his first wife, Susan Cummings, whom he married in 1954. Larsen starred in "Brave Eagle" and "Northwest Passage" while Cummings co-starred in "Union Pacific".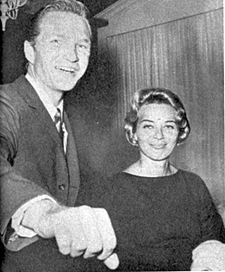 Eric ("Rawhide") Fleming on a date with Kristine Miller ("Stories of the Century")
in 1960.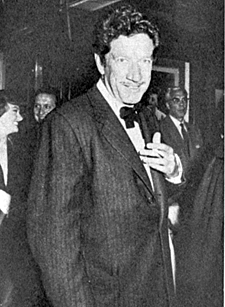 A dress up function for Paladin—Richard Boone in 1960.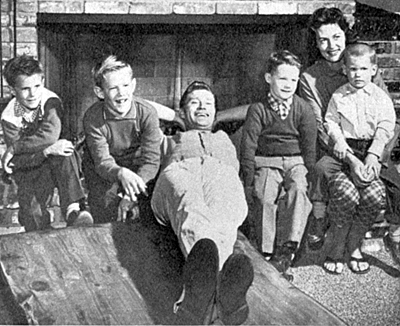 "The Rifleman", Chuck Connors relaxes with sons Jeffrey, Michael, Steven, Kevin and wife Betty in 1960.
Don Collier of "Outlaws" and "High Chaparral" with his wife Joanne
and children in 1960.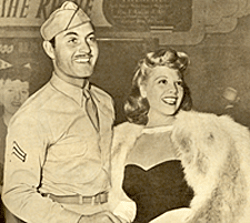 On leave, Corporal George Montgomery of the U.S. Army Air Corps and girlfriend Dinah Shore in late 1943. They were married on December 5, 1943.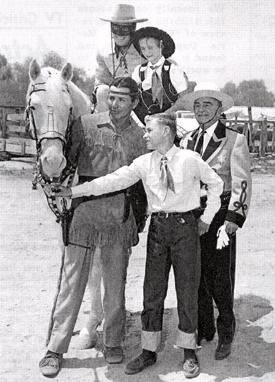 The Lone Ranger and Tonto at the Sheriff's Rodeo in the L.A. Colisseum with children Joan and William Mohr and Sheriff E. W. Biscailuz.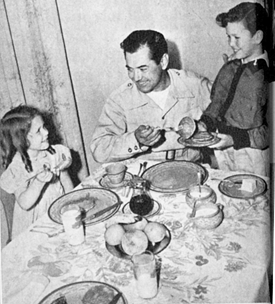 Johnny Mack Brown, stowing away a batch of flapjacks with daughter Cynthia and son Lachlan in November 1944.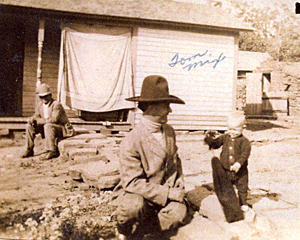 Tom Mix makes a new friend sometime in the '20s.
Jack LaRue, Muriel Kirkland and Randolph Scott having some fun in 1934.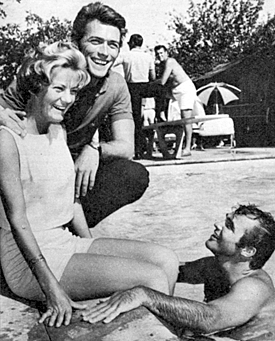 Clint Eastwood and wife Margaret poolside with friend Burt Reynolds in '62.