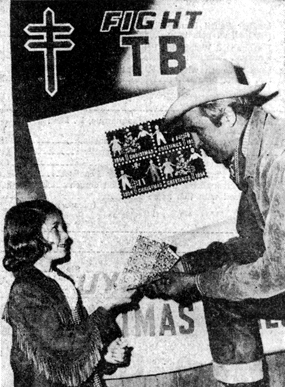 James Stewart, on location in New Mexico making a film, was the first purchaser of Christmas Seals in the state. Eight year old Kathy Kenny of Santa Fe hands Stewart his seals.
Buck Jones and Helen Twelvetrees enjoy yet another Coke. Look at all the empties with straws in them.
The cowboy stars gathered in 1959 to promote John Wayne's "The Horse Soldiers" at the famed Formosa Cafe, a unique watering hole and Chinese restaurant favored by studio people. Attending above were Ray "Crash" Corrigan, Tex Ritter, Hoot Gibson and Bob Steele. Also there were Ken Maynard, Kermit Maynard, Chill Wills, Don Barry, Rodd Redwing, Richard Arlen, Max Terhune, Jimmy Dodd, Mrs. Buck Jones and clothier Nudie.
Also in attending at the Formosa gathering was the legendary Max Aronson, aka Broncho Billy Anderson, then 73, greeted by Hoot Gibson.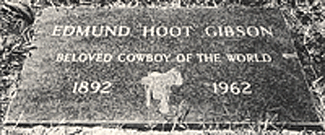 The resting place of one of the early greats.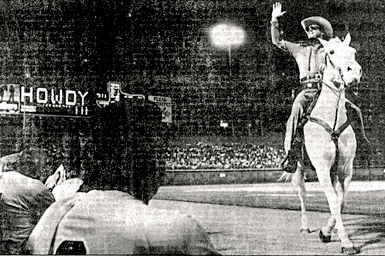 A sunglass wearing Clayton Moore as The Lone Ranger, opened the Texas Rangers-Yankees night in Texas in April 1980.
James Arness as Matt Dillon films a close-up at Old Tucson in Arizona.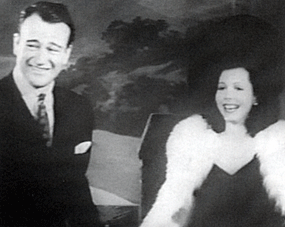 An unexpected couple, John Wayne and Ann Miller on the town at Ciro's in L.A.
Burley "Wagon Train" wagon master Ward Bond aka Major Seth Adams. Bond was 200 lbs, 6' 3".
Before he was a writer/director/producer, Oliver Drake played in silent Western films. This picture was taken in San Diego in 1914.
Candice and Robert ("Trackdown") Culp, Altovise and Sammy Davis Jr. arriving at the Shubert Theatre opening of "Cats" in 1984.
Photo taken while Spade Cooley (right) was filming "Kid from Gower Gulch" in 1950. (L-R) Either Stephen Keyes or Bob Gilbert, Jack Baxley, leading lady Wanda Cantlon, Spade Cooley.
(L-R) William "Hopalong Cassidy" Boyd, L.A. County Sheriff Eugene W. Biscailuz, Johnny Mack Brown, Leo "Pancho" Carrillo and Montie Montana kneeling.
Joe Bowman, Dan "Grizzly Adams" Haggerty, Darby "Daniel Boone" Hinton and Peter "Lawman" Brown during the filming of "When the West Was Fun" in '79.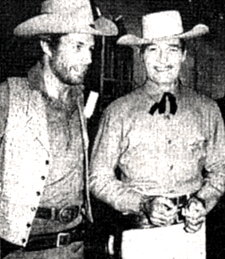 Tony "Gunslinger" Young and John "Lawman" Russell during the filming of "When the West was Fun" in '79.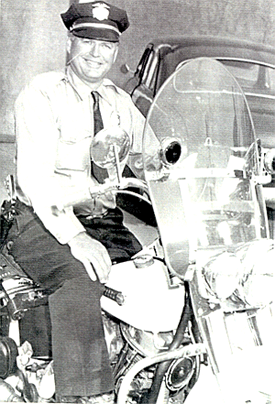 After retirement from his B-Western starring days at Universal, Bob Baker was a police officer in Flagstaff, AZ, from the mid '50s to the mid '60s. This photo taken around 1960.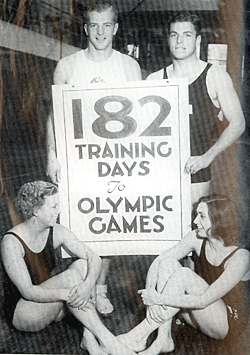 Herman Brix and Buster Crabbe promoting the upcoming 1928 Summer Olympics in Amsterdam. Crabbe won a bronze medal in the 1,500 meter swim meet. Brix gathered a silver medal in the men's shot put competition.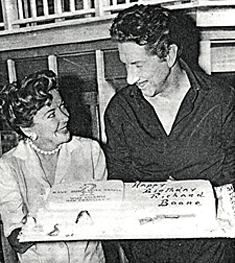 Director Ida Lupino presents Richard Boone with a "Have Gun Will Travel" cake on his 42nd birthday.
Rhonda Fleming and Guy Madison on the UCLA campus for RKO Radio Pictures' $5 million donation to the UCLA archives.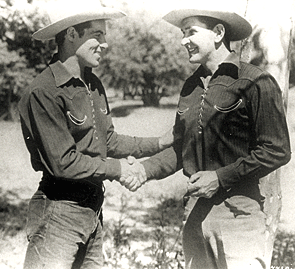 Bob Steele (right) and his stunt double Rex Rossi.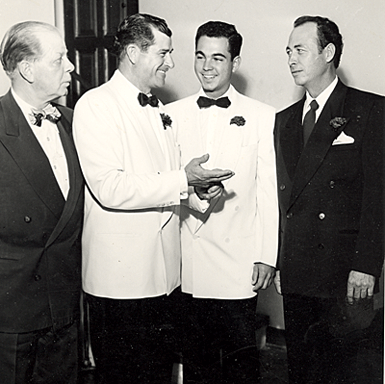 Not sure the origin of this photo. But I suspect it's the wedding of one of Ray Whitley's sons. (L-R) Hoot Gibson, Whitley, ?, Eddie Dean.
Quite a group at the National Western Film Heritage Awards in 1982 which honored Fred Scott and stuntman Henry Wills. (Top row L-R) Jock Mahoney, Penny Edwards, Iron Eyes Cody, Oliver Drake, Peggy Stewart, Sunset Carson, Vic Pettibone (Western awards coordinator), Fred Scott. (Front row L-R) Unknown, Henry Wills, Terry Frost, Frank Mitchell, Neil Summers.
"Hands up!" says one of James Arness' sons to his father.
Just for laughs...This 1955 cover from CUCKOO magazine which was a comedy take on CONFIDENTIAL. Several other "photoshopped" pictures inside the "rivalry" between Roy and Gene.