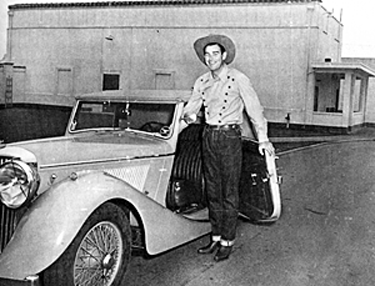 Rod Cameron at Universal Studios in 1945.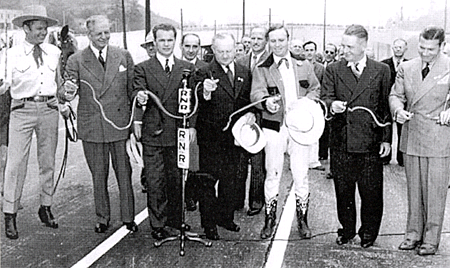 Dedication of the Cahuenga Pass freeway in 1940. (L-R) Tom Keene, honorary mayor of Sherman Oaks; Governor Culbert Olson; John Kingsley, President of the Hollywood Chamber of Commerce; L.A. Mayor Fletcher Bowron; Gene Autry, honorary mayor of North Hollywood; Burbank Mayor Frank Tillson and Richard Arlen, honorary mayor of Sunland.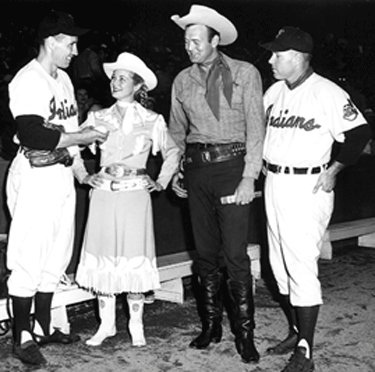 During a personal appearance tour in August 1954 in Cleveland, OH, Brad (Lofty Craig) Johnson and Gail (Annie Oakley) Davis met with Cleeveland Indians players Bob Feller and Dale Mitchell.
Kenne Duncan, Smiley Burnette and a young Dale Berry proforming at the Indiana State Fair in 1957.
Hugh O'Brian, producer A. C. Lyles, Peter Brown, Bruce Boxleitner, Richard Farnsworth at the 17th annual Golden Boot Awards in 1999.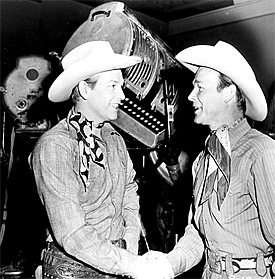 Roy Rogers welcomes Rex Allen to Republic during the filming of Rex's "Arizona Cowboy" in 1950.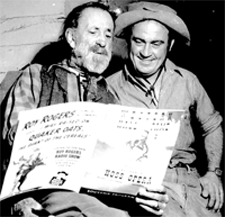 B-Western sidekicks Emmett Lynn and Dub Taylor look over the 1948 "Western Hall of Fame Hoss Opera" program held at L.A.'s Olympic Auditorium. Note the Roy Rogers Radio Show Quaker Oats ad on the back of the program.
Dale Evans as guest on Hoagy Carmichael's NBC radio show in 1945.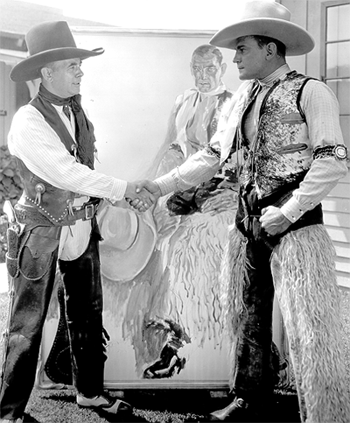 Buck Jones congratulates artist Usalbal upon completion of the stately oil painting of Jones which hung in Buck's home for many years.
Stuntman Whitey Hughes, Monte Hale, Joanne Hale and Dick Jones at the dedication of Monte Hale's star on the Hollywood Walk of Fame on November 12, 2004.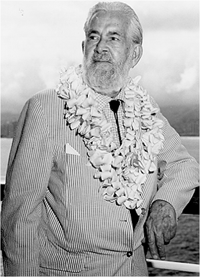 Gabby Hayes in May 1965 aboard the Matson liner Lurline ready to sail to Hawaii.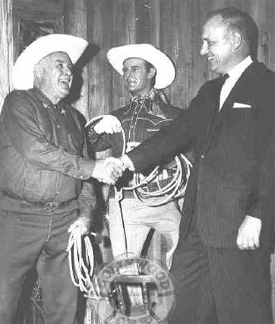 Ken Maynard at Movieland Wax Museum in Buena Park, CA, standing next to his replica and shaking hands with Movieland founder Allen Parkinson.
In the late '30s, B-Western star Bill Cody stands on the courthouse steps in
Winchester, VA, as he receives the Key to the City from the Mayor of Winchester.
(Thanx to Danny Rogers.)
Universal B-Western star Bob Baker and his horse Apache with
director George Waggner.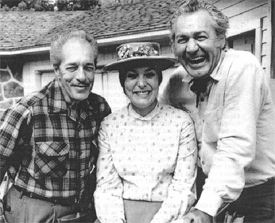 Pamela "Brooke" Tucker sandwiched between her dad, Forrest Tucker (R) and her grandfather, Western heavy and character player I. Stanford Jolley (L), circa 1968. Forrest Tucker was married to Jolley's daughter, Sandra. Stan was referred to as "Pop Pop" by Pamela. (Thanx to Chuck Anderson and Pamela Tucker.)
Not sure why, but that's Reb Russell on the right visiting Rufe Davis and Smiley Burnette on the set of "Petticoat Junction" in 1965.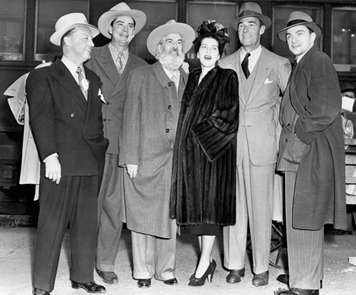 On the road in 1948 promoting "Albuquerque" are (L-R) producer Bill Thomas, film's stars Russell Hayden, Gabby Hayes, Catherine Craig, Randolph Scott, Larry Blake.
20th Century Fox publicity photo with Marilyn Monroe and Dale Robertson.
Dick Jones was the voice of Walt Disney's Pinocchio in 1940.
Charles Starrett (right) and screen badman George Lloyd show a young fan how to aim his toy pistol while on a promotional tour in the late '40s. (Thanx to James [Nikki] Ellerbe.)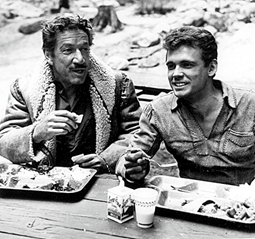 Richard Boone and guitarist Duane Eddy take a lunch break in the Angeles National Forest while on location for "Have Gun Will Travel: Education of Sara Jane" ('61).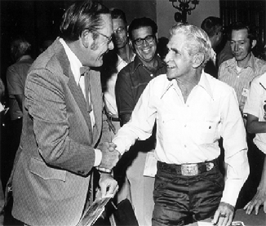 Veteran badman Myron Healey greets old friend Bob Steele at the August 1974, 3rd annual Memphis Western Film Collectors Festival.
James Drury ("The Virginian") looks very happy as he gets kissed by two pretty Western Airlines beauty queens.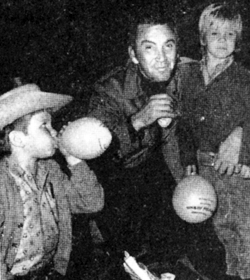 Cameron Mitchell, Buck on TV's "High Chaparral", has two built-in fans...sons Jono and Buttons.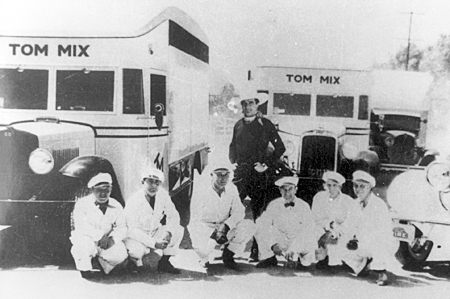 Tom Mix and six of his circus truck drivers.