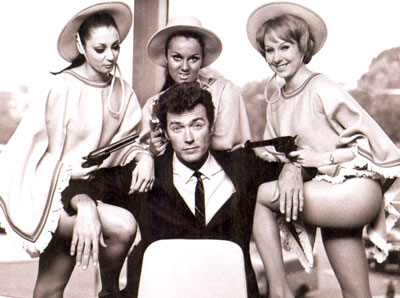 Clint Eastwood is gently...ever so gently...prompted to promote
"A Fistful of Dollars" in the U.S.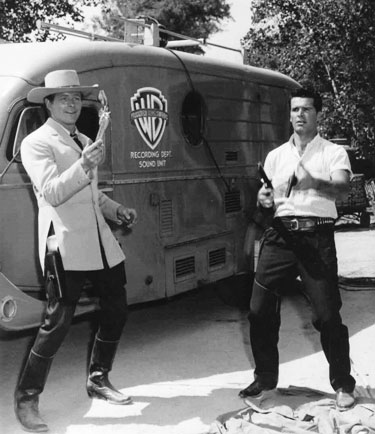 Wayde Preston ("Colt .45") and James Garner ("Maverick") practice their gun handling technique. (Thanx to Terry Cutts.)
Robert Fuller and a vast array of his guns, boots, chaps, belts, etc.
On the set of "Rio Bravo" director Howard Hawks and Ward Bond observe as John Wayne puts a finishing touch on Ricky Nelson's costume which is a slightly modified version of the jacket worn by Montgomery Clift in "Red River".
James Stewart pays close attention as director Anthony Mann lays out a scene for "Winchester 73".
Western artist Max Harrison, Fred Scott and Gene Autry at the Autry Hotel
in Palm Springs, CA.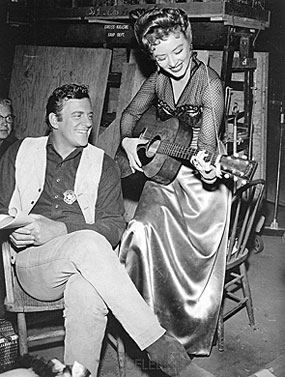 Taking a break from filming "Gunsmoke", James Arness smiles as Amanda Blake
fiddles with a gee-tar.
On the set of "Love Me Tender" Elvis Presley watches as director Robert Webb gives
some script notations to James Drury and William Campbell.
Paying a visit to the set of "The Dirty Dozen", Muhammad Ali chats
with Clint Walker.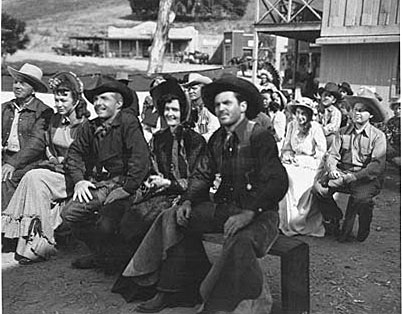 Johnny Carpenter (third from left) and stuntman Lou Roberson (right) (Chuck Roberson's brother) prepare to watch entertainer Texas Rose Bascomb during a scene for "Lawless Rider" ('54). The girl between them is unknown.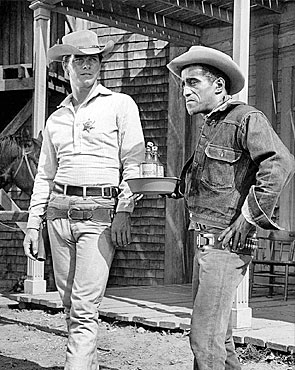 Peter Brown and Sammy Davis Jr. ready to film a scene for
"Lawman: Blue Boss and Willie Shay".
Tom Mix, script in hand, directs a scene at the Selig Zoo in L.A.'s East Lake Park in 1916. At Tom's right are George Pankey and Sid Jordan.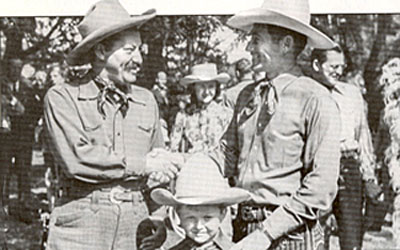 Montie Montana shakes hands with comedian Jerry Colonna. That's Montie's young son Montie Jr. in the middle...and...is that stuntlady actress Evelyn Finley between Montie and Jerry?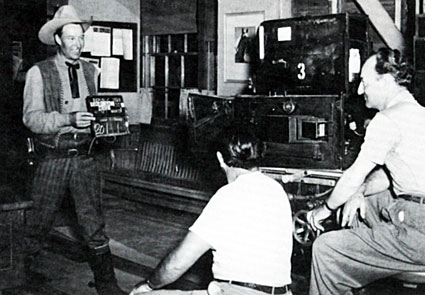 Bill Elliott holds a slate for the next scene for Republic cinematographer Jack Marta.
At their wedding, new wife Wanda Hendrix cuts a piece of cake for Audie Murphy.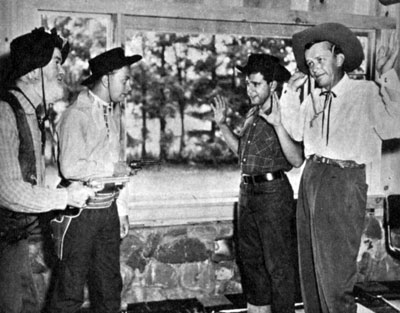 Gag shot as Gabby Hayes and Mel ?? hold guns on Mel's pals Dick Hayes
and Bobby Sherwood.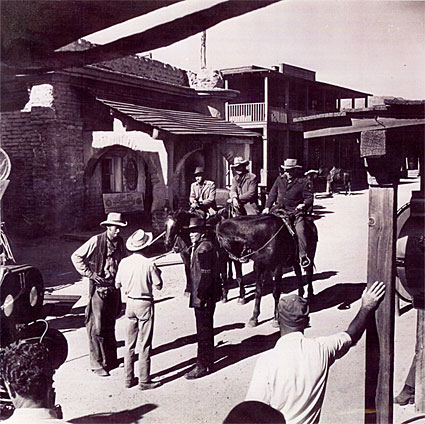 The director (in the white shirt) gives directions to Cameron Mitchell (to his right) and others at Old Tucson for a "High Chaparral" episode.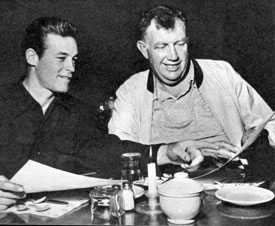 "Hey Wild Bill, wait for me! I haven't ordered yet."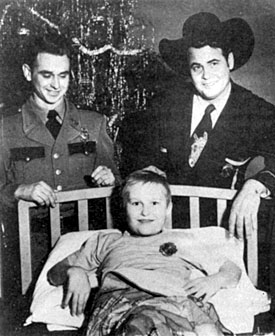 Sunset Carson and a state policeman present a lawman's badge to a youngster in a children's hospital ward.
Tex Williams and Pedro de Paul listen attentively as the fiddle players rehearse a final arrangement for one of Tex's Capitol recordings. ('50)
Ken Curtis and his second wife Torrie Ahern Curtis. They were married from 1966
until 1991, Ken's death.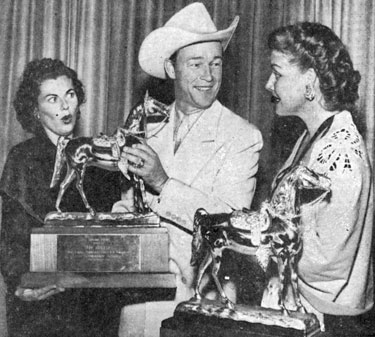 Roy Rogers holds a gold statuette of Trigger while actresses Barbara Hale (left) and Ann Sheridan look on with approval. The statuettes were presented to Britton Elementary School in Oklahoma City whose students won the Roy Rogers Safety Award for their posters.
Rex Allen, The Sons of the Pioneers and Andy Devine. (L-R standing) Hugh Farr, Ken Curtis, Rex Allen, Karl Farr, Andy Devine, Lloyd Perryman. (crouched) Shug Fisher, Tommy Doss.
(L-R top row) Unknown, Unknown, Unknown, Guy Madison, Clayton Moore, Eddie Dean, Sunset Carson, unknown. (L-R bottom row) Joanne Hale, Jane Withers, Dale Evans, Unknown, Monte Hale, Unknown, Penny Edwards, Deborah Winters, Penny's daughter (?), Iron Eyes Cody.