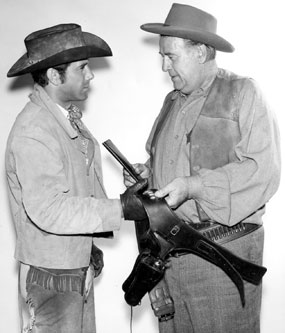 Robert Fuller and Roy Barcroft on location for an episode of "Laramie".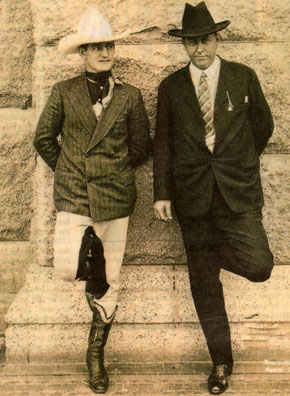 Tom Mix stands with legendary Texas Ranger Frank Hamer who tracked Bonnie and Clyde for months before ambushing them on a Louisiana backroad in 1934.
(Thanx to Tracie Moore.)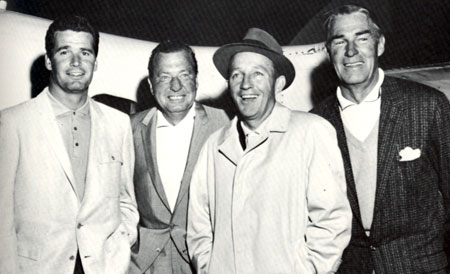 James Garner, Phil Harris, Bing Crosby and Randolph Scott staged a benefit golf exhibition for the Deacon Foundation of Tucson in February 1960.
Even U.S. Marshal's need a haircut now and then. James Arness as Matt Dillon
of "Gunsmoke".
Guy Madison is greeted by costars Felicia Farr ad Kathryn Grant when he arrived in Tucson in March, 1956 to film "Reprisal".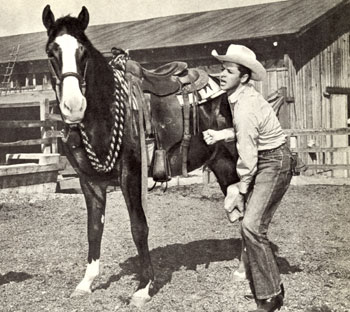 Audie Murphy attends to the hoof of one of his race horses.
While appearing at the Tucson, AZ, Rodeo in February, 1957, Rex Allen, then starring as TV's "Frontier Doctor", examines an eight week old cougar cub from the Arizona-Sonora Desert Museum. Dorothy Jones, Allen's teacher when he was a boy in Willcox, watches with some of her students from Davis School—Willie Canez, Joe Carmaliche, Sylvia Glass, Jimmy Wilkie and Mary Helen Young.
Dale Evans, Gabby Hayes, Roy Rogers and three members of the Riders of the Purple Sage (Al Sloey, Scotty Harrell [face hidden] and Foy Willing) prepare to make a recording of "Along the Navajo Trail" for the weekly Roy Rogers radio program in the late '40s.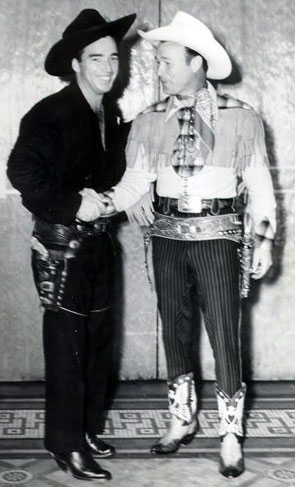 Two Western legends...Lash LaRue and Roy Rogers.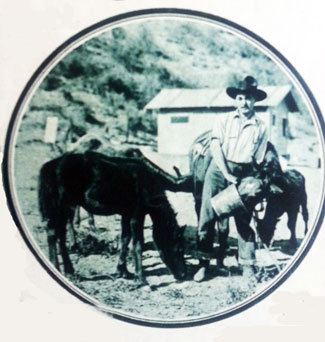 Harry Carey Sr. at home on his ranch in Bouquet Canyon in 1922. This ranch was flooded as it lay in the path of the St. Francis Dam when it collapsed in March of 1928. Some 500-600 people lost their lives. (Thanx to John Bickler.)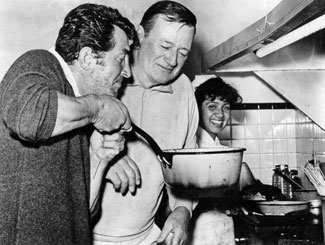 Dean Martin and John Wayne want to know 'What's for dinner?' while filming
"Sons of Katie Elder" ('65). (Thanx to Bobby Copeland.)
Corporal Rusty (Lee Aaker), Lt. Rip Masters (James Brown) and Rin Tin Tin receive some sort of airline award circa 1956.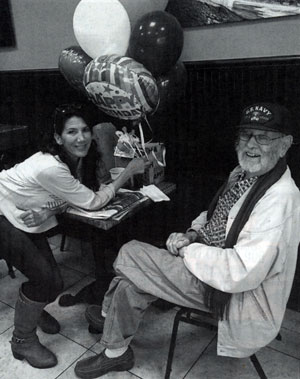 Character actor Bill Phipps celebrated his 94th birthday February 4, 2016 at his favorite breakfast place, Lily's, in Malibu, CA.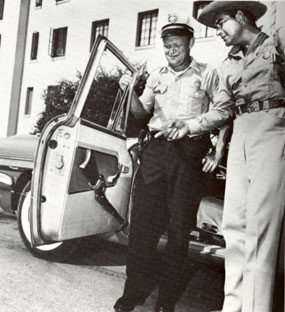 TV's U.S. Marshal, John Bromfield, admires Tucson policeman Jimmy Adcock's rifle outside the old Pima County Courthouse.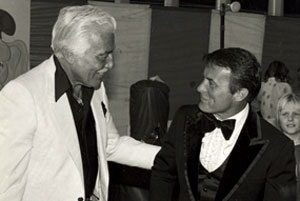 Cesar Romero greets Robert Conrad at a '60s affair.
Andy Devine meets Chinook while Andy was on location for "Red Badge of Courage" ('51). Not sure why Chinook, of the Kirby Grant Mountie series, was there.
Gene Autry and wife Ina at the Academy Awards in 1949 where Gene sang "Lavender Blue", the Oscar nominated Best Original Song from Disney's "So Dear to My Heart" ('48). The song was sung by Burl Ives in the movie.
Gene Autry and Gail Davis as Annie Oakley at a rodeo appearance in the late '50s.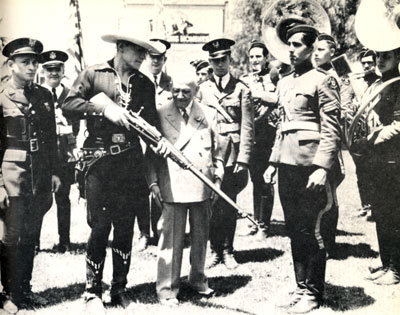 Buck Jones with Universal's Carl Laemmle in 1935 at Universal City entertaining boys from east L.A. composing the Buck Jones Rangers Band.
Stan Laurel and Oliver Hardy with Rand Brooks who was Hopalong Cassidy's sidekick in a series of B-Westerns. Rand was married to Stan's daughter Lois.
Hugh "Wyatt Earp" O'Brian waves to the crowd as he departs an airplane in the '50s. Yep, he got away with guns on an airplane back then.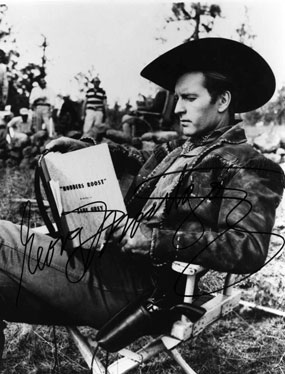 On location in Sedona, AZ, George Montgomery studies his script for
"Robber's Roost" ('55).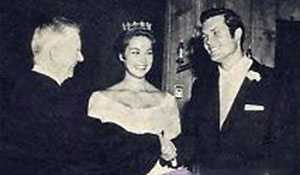 Ty "Bronco" Hardin married starlet Andrea Martin in 1958. They were divorced in 1960. She was the second of his eight wives.