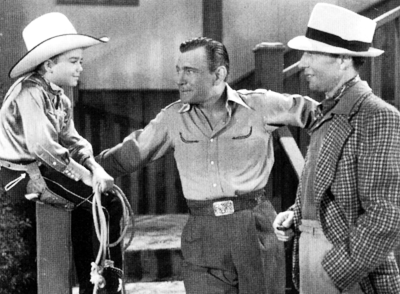 Young Dick Jones visits with Buck Jones and actor Lester Dorr.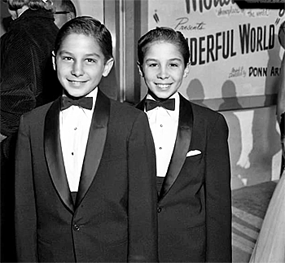 The Crawford brothers, Bobby and Johnny. Bobby soon co-starred on "Laramie" and Johnny was a star on "The Rifleman". (Thanx to Terry Cutts.)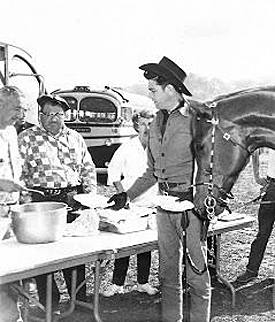 Lunchtime on the backlot for Dale Robertson while filming "Tales of Wells Fargo".
James Drury "The Virginian" and Robert Fuller of "Laramie" greet a young fan in between filming.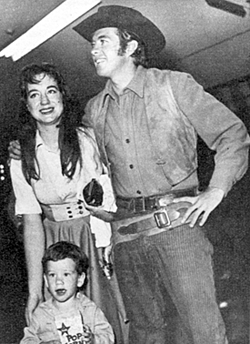 Clu Gulager, star of "The Tall Man" and "The Virginian", with his wife Miriam
and son John in 1962.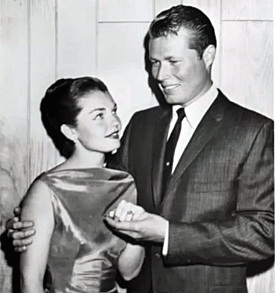 John Smith, star of "Laramie", presents actress Luana Patten with a 2 1/2 carat diamond engagement ring as they announce plans for their marriage. They were married from June 1960 until 1964.
Women scriptwriters away from their typewriters. (L-R) Kathleen Hite ("Gunsmoke", "Wagon Train"), Fanya Lawrence ("Have Gun Will Travel", "Restless Gun"), Fanya's husband Marc Lawrence behind Will "Sugarfoot" Hutchins. (On horseback) Virginia Cooke ("Roy Rogers", "Sugarfoot") and Mary McCall ("Restless Gun"). Dennis Weaver ("Gunsmoke") with Pat Fielder ("The Rifleman"). Ruth Woodman ("Death Valley Days") on the mule behind Terry Wilson of "Wagon Train" and Gerry Day ("Wagon Train") with field glasses. From TV GUIDE June 6, 1959.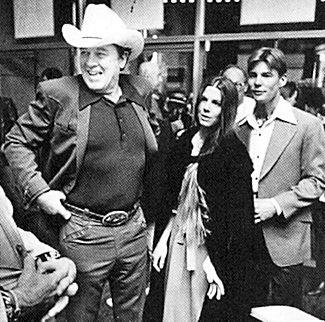 Ben Johnson, Candice Bergen and Jan-Michael Vincent at the premiere of
"Bite the Bullet" in 1975.
Robert Culp ("Trackdown") and his wife, Johnny Western and Mr. and Mrs. David Janssen at a celebration in Dodge City, KS in 1958.
9/21/60 photo. Four months of each year Gene Autry traveled with the rodeo which he and Everett Colburn (above) are the owners.
Art Davis entertains at a Western film festival.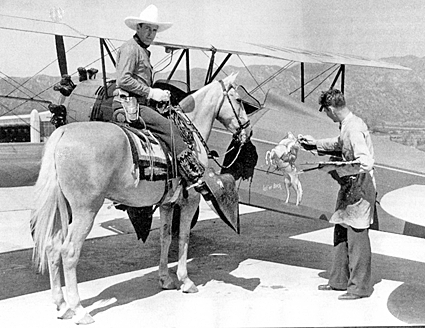 At Burbank, CA' airport in 1931 Ken Maynard and Tarzan admire the latest edition to his fleet of seven airplanes, this one a Stearman bi-plane. The artist is Harold E. Bishop. The caption reads, "Let 'er Buck".
Hoot Gibson with his wife Dorothea Dunstan and friends. Out of work in the fifties,
Hoot became a Las Vegas casino greeter.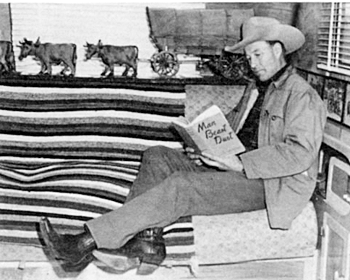 Touring the country with his Bar Bar A Ranch Rodeo, Bill Elliott relaxes in his deluxe house trailer. Covered wagon scale model wood carving in the background was given to Bill by famed sculptor A. Lee Norvell.
Hopalong Cassidy pours some milk for four children enjoying their Grape Nuts Flakes. General Foods sponsored Hoppy's radio show Sundays on Mutual.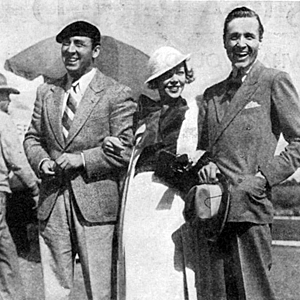 George O'Brien, Sally Clark and Billy Bakewell at the polo matches held at the
Riviera Polo Club in 1933.
Tucson Police Sgt. Robert Donahue and Edgar Buchanan while he was filming "McLintock" ('63).
Randolph Scott and Gary Grant in 1934.
Buck Jones during his time on the 101 Ranch in Ponca City, OK.
Iron Eyes Cody watches and learns as archery ace Howard Hill shows him how to
pull a 100 lb. bow.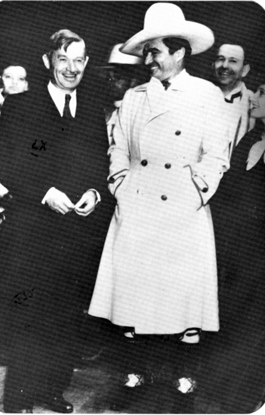 Tom Mix with Will Rogers in the '30s.
Early 1961 newspaper ad offering common stock for the planned Little Beaver Town amusement facility which was off the old route 66 (now I-40) east of Albuquerque, NM. Planned to open June 15, 1961 it finally opened July 1961 and closed down in 1964. The land, now bare, is about 3 miles from where I now live.
Dave Saunders was hired by Red Ryder creator Fred Harman to appear as his cowboy hero at the 44 acre Little Beaver Town. The 6'2" Saunders was Ryder at Little Beaver Town for about a year until he left to portray Ryder for Daisy Manufacturing, owner of the Red Ryder BB rifles. Troy Vicente, a young Jicarilla Apache, played Little Beaver at Little Beaver Town. Arnold Vigil accompanied Saunders as Little Beaver
on tour for Daisy.
John Bromfield, star of TV's "Sheriff of Cochise" promoting White King detergent products in 1958.
Just some of the actors considered for The Lone Ranger. An official list of actors who were considered for the role of The Lone Ranger, standard for most television productions of the fifties. A list was generated courtesy of actor agencies then the list would be quickly narrowed down. Only a very small number, less than half a dozen, were ultimately looked at for the role.
Ultimately, the right choice was made.
Clayton Moore WAS the Lone Ranger!