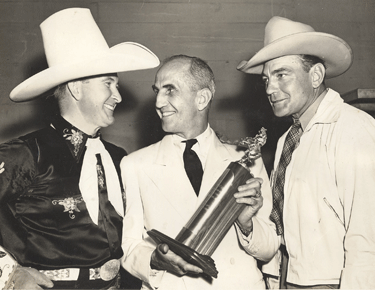 Tim McCoy and Buck Jones congratulate George Marshall, director of Universal's "When the Dalton's Rode" ('40) on his 25 years of service to the Motion Picture industry.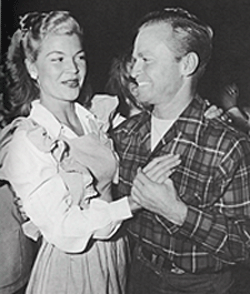 Dancing with the Stars...Helen Talbot and Don Barry. (1946)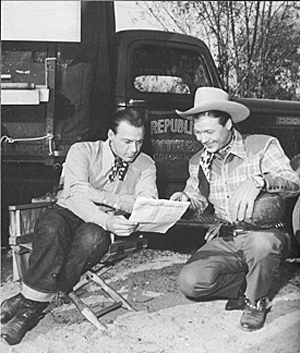 Bob Nolan and Monte Hale check out the latest VARIETY tradepaper news while filming "Home on the Range" ('46 Republic).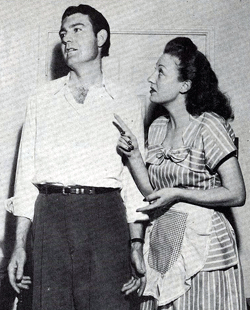 Often referred to as the "Western Frank Sinatra",
Tex Williams and his wife Dallas.
Yawnnnnnn...5am in the morning, off to work to film "Black Hills" ('47 PRC), Eddie Dean's wife Dearest hands Eddie his six-guns.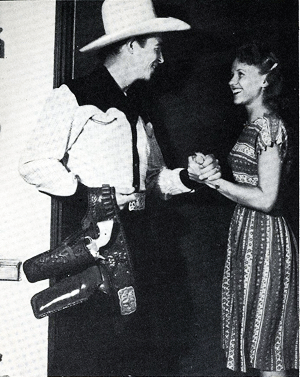 'Bye Honey, off to work.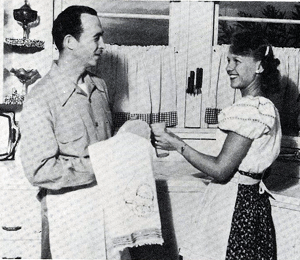 Home from the range, Eddie helps Dearest wash up the dinner dishes.
A little after dinner music as Eddie tries out a new tune.
Wonder whose recordings Eddie and Dearest are going to listen to.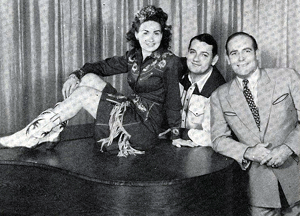 Ahhhhh Haaa! Western Swing with Laura Lee, Leon McAuliffe and Bob Wills.
"The Roy Rogers Show". Roy, Bullet, Trigger, Pat Brady and Nellybelle.
Buster Crabbe in 1980 with "Those Were the Days" radio host Chuck Schaden.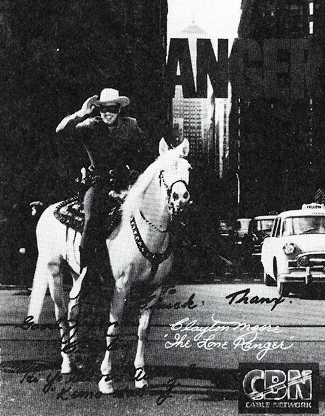 A Clayton Moore "Lone Ranger" promotional piece for the CBN cable network.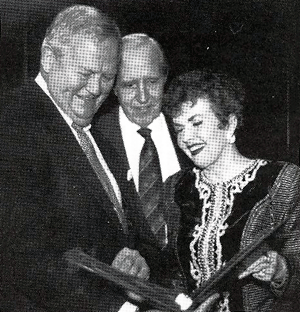 Chicago area resident Roger Pace (left) talks with Gale Storm and her husband Paul Masterson as they look over Pace's scrapbook of photos.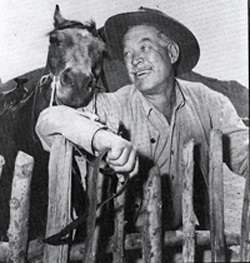 Ward Bond and friend while filming "Rio Bravo" ('59 WB).
Universal honcho Carl Laemmle (center) officiates at a 1930 guest tour of the Universal lot sponsored by Universal Local Post #1267 of the American Legion. Hoot Gibson acted as tour guide for the visiting Legionaires.
Young Jim Dohren with brother Dave and sister Patsy visit with Ray "Crash" Corrigan at Corriganville circa 1955.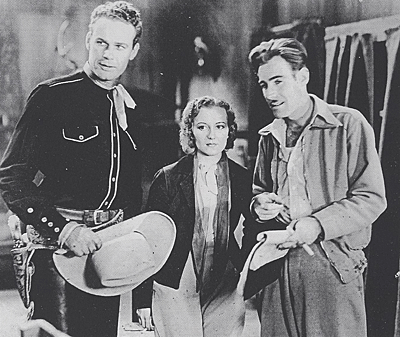 Lane Chandler and Doris Hill get some advice from director Oliver Drake on the set of "Texas Tornado" ('32 Kent).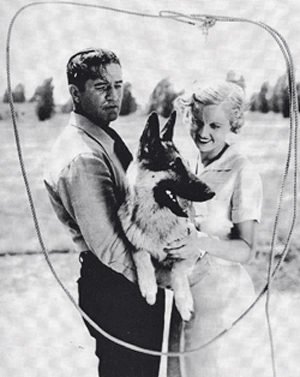 Publicity pose for Mascot's "Law of the Wild" serial ('34) with Bob Custer, Rin Tin Tin Jr. and Lucile Browne.
Director Sam Nelson outlines a scene with Iris Meredith and Charles Starrett for "South of Arizona" ('38 Columbia).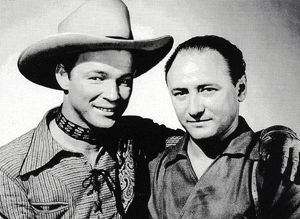 Roy Rogers with one of Republic's finest music composers, William Lava, in a 1938 publicity photo.
Gene Autry poses with Gail Patrick and Richard Dix, stars of Republic's "Man of Conquest" ('39), the story of Sam Houston.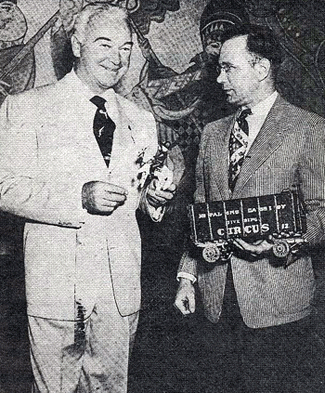 William Boyd chats with Bill Brinley in the early '50s when Brinley's handcrafted Hopalong Cassidy miniature circus was being promoted to department stores.
Character actor Forrest Taylor chats with Jock Mahoney while making "Smoky Canyon" ('52 Columbia).