Their hats are in the ring for the 1958 TV Western Season! Clint "Cheyenne" Walker, Hugh "Wyatt Earp" O'Brian, John "Broken Arrow" Lupton.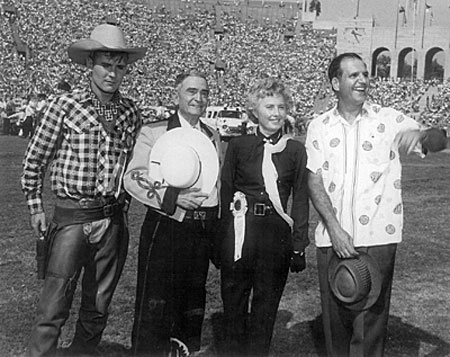 (Above) Will "Sugarfoot" Hutchins was Grand Marshal at the annual Sheriff's Rodeo in L.A. Coliseum in 1958. (L-R) Hutchins, Sheriff Gene Biscailuz, Barbara Stanwyck and a Sheriff's Deputy. (Below) Bizcailuz, Stanwyck, Hutchins.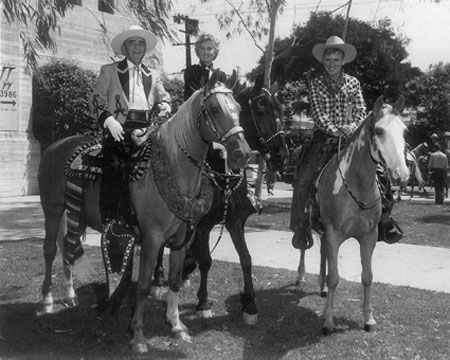 "Bonanza"'s Lorne Greene and Dan Blocker in one of their in-person comedy routines they performed at fairs and rodeos.
The songwriting team of Tim Spencer and Roy Rogers in 1943. Together they wrote
"Ride 'Em, Cowboy", "Song of the San Joaquin", "Faithful Pal O' Mine", "Rocky Mountain Lullaby", "All Because of You", "South of Santa Fe", "Curly Joe from Idaho", "Grin and Take it On the Chin" and so many more. All of these and others were published in ROY ROGERS' OWN SONGS FOLIO #1 in 1943.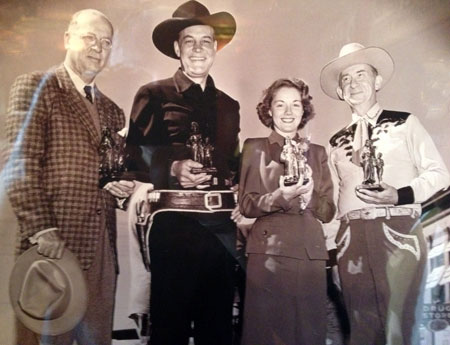 In 1947 Columbia released Charles Starrett's "Stranger from Ponca City". This photo was taken when Starrett and others appeared in Ponca City, Oklahoma, for the screening of the film at the old Center Theatre. (L-R) Unknown, Starrett, leading lady Virginia Hunter and Roscoe Ates. It's odd Ates was there as he has no role in the film and wasn't really associated with Columbia Pictures. However, Smiley Burnette was there for the film but is not in this photo. Each of the four above are holding a scale model of the very famous Pioneer Woman statue which is in Ponca City. (www.okhistory.org/sites/pioneerwoman.php)
Recently (10/18/15), I was in Ponca City, attended and spoke briefly before a special screening of "Stranger from Ponca City" at the Poncan Theatre along with Oklahoma Balladeer Les Gilliam and old friend Grant Hodges.
"The Rifleman", Chuck Connors talks with WLS Barn Dance Western singer Bob Atcher in Chicago. Atcher will be inducted into the Western Music Hall of Fame in Albuquerque in November. (Thanx to Doug Abbott.)
Buck Jones and Silver on a studio backlot. Looks to be in the '30s...can anyone identify others in the photo? (Photo courtesy Tom Weaver.)
Joan Crawford chats with Bill ("Hopalong Cassidy") Boyd and wife Grace Bradley
circa 1951.
Eddie Dean circa 1952.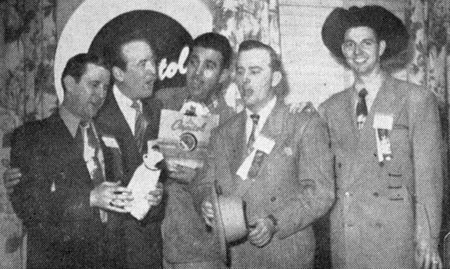 Pee Wee King, Red Foley, Tennessee Ernie Ford, Jimmy Wakely and Hank Thompson. There's a Capitol Records sign behind them but not sure for what event this photo was taken circa 1950.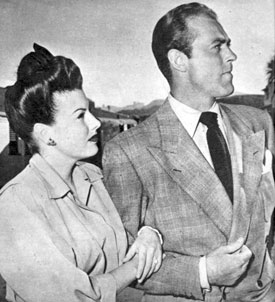 Sheila Ryan and Allan "Rocky" Lane on their honeymoon in Las Vegas in late 1945.
Restauranteur Arthur J. Simms, who formerly ran the commissary at MGM, opened a Hollywood restaurant in '48. Many celebrities donned a chef's regalia and entered a cooking contest to open the restaurant. Here Bill Elliott has just whipped up some fancy pastries. Simms went on to open several restaurants in the L.A. area.
You may not know it from the picture above, but the baby with his parents is the Western star in the photo below.
Sunset Carson is presented a card from the state of Kentucky certifying he is carrying out the aims of the police profession.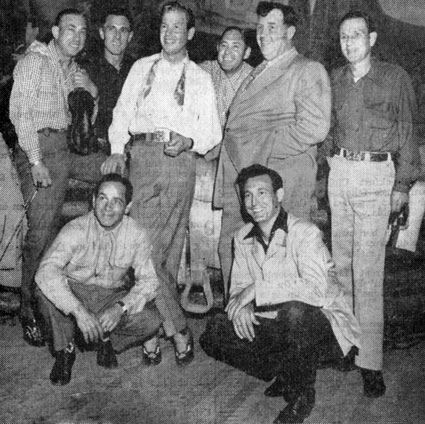 Rex Allen was doing a radio show with The Sons of the Pioneers in the early '50s. When Rex left, the show continued with the Sons of the Pioneers and was known as the "Lucky-U Ranch". Kneeling: Shug Fisher and Tommy Doss. Standing (L-R): Hugh Farr, Ken Curtis, Rex, Karl Farr, Andy Devine, Lloyd Perryman (leader of the SOP at the time).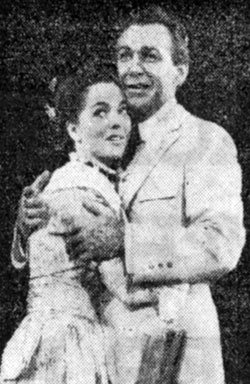 Romantic duo Joan Weldon and Forrest Tucker appearing at the Shubert Theatre in Chicago in April '59 for Meredith Wilson's musical comedy "The Music Man".
Actress Marie Windsor isn't just horsing around for a publicity photo...she really knows how to shoe a horse. She picked up the skill when she lived on her parents' ranch in Marysvale, UT. This photo from December 17, 1956.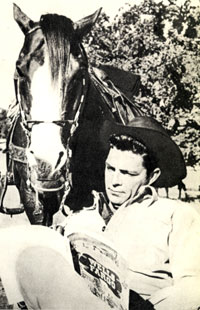 Dale Robertson studies a "Wells Fargo" script between scenes.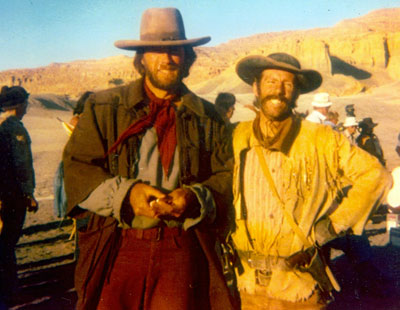 Clint Eastwood and stuntman/actor Neil Summers on location in Page, AZ,
for "The Outlaw Josey Wales".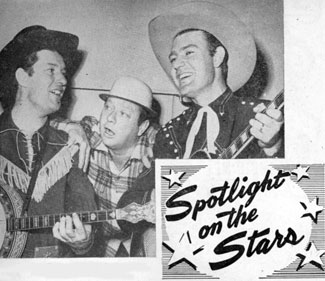 Smokey Rogers, Deuce Spriggens and Tex Williams circa 1950 from
COUNTRY SONG ROUNDUP.
Photo in Gene Autry, OK, in 1945. Berwyn, OK, became Gene Autry, OK, on November 5, 1941. (L-R) Minnie Pearl, Gene's brother Doug, Golden West Cowboy's manager Adams, Pee Wee King, Becky Barfield. Pee Wee's Golden West Cowboys in the back.
Guy "Wild Bill Hickok" Madison clowns around on the golf course with Bob Hope.
Starfire, Joyce Vanderveen and Doug Odney starred on "Death Valley Days: Pioneer Circus" ('59) portraying world famous equestrienne Mlle. Juliette Bonet, her mount Comtesse and high wire artist Dan Rowland.