William Boyd as Hopalong Cassidy visits the "Gunsmoke" set with James Arness and Dennis Weaver. (Thanx to Jerry Whittington.)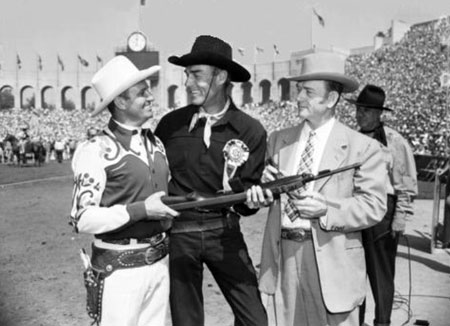 Marsh "Carbine" Williams, inventor of the M1 Carbine, with Gene Autry and Randolph Scott at the Los Angeles Sheriff's Rodeo. Circa mid '50s . (Thanx to Jerry Whittington and James Ewen.)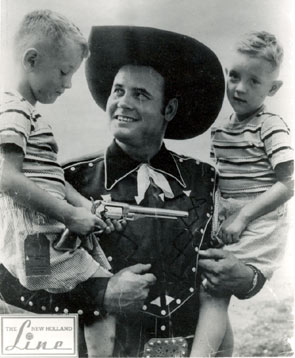 Sunset Carson lets two admiring fans examine his six-gun. The photo bares a "The New Holland Line" logo. Not sure, but we do know, thanks to Bill Thomas, that Sunset's brother Dale Harrison owned a farm equipment company in Texas. Being as how New Holland is a large farm equipment company, we're betting did some promotional work for New Holland. Matter of fact, the boys may even be Sunset's nephews. Photo probably originates in the '50s after Sunset's movie career ended.
Three and a half year old Rex Allen Jr. makes an effort to tie his Dad's neckerchief.
Look closely and you'll see Bob Livingston, Bob Steele and Rufe Davis in this cast and crew photo taken at Iverson Ranch during the making of "Pals of the Pecos" ('41 Republic). Director was Les Orlebeck...imagine he's one of the two seated in the front to the right. (Thanx to Jerry Whittington.)
Buck Jones in 1928 visiting St. Joseph's Foundling Home in Scranton, PA. Buck was in Scranton from May 21-23, 1928 performing at the Capitol Theatre. Before leaving the home Buck arranged with the Sisters for an ice cream party for all the children. (Thanx to Jerry Whittington.)
Just before visiting St. Joseph's, Buck paid a visit to WQAN radio in Scranton where he and Silver performed during the live noon broadcast. (Thanx to Jerry Whittington.)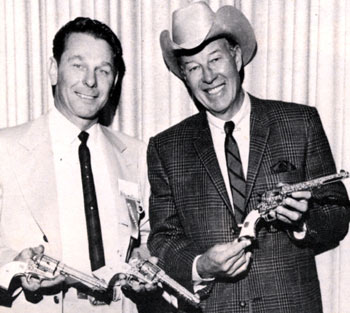 Noted arms writer and collector Tommy Bish with Bill Elliott displaying a trio of engraved Colts which Bish purchased at a gun show in '63. Elliott authenticated the fact he had owned the presentation .45s in the '50s.
Buster Crabbe surrounded by lobby cards and photos from his western/serial career. (Thanx to Jerry Whittington.)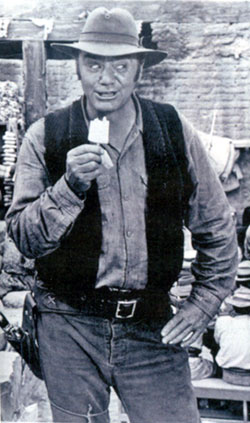 Ernie Borgnine takes a Popsicle break during the filming of "The Wild Bunch" ('69).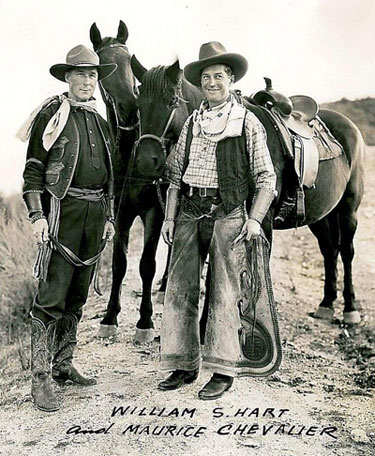 Possibly the only photo ever taken of musical star Maurice Chevalier in western duds alongside silent screen western great William S. Hart. (Thanx to Jerry Whittington.)
Candid photos of Clint Eastwood while starring in and directing "High Plains Drifter". Photos were taken by Jerry Whittington who was the sound effects and music editor on the western.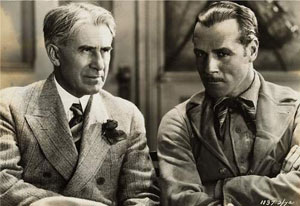 Jack Holt with renown western writer Zane Grey. Holt starred in many silent film adaptations of Grey's novels.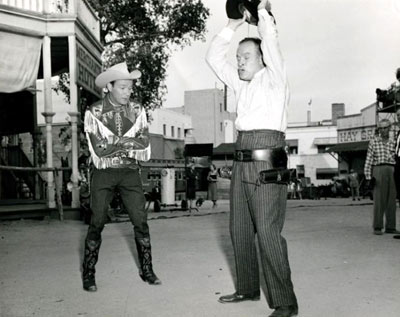 Roy Rogers admires Bob Hope's trick gun holsters on the set of "Alias Jesse James"
('59 Paramount). (Thanx to Jerry Whittington.)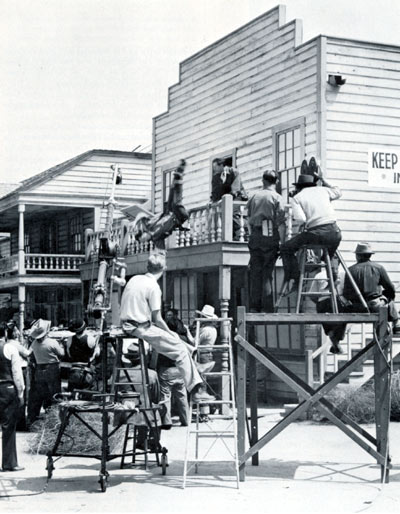 Stuntman Yakima Canutt takes a two story back dive into an off camera fireman's net in a Republic Three Mesquiteers B-western. That's Ray "Crash" Corrigan on the balcony.
On the set of "The Quiet Man" ('52 Republic), (L-R) Francis Ford (John Ford's brother), John Wayne, Victor McLaglen and director John Ford with Barry Fitzgerald seated.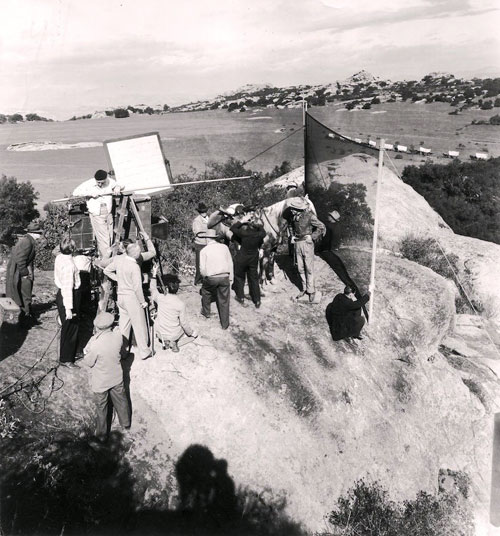 Behind the scenes shot while filming "California" in 1946. Released by Paramount in '47. Ray Milland in buckskins by the horse. Film was directed by John Farrow who is likely the man with his elbow bent standing by the camera. (Thanx to Jerry Whittington.)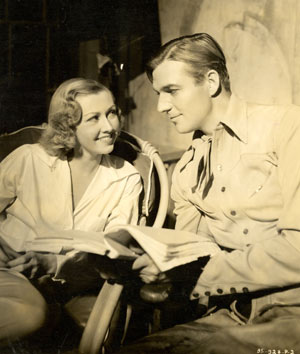 Evalyn Knapp and Smith Ballew go over their script for "Hawaiian Buckaroo"
('37 20th Century Fox).
Nice candid photo of Gabby Hayes with his autograph. (Thanx to Jerry Whittington.)
Slim Pickens admires his new Lucchese boots, circa mid-'50s.
A Tom Mix family photo. Tom, Thomasina and Victoria. (Thanx to Bobby Copeland.)
Taking a break at the beach in the '30s are director Sam Wood, Johnny Mack Brown and Norma Shearer. (Thanx to Jerry Whittington.)