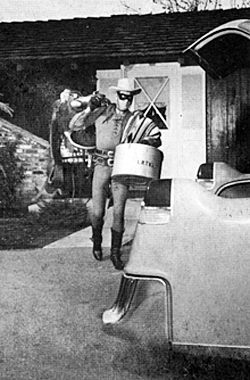 Sorry Silver, the Lone Ranger (Clayton Moore) prepares to load his saddle and tack in his Cadillac.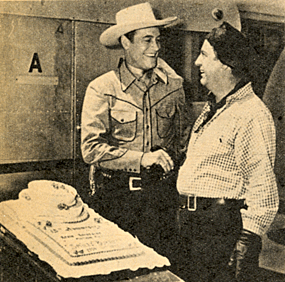 In late 1949 Charles Starrett congraulates Smiley Burnette on his 15th year in movies.
Don "Red" Barry and costar Lynn Merrick on the Republic backlot.
Tom Mix at home in his fully modern electric kitchen prepares some special Western brew...IN HIS HAT???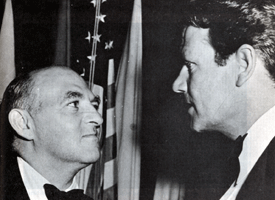 Irascible Columbia head honcho Harry Cohn with Joel McCrea at a Ciro's party following a benefit.
Eddie Dean at the piano composing another tune in 1952.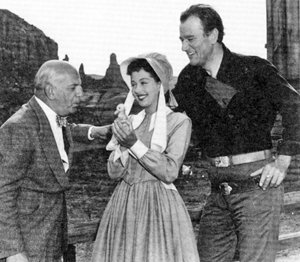 On location for "Angel and the Badman", Republic president Herbet J. Yates and star John Wayne look on as Gail Russell cuddles a baby duckling.
Tim McCoy costume production test for his Victory Pictures series in which he often went undercover as a Mexican or gypsy.
From TV GUIDE August 2-8, 1958, comes this great spread announcing six new TV Westerns. (L-R) Jeff Richards ("Jefferson Drum"), John Smith ("Cimarron City"), Robert Carricart (who was replaced by Paul Brinegar on "Rawhide"), Sheb Wooley ("Rawhide"), Steve McQueen ("Wanted Dead or Alive"...notice how his wardrobe changed from this photograph til the actual series), Mort Mills and Rex Reason ("Man Without a Gun").
Lights, Camera...John Smith, Spring Byington and Robert Fuller ready for action on an episode of "Laramie". Notice the teleprompter next to the light. (Thanx to Terry Cutts.)
Checking the script for "Rogue of the Rio Grande" ('31 Sono-Art-Worldwide) are (L-R) Myrna Loy, director Spencer Gordon Bennet, Jose Bohr and Carmelita Geraghty.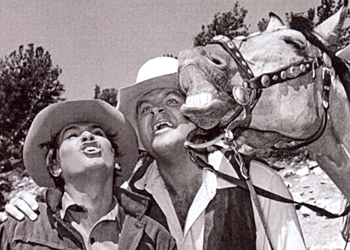 Horsin' around with "Bonanza"'s Michael Landon and Dan Blocker.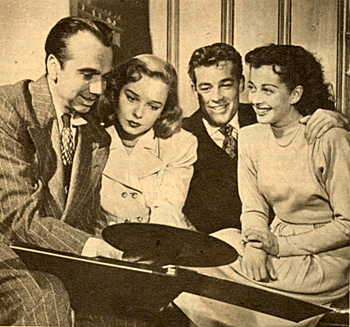 Noted agent Henry Willson with Diana Lynn, Guy Madison and Gail Russell ready to listen to a Harry James record in 1946.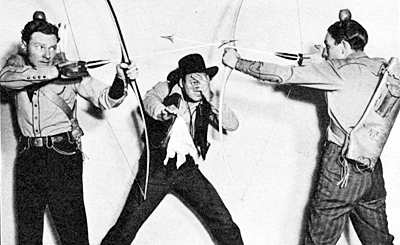 Bob Nolan cringes as Pat Brady (L) and Lloyd Perryman make like a couple of wild Sons of the Indians.
Ken Maynard in the cockpit of the airplane he owned in the early '30s and in which he made frequent trips to Central America.
Fred Scott receiving a Golden Boot Award in 1988. Fred's daughter, Brenda, is on his right with Sunset Carson and Fred's wife Mary on his left.
Always with a buck in mind, William Boyd owns his own saddle and tack, polishes them and rents them to producer Pop Sherman for his Hopalong Cassidy films.
Maurice Chevalier gets some gun pointers from William S. Hart.
Peter Brown takes a break on the set of "Lawman".
Hoot Gibson with the sound engineers on the set of "The Long, Long Trail" in 1929.
Boyd Magers of WESTERN CLIPPINGS welcomes "Rin Tin Tin" star Lee Aaker to his first film festival. While booking Western stars for several festivals I located the reclusive Lee Aaker in the mid-'90s and brought him to the Toulumne Wild West Film Fest in Sonora, CA.
Republic's Adele Mara and Rod Cameron on a publicity date in 1950.
At Sugie's Tropics for dinner, Rod needs help in handling chopsticks.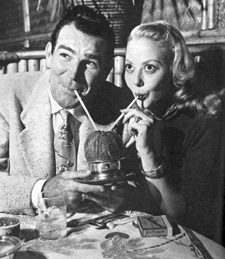 Enjoying a coconut concoction.
Once around the dance floor.
Arriving at Pan Pacific Auditorium for a hockey match.
Adele gets instructions on how to hold a hockey stick from player Paul Courteah while Rod chats with Joe Kaholec.