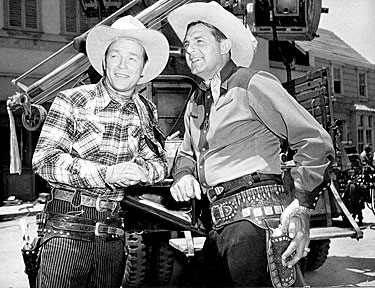 Roy Rogers and Ray "Crash" Corrigan on the Republic backlot during the filming of "Trail of Robin Hood" ('50).
L.A. Angels' owner Gene Autry with Viva Records co-owners Snuff Garrett and Clint Eastwood at a cocktail reception in L.A. December 1, 1982 to celebrate Viva's second anniversary. The event marked the debut of the soundtrack album for Eastwood's "Honkytonk Man".
James Arness seems to look disapprovingly upon brother Peter Graves' smoking.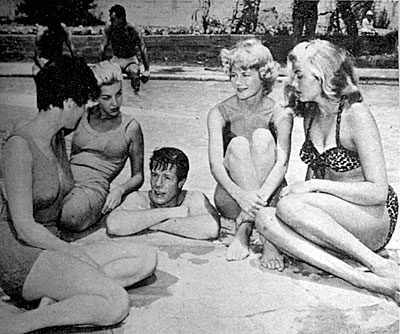 Robert "Wagon Train" Horton has a problem...time to settle for one?
Ward Bond of "Wagon Train" makes a visit to a children's hospital.
Rex Allen dispenses a little six-gun instruction to a young fan.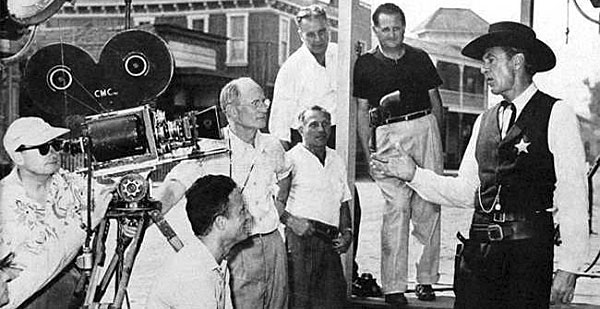 Gary Cooper talks with crew members while making "High Noon" ('52 U.A.).
(Thanx to Glenn Frankel's new book HIGH NOON: THE HOLLYWOOD BLACKLIST AND THE MAKING
OF AN AMERICAN CLASSIC.)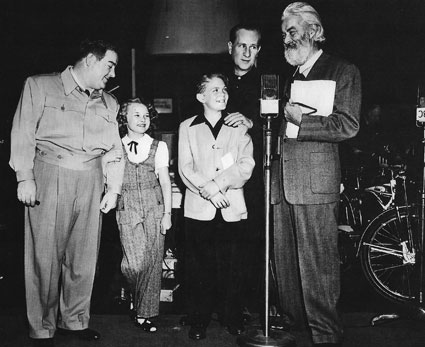 Abbott and Costello and Gabby Hayes at a children's benefit.
(Thanx to Roy Bonario and Chris Costello.)
A quiet moment with John Wayne and Richard Boone.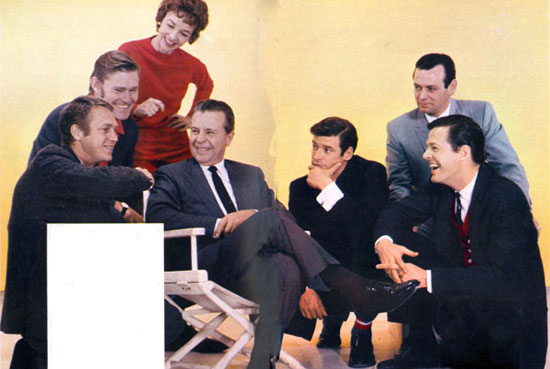 Head of Four Star Films Dick Powell in April '59 with his 'stars' (L-R) Steve McQueen ("Wanted Dead or Alive"), Chuck Connors ("The Rifleman"), leading lady Beverly Garland, Peter Breck ("Black Saddle"), David Janssen ("Richard Diamond, Detective") and Robert Culp ("Trackdown").
Fraser Heston, Charlton Heston's son, gets the drop on "The Rifleman" with Chuck Connors' own Winchester.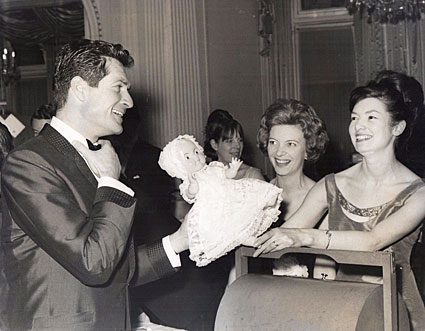 Hugh "Wyatt Earp" O'Brian attends the Pied Piper Ball at London's Hyde Park Hotel
in 1965. (Thanx to Terry Cutts.)
Actress Jane Powell, 5 ft. 2 in., has to stand on a box to measure up to 6 ft. 1 and a half inch Tom Tryon, Disney's "Texas John Slaughter", in this March 1959 publicity pose.
...on the other hand, Roy Rogers has to bend down to say hello to a young admirer while Roy was appearing at the Madison Square Garden Rodeo in March 1959.
Hoot Gibson and Mrs. Poodles Hanneford on the Hagenbeck-Wallace Circus lot in Norfolk, VA on August 9, 1937.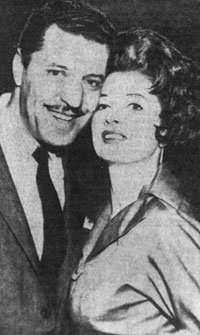 Famed striptease artist Tempest Storm greeted Herb Jeffries upon his arrival in L.A. (4/16/59) from Juarez, Mexico where Herb had just obtained a quickie divorce from his second wife. Jeffries and Storm were married later in 1959.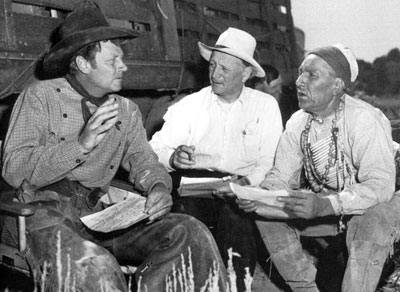 On location for "The Outriders", Joel McCrea goes over some script pages with script supervisor Don McDougal and Nipo T. Strongheart.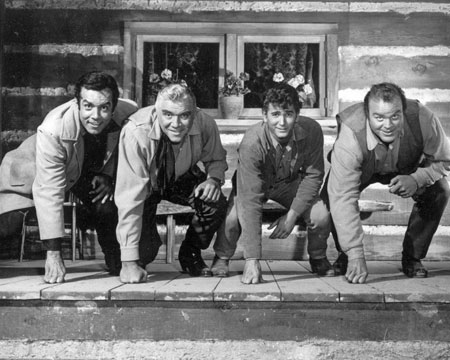 The "Bonanza" Boys are ready for action! Pernell Roberts, Lorne Greene,
Michael Landon, Dan Blocker. (Thanx to Terry Cutts.)
Leo Carrillo and his wife beside their pool at their ranch in its heyday. The Leo Carrillo Ranch Historic Park at 6200 Flying Leo Carrillo Lane in Carlsbad, CA is open to visitors these days.
Tom Mix makes a couple of young fans very happy!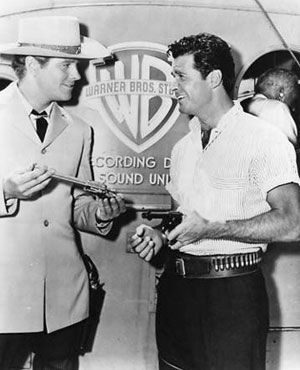 Comparing shootin' irons! Warner Bros. TV Western stars Wayde "Colt .45" Preston and James "Maverick" Garner.
Not sure exactly what's going on in this photo, but I'm sure Hopalong Cassidy was happy to be doing anything with cute Elizabeth Taylor.
"The Virginian", James Drury, visited Australia in the '60s. Seen here with Australian TV personality Panda (left) and TV singer Val Ruff.
Sixguns in hand, five year old Dickie Barrett aims to get Wild Bill Hickok's contribution to the Heart Fund while Guy Madison was filming "The Command" in 1954. (Thanx to Jerry Whittington.)
"The Rebel", Nick Adams, takes a little non-horseback ride with good friend
Elvis Presley.