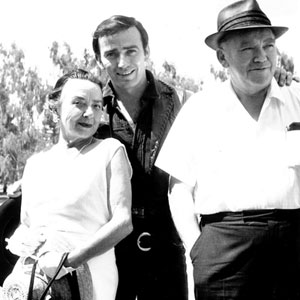 "The Virginian", James Drury, with his parents Beatrice and James Drury Sr.
James Drury clowns it up with ???
James Drury, Doug McClure, Gary Clarke with Charles M. Warren, producer of "The Virginian" as he tries out an old fashioned spy glass on July 12, 1962.

James Drury in 1962 with eagle trainer John Scheiner.
Personal appearance for the St. Louis Police Circus in 1965. (L-R) Sons of the Pioneers: Pat Brady, Lloyd Perryman, Roy Lanham, Rusty Richards, Dale Warren with Candy Cavaretti, James Drury, Jon Locke and John Mitchum.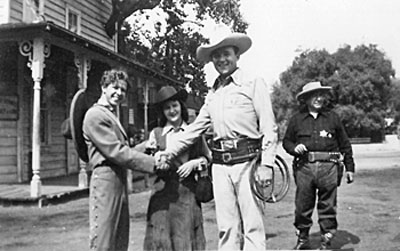 At the Monogram Ranch in 1949 (L-R) actor Conrad Brooks of "Plan Nine from Outer Space" fame, Monica Wilson, Whip Wilson and unknown man in background. (Thanx to John Antosiewicz and Tom Weaver.)
At the Monogram Ranch in 1949, Joe Brooks (brother of Conrad)
with Johnny Mack Brown. (Thanx to John Antosiewicz and Tom Weaver.)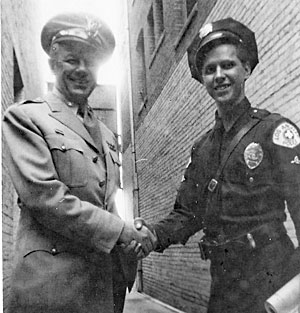 Tom Keene and Conrad Brooks in 1956 while filming "Plan Nine from Outer Space". (Thanx to John Antosiewicz and Tom Weaver.)
Top article dated 1/10/49. Bottom article dated 7/6/49.
March 17, 1948 Albuquerque, New Mexico.
Tex Ritter took time out from his personal appearances at the Kimo Theatre to entertain physically handicapped homebound children who could not attend public schools. Photo March 21, 1948 at the home of Mrs. W. Hastings in Albuquerque, New Mexico. May Porter, the children's teacher is to the left of Tex.
As part of Roy Rogers' celebration of 50 years in show business, he kisses 'Broadway Trigger' good-bye after giving the horse to the New York Police Department.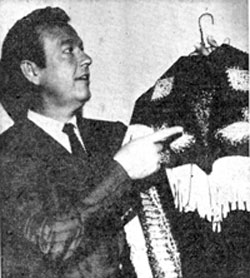 Rex Allen makes ready one of his 10 "wild" shirts as he prepares for his appearance at the New Mexico State Fair in Albuquerque. (9/21/60)
William Holden and John Wayne get last minute directions from director John Ford for a scene in "The Horse Soldiers".
Lash LaRue and Black Diamond.
Rehearsing for the Arthur Godfrey Show are Tony Marvin, Lu Ann and Gene Autry
in late 1953.
Clint Walker and daughter Valerie plan for some remodeling of their San Fernando Valley home in late 1957.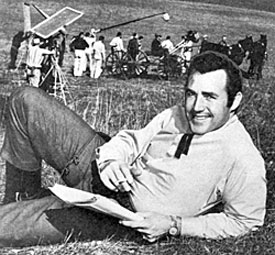 While technicians set up the next scene, Rex Reason goes over his script for
TV's "Man Without a Gun".
William S. Hart welcomes Robert and Barbara Taylor to his ranchhouse just prior to the filming of Taylor's "Billy the Kid".
Following a guest star appearance on NBC TV's "Letter to Loretta" in 1954, Loretta Young presents Jock Mahoney with an appropriate present.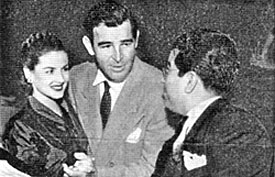 During a night out at the Mocambo, Rod Cameron requests a dance with B-Western leading lady Virginia Belmont from her husband.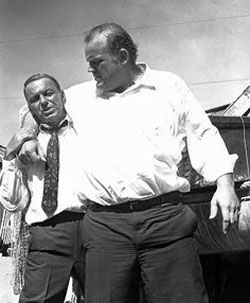 "Quite a difference in size!" Frank Sinatra and Dan Blocker on the set of
"Lady in Cement" ('68).
Robert Fuller and Burt Reynolds go at it for a publicity arm wrestling match on July 28, 1959 to see whose new series will come out a winner. Both Bob's "Laramie" and Burt's "Riverboat" began on NBC on September '59.
Forrest Tucker dines with a beauty contest winner at Giant City State Park, Illinois.