Buck Jones catches up on his reading with "Triple X Western" pulp magazine.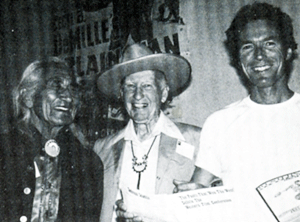 Chief Dan George, Tim McCoy and Clint Eastwood at the June 1976 Sun Valley, Idaho Western Film Conference. Also in attendance were directors King Vidor, Delmer Daves and Henry King as well as actors Buster Crabbe, Peter Fonda
and Warren Oates.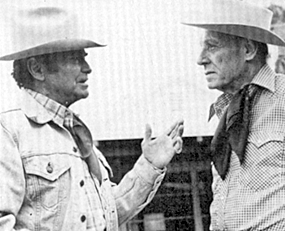 Two Republic icons, Don Barry and Bob Livingston, discuss old times while filming "Blazing Stewardesses" (1975 Independent-International) produced by Sam Sherman and directed by Al Adamson.
It was Livingston's last hurrah.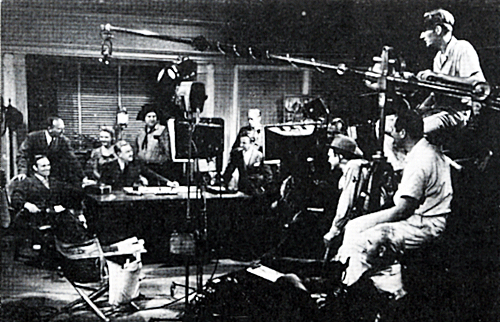 Preparing to film a scene for Republic's "Colorado Sunset" ('39). (L-R) Gene Autry, associate producer William Berke, June Storey, Purnell Pratt, Smiley Burnette, director George Sherman with script girl (left foreground) and film crew.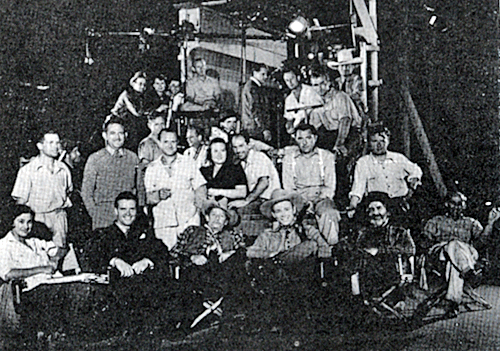 Filming "Wall Street Cowboy" ('39 Republic). (L-R seated) Dorothy Hughes (script clerk), Craig Reynolds, Raymond Hatton, Roy Rogers, Gabby Hayes, Chet Fowler (Best Boy). Second Row: Pat Schultz (2nd Sound Man), Tom Carmen (1st Sound Man), Eddie White (Assistant Producer), Pat Butcher (Hairdresser), Charles Butterworth (4th Sound Man), Bill O'Connor (1st Assistant Director). Third Row: Henry Morris (double), Jack Chambers (Assistant Grip), Ray Flintsky (Assistant Cameraman), Reggie Lanning (Operative Camera Man). 4th Row: Roy Wade (Prop Man), Ann Baldwin, Bob Mark (Makeup Man), Eldon Ruberg (Boom Man), Bud Weiler (Assistant Cameraman), Bud Thackery (Process Cameraman), Whitey Lawrence (1st Grip), Joe Kane (Assistant Producer and Director).
Robert Fuller teaches Archie Moore a few gun tricks while filming "Wagon Train: Geneva Balfour Story" in 1964. Moore was Light Heavyweight Boxing Champion
from '52 to '62.
Promotional photo for Coca Cola with Audie Murphy and Piper Laurie ('52).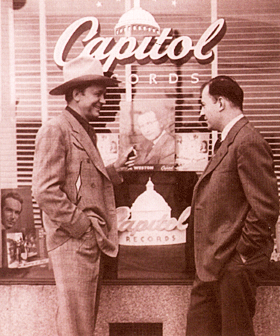 Tex Ritter with songwriter Johnny Mercer in front of Capitol Records. Tex was the first western singer signed to Capitol on June 1, 1942.
Bob Wills and the Texas Playboys with Penny Singleton while filming "Go West Young Lady" ('41 Columbia).
(L-R) Singer Hank Snow, singer Webb Pierce, Western tailor Nudie, singer Slim Whitman and Rex Allen.
Sunset Carson with Betty Price, President of Sunset's Rough Riders Club, while Sunset was filming one of his later Yucca B-Westerns.
Hugh O'Brian on a date with Renee Freeman at the Cocoanut Grove Nightclub
in 1957.
Gail ("Annie Oakley") Davis with her stuffed animals.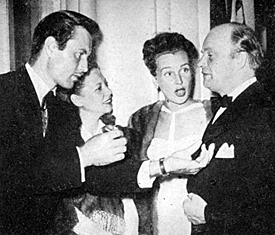 George Montgomery and Dinah Shore talk with comic ventriloquist Edgar Bergen and his wife Frances at a party for Presenter J. Arthur Rank's "Black Narcissus" ('47).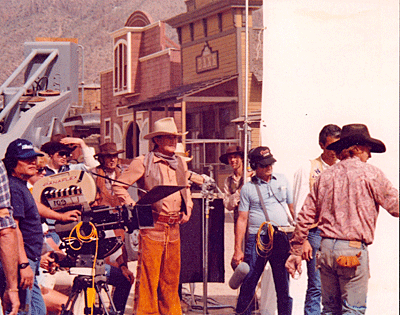 Don Collier ("High Chaparral", "Outlaws") filming a Hubba Bubba
bubble gum commercial.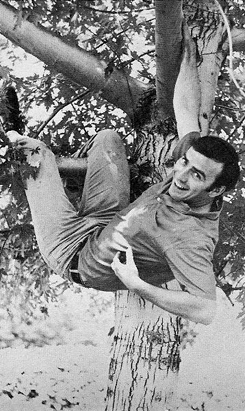 Just hangin' around with "The Virginian" (James Drury).
Sergio Leone directs Clint Eastwood and Margarita Lozano in a scene from
"A Fistful of Dollars" ('64).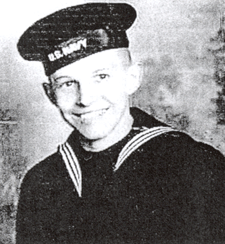 Jan Merlin, star of TV's "Rough Riders" ('58-'59) and a heavy in many TV Westerns, at 17 in the U.S. Navy in 1942.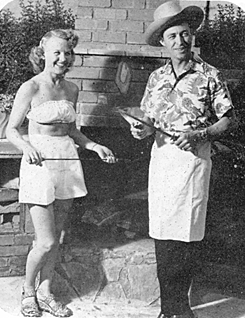 Come right in! Eddie Dean and wife Lorene (Dearest) have a cookout supper ready.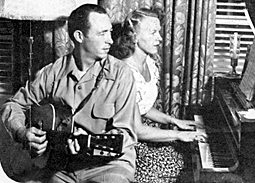 Eddie and Dearest wrote many songs together.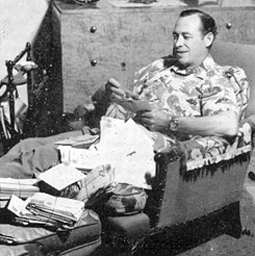 Eddie reads all his fan mail.
Eddie and Dearest listen to Eddie's latest Majestic recording.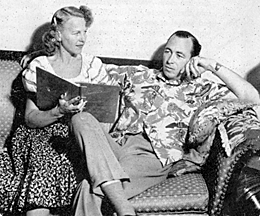 Dearest helps Eddie rehearse his lines for the next day's shooting.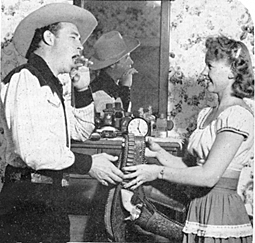 Five a.m., time to leave for another PRC shooting day as Dearest hands Eddie
his guns.
Another day's filming completed, Eddie's home with Dearest and their
toy terrier Skipper.