Dick Jones demonstrates the art of gun spinning in his living room. Note the framed still of Dick and his horse from "Rocky Mountain" hanging over the fireplace and the boots on the mantel. The picture was from his favorite film ("Rocky Mountain")and the boots are the ones he wore in "Trail of the Hawk" ('35). (Thanx to Ann Snuggs.)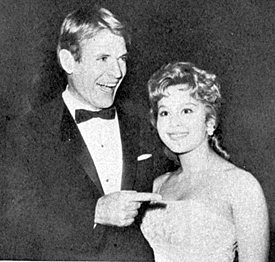 Will "Sugarfoot" Hutchins on a date with the gorgeous Sherry Jackson in 1960.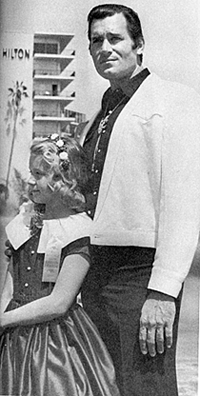 Clint "Cheyenne" Walker and his 11 year old daughter Valerie.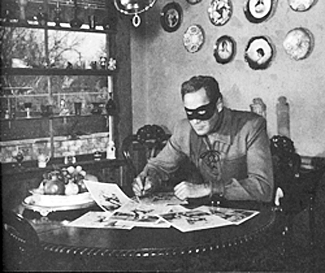 The Lone Ranger (Clayton Moore) signs autographs at his home.
It takes Johnny Mack Brown and three of his children in November 1944 to persuade Buddy for his weekly scrub down. (L-R) Cynthia, 5 and a half, Jane, 14, and Lachlan.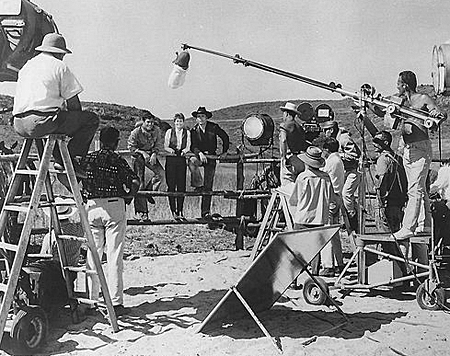 James Drury, Roberta Shore and Hugh O'Brian pose for a picture while filming the first episode of "The Virginian: The Executioners" in 1962.
Smiley Burnette with fan Edwin Hunter in Marietta, GA in the late '40s or early '50s.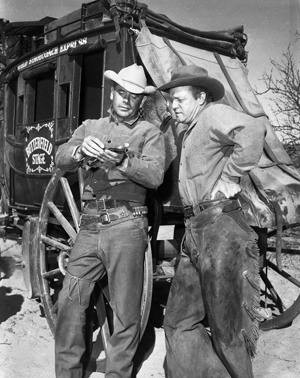 Glenn Ford and Van Heflin in a discussion about Ford's gun while filming "3:10 to Yuma" at Old Tucson, AZ.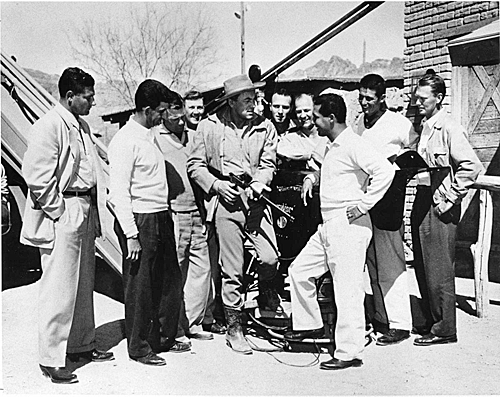 Members of the Cleveland Indians baseball team take a break from Spring Training in the '50s to visit Old Tucson where John Ireland was filming "Gunfight at O.K. Corral". (L-R) Early Wynn, Don Mossi, Bobo Lemon, Hal Narango, Jim Hegan, George Strickland, Bobby Avila, Hank Aguirre and Hoot Evans.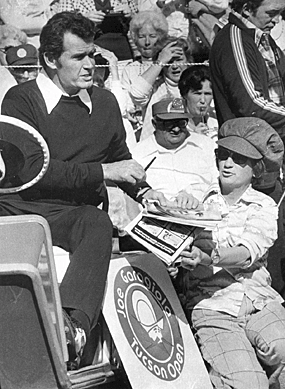 James "Maverick" Garner signs an autograph during the Joe Garagiola
Tucson Open in the '70s.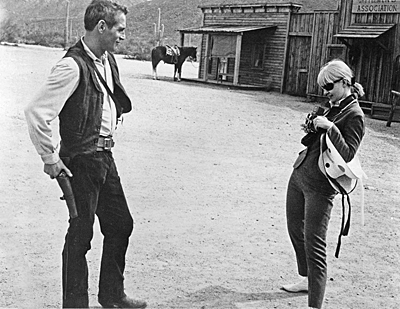 Paul Newman has his photo taken by his wife, Joanne Woodward, during a break in filming of "Hombre" at Old Tucson in 1967.
Actor John Anderson and director Burt Kennedy take a smoke break while filming "Young Billy Young" at Old Tucson in July 1968.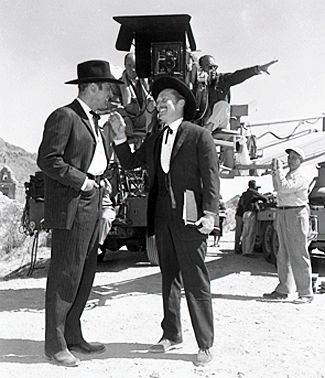 Burt Lancaster and Kirk Douglas chat during a break in filming "Gunfight at O.K. Corral" at Old Tucson in 1957.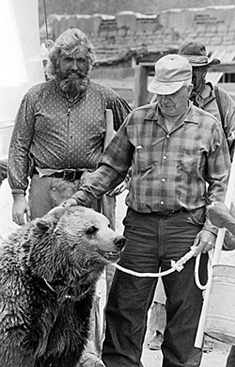 Bozo, the grizzly bear, is petted by owner/trainer Lloyd Beebe as actor Gene Edwards watches on the set of "The Legend of Grizzly Adams" at Old Tucson in 1989. Edwards doubled and did stunts for Dan Haggerty in the original "Grizzly Adams" TV series for 24 episodes from '77-'78 before taking on the role for this one-shot movie.
"Gunsmoke"'s James Arness compares boot sizes with Texas Ranger Captain Clint Peoples while Arness was in Tuscon, AZ on January 30, 1959. Peoples extended an invitation to attend a dinner in Austin, TX where Arness would be made an honorary Ranger.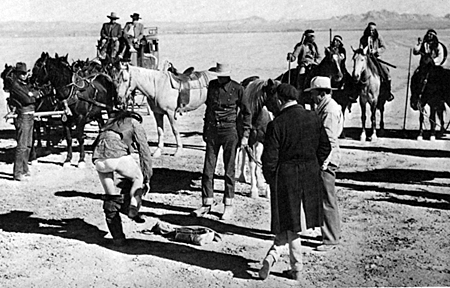 John Wayne watches as Yakima Canutt gets into his Indian costume for the famous leap from a running horse to the lead horse of the stagecoach team at 45 miles an hour. Man in the overcoat is "Stagecoach" director John Ford.
James Drury at home just 'kitten' around.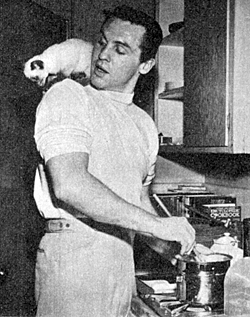 Lured by the aroma of food, Phougg, Pat ("Tombstone Territory") Conway's kitten purrs, "Stop 'kitten' around, let's eat!"
Dale Robertson, script in hand, on the "Tales of Wells Fargo" set.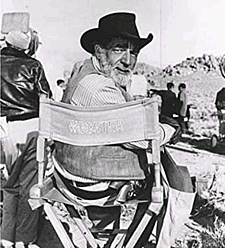 Frank McGrath of "Wagon Train" waits on location in his personal "Wooster"
chair for his next scene. (Thanx to Terry Cutts.)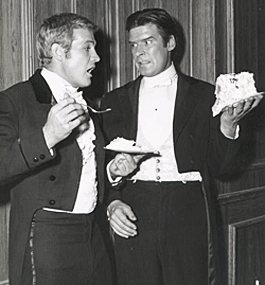 Is this any way for "Big Valley" brothers to act at a wedding reception? Lee Majors and Peter Breck.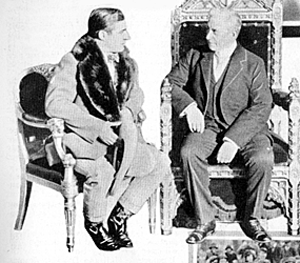 Tom Mix with Lord Mayor Sir Alfred Bower of London.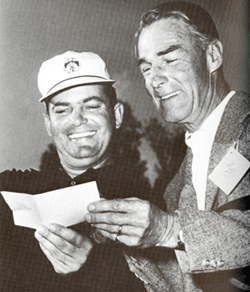 Randolph Scott presents Lionel Hebert his check upon winning the 1958 Tucson
Open Golf Tournament.
Gene Autry and the Indians...(L-R) Full-blooded Creek Chief Wah-Nee-Ota, who was once in the Tom Mix Circus and was a movie extra, Princess White Fawn, Gene Autry, Betty Hernandez, Bennie Atencia in 1952.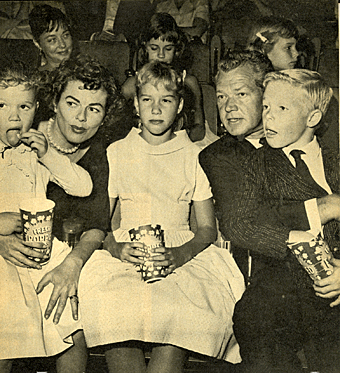 Don't know what they were watching...but they were a great movie couple. Barbara Hale and Bill Williams with their children, Nita (6), Joanna (13) and Billy (9) in 1960.