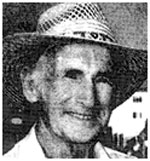 RUSS SAUNDERS
As a young boy, Russ Saunders, growing up near Winnipeg, Canada, delighted in fearlessly jumping off the barn on his parents' farm. He would be cradling chickens with a youngster's belief their flapping wings would enable him to fly!
Russ became a world class acrobat, winning the Canadian Senior National Diving Championship. He was also a tumbling champion. His over half century of film stunt work beginning in 1931 as a football player in "Touchdown". After his move to California it didn't take long for Russ to gravitate to the fabled "Muscle Beach" in Santa Monica. Known as the Body Beautiful on the beaches of Southern California, he befriended such body building luminaries as Vic Tanny, Steve Reeves and Jack LaLanne. Soon teaching acrobatics, he was offered diving scholarships at USC and UCLA. Instead, he chose film work in Hollywood circa 1931.
Becoming a U.S. citizen, after service in WWII as a paratrooper sergeant with the 82nd Airborne Division, Russ performed stunts for Alan Ladd (the classic fight in "Shane" is mostly Russ), Gilbert Roland, Gene Kelly, Danny Kaye, Charles Boyer, Red Buttons and Richard Widmark among many other great stars. For Hitchcock's "Saboteur" Russ doubled Robert Cummings jumping off a 60 foot bridge and swimming 100 yards while handcuffed. While working on such films as the 1948 version of "The Three Musketeers" Russ was selected by avant-garde artist Salvador Dali as the model for his painting of "The Christ of St. John".
A member of the Stuntmen's Association, a few of his hundreds of credits include such action classics as "Blazing Sixes" and "Guns of the Pecos" with Dick Foran, "King Kong", "Dead End Kids On Dress Parade", "They Made Me A Criminal", "Nancy Drew and the Hidden Staircase", "They Died With Their Boots On", "Greatest Show On Earth", "Saskatchewan", "Seven Brides For Seven Brothers", "Broken Lance", "Battle Cry", "Spartacus", "Guns of the Timberland", "Hatari!", "A Distant Trumpet", "Cheyenne Autumn", "The Shootist", "Bonnie and Clyde", "Stalking Moon", "The Hindenburg", "Towering Inferno", "Poseidon Adventure" (doubling for Red Buttons) and "Earthquake". His last film work was in "Mississippi Burning" ('88) starring Gene Hackman.
Sadly, Russ Saunders passed away in L.A., CA, in July 2001 at the grand age of 82. He appeared in well over 100 films and countless TV shows, always excelling in making the actor he was currently doubling look that much better on film. Upon hearing of Russ' passing, his long time friend, Jack LaLanne stated, "Russ was one of the finest gentlemen and all around athletes I have ever known. Very unselfish, always trying to help people. A good role model for youngsters." I'm sure Russ would be happy with this epitaph. Another "Action Actor" that thrilled us for decades.