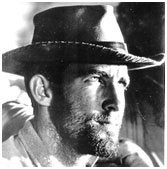 RUDY ROBBINS
It is my distinct pleasure to write about my long time friend, Rudy Robbins. Born with a defective heart, doctors told Rudy's parents he wouldn't live past 16. Not allowed to play sports in school for fear the exertion would kill him, Rudy lived a sheltered life. At 18 doctors found his heart had healed and he could now do anything physically he wanted to.
Born November 17, 1933, in Evergreen, LA, where his father was a cattle and horse trader, when Rudy was two the family moved to Port Arthur, TX, where he grew up with his father working a variety of jobs from cook on ocean going ships to cafe owner and used car sales. His mother worked in their small cafe.
Graduating from East Texas Baptist College he received a Bachelor of Science Degree in Business Administration and Sociology. Rudy went into the Army where he continued competition in track team javelin throwing, setting a new record for the javelin throw in 4th Army track meets.
Rudy tells WC, "While in the Army I met a guy whose father produced western movies. He told me how interesting it was watching the cowboy stuntmen work, and about how much money they earned. Since I'd always wanted to work with horses, I decided then and there, when I got out of the Army I would try to become a cowboy movie stuntman. I heard western movies were being made in Bandera, TX, so upon my discharge from the Army I moved to Bandera, securing a job on a dude ranch as head wrangler, waiting for another movie to be made there. It just so happened that a few months later, John Wayne came to nearby Brackettville to film his epic 'The Alamo'. I went there and applied as a local so I could observe, and find out how to become a stuntman. Duke

himself came to look over some of us who were seeking work as extras. He came over to me and asked me my name. He said he wanted me to play a part in his movie as one of Davy Crockett's men. I could hardly believe it; Duke had picked me out of that crowd to play a role, instead of being an extra. He paired me up with stuntman Chuck Roberson in several scenes all through the movie where Roberson would ask me, 'Do that mean what I think it do?' I would just reply with, 'It do.' When Duke and Cliff Lyons saw I was an excellent horseman and pretty handy, I got in on a few very minor stunt things. I was able to observe and learn just how stunts were done. Duke introduced me to director John Ford who filmed a few scenes of me doing all sorts of things, most of which were never used in the picture. Ford put me in his picture 'Two Rode Together', then I moved to Calabasas, CA, and trained with stuntman Lenny Geer and entered my movie career there as both actor and stuntman."
Help from other established stuntmen such as Chuck Roberson, Dean Smith and Red Morgan soon got Rudy rolling. John Wayne liked Rudy so much he would go on to appear in "Green Berets", "Rio Lobo" and "McLintock!", which is where I first met up with Rudy.
"One of my biggest thrills as a stuntman," Rudy smiled, "was when I got to double James Arness on 'Gunsmoke' for a few episodes. I felt like I had finally arrived as a legitimate cowboy stuntman because now I had doubled the star of a very popular western show."
Rudy also worked on "Bullwhip Griffin", "The Rounders", "Cheyenne Autumn", "Sugarland Express", several short subjects and episodes of TV's "Daniel Boone". He also portrayed Buffalo Bill for a BBC special.
Between pictures Rudy worked as production manager on some of the largest exposition type shows in the country. He teamed up with Montie Montana Jr. to recreate the Buffalo Bill Wild West show with a cast of 125. As Buffalo Bill with this show, he toured the world. Rudy also served as a goodwill ambassador for the U.S. Dept. of Commerce, touring Europe to promote the sale of western trade goods.
With the decline in the production of westerns, Rudy moved back to his native Texas and began to produce and perform in his own Rudy Robbins Western Variety Show, and the All American Cowboy Get-Together, bringing performers and spectators from across the U.S. He then formed a four piece western harmony group, The Spirit of Texas, which was so well received the Texas Legislature passed a special resolution naming them the "Official Cowboy Band for Texas". They were nominated as Best Western Group of the Year by the Academy of Western Artists. Although we hadn't seen each other in years, we finally met up at Dean Smith's celebrity rodeo in Abilene. What a joy it was for me to visit with Rudy. His picture is proudly displayed in my film room along with many of our old friends from our movie days. Rudy Robbins is another unsung hero of our film industry, a fine gentleman and a compadre I'm so proud I knew.
At 77, Rudy died February 21, 2011, of cancer in Bandera, TX.