JOCK MAHONEY
Jacques, Jock O., Jack, Jocko or Jock. No matter how he billed himself throughout his career as "Range Rider", "Yancy Derringer" or the Lord of the Jungle, Tarzan, in his numerous film and TV appearances, Jock Mahoney was a sight to behold performing stunts.
Born Jacques O'Mahoney February 7, 1919, in Chicago, IL, he grew up in Davenport, IA, where his plans were to become a doctor. Jock attended the University of Iowa and between exams was the school's top athlete excelling in swimming, basketball and football. A rugged 6'4", Jock earned the rank of fighter pilot and instructor in the Marine Corps during World War II. After his service in the Marines, Jock gravitated to Hollywood for one of the most illustrious stunt careers ever.
The stunt profession is one of the most difficult jobs in the film business, but Jock's superb athletic conditioning served him well and he soon earned his spurs doing action scenes for such greats as Gregory Peck, Charles Starrett, Errol Flynn and Randolph Scott. While working at Columbia on the Durango Kid series, casting people and directors noticed the handsome lad could also act when given the chance at some dialogue.
From '46 through the mid '50s Jock was given ever bigger roles in dozens of films starring Charles Starrett ("Pecos River", "Smoky Canyon"), Gene Autry ("Rim of the Canyon"), Randolph Scott ("Nevadan", "Doolins Of Oklahoma") and even the Three Stooges ("Knutzy Knights", "Out West" and "Punchy Cowpunchers" stand out.)
Jock was being groomed to take over the Durango Kid series whenever Starrett called it quits; unfortunately Columbia halted the series first. With his acting career firmly launched, Jock was soon starring in action-packed serials for Columbia including "Cody of the Pony Express" ('50), "Roar of the Iron Horse" ('51) and "Gunfighters of the Northwest" ('54) co-starring Clayton Moore.
His screen visibility was rising when he and Martha Hyer made a quick trip to Australia for a good little Aussie western, "Kangaroo Kid".
Hardly a feather in his cap, "Kangaroo Kid" was quickly forgotten, but once Jock and Dick Jones teamed together for 78 episodes of "Range Rider" adventures for Gene Autry's Flying A Productions from '50-'53, his foothold in the western field was forever established. "Range Rider" is the most action filled half-hour western ever presented. The pairing of Jock and Dick was a dream team. The two actors/stuntmen were a perfect combination of humor and action. Every episode is a delight. The action from these two men is as fluid and perfectly coordinated as any to be seen, then or now. The two reasons I wanted to enter the stunt profession are Jock Mahoney and Dick Jones.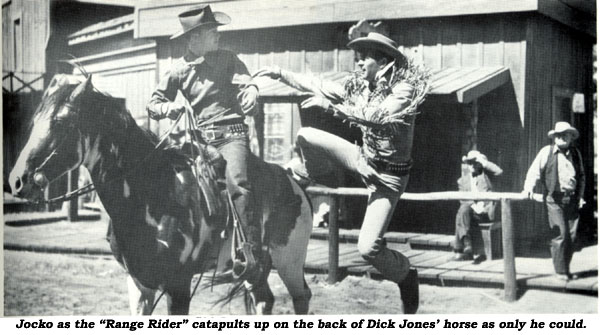 Loretta Young noticed Jocko's potential and co-starred him five times on her popular series in the mid '50s. In 1958 Jock starred in another series, "Yancy Derringer", set in New Orleans.
Armed with a Universal Studios contract and numerous guest star appearances on television, Jock continued to perform most of his own stunts when allowed by the front office. Now that he was a major star, an injury to him would mean serious setbacks in production.
In 1962 a major switch in casting brought 43 year old Jocko the coveted role of Tarzan. He was thrilled for the chance to do films other than westerns and often stated in his later years the two Tarzan films he starred in were his favorite roles.
Jock made a few forgettable films in the Philippines and more guest appearances on television ("Rawhide", "Laramie", "Gunslinger", etc.) and in his later years, before his stroke, was a favorite guest at western film festivals.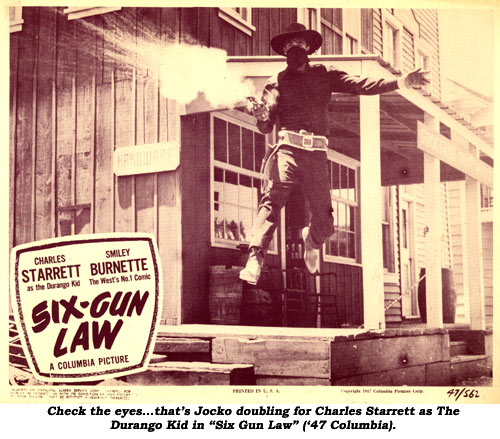 He didn't know a stranger, everyone was his friend and he made thousands of new fans who weren't even born during "Range Rider" and "Yancy Derringer" time. Jock received a Golden Boot award in 1986 for excellence in western films and was one of the first men elected into the Stuntmen's Hall of Fame.
Jock and I once lived in the same complex in Sherman Oaks, CA. He would often call me to come visit him or walk around the block with him after his stroke. To be in his presence and to be his friend was my honor. He was one of a kind. A superb athlete and a consummate stuntman that made every actor he doubled look better. He made everything he did look so easy and effortless, when indeed these stunts are not. He often joked, "I was born a cat." Jock's passing December 14, 1989, left a giant void in my life. I still think of him often.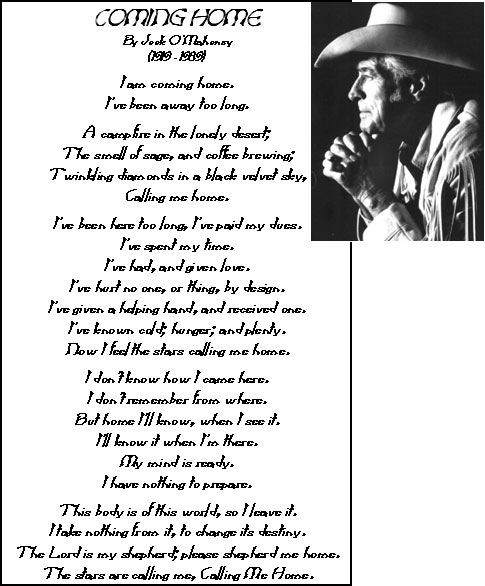 (Thanx to Will Hutchins for submitting Jocko's poem.)