TED MAPES
Stuntman Ted Mapes worked in the halcyon days of Hollywood when film-making was fun and adventurous.
Ted was born in St. Edward, NE, November 25, 1901, and grew up on his father's wheat farm where they also ran a small herd of 75 to 100 head of cattle. Eventually, the 6' plus Ted decided there must be more than wheat farming for a strapping young man. He headed west to California to seek his fame and fortune.
Ted was 28 when, working as a driver for an L.A. storage company, he was assigned to move actor John Barrymore's baggage and equipment off the Goldwyn lot. While on the lot Ted discovered the grips were making twice what his salary was at the storage company so, within six months, Ted was hired on as a grip. In later interviews Ted stated he was the head grip on Tom Mix's last film, "Miracle Rider", and the head grip on Gene Autry's first starring picture, "Phantom Empire".
Ted's first screen role was in Stage and Screen's "Silent Code" in '35 with Kane Richmond. It was director Joe Kane who first saw the possibilities in Ted as far as a career in front of the camera. Armed with some footage Kane had shot of the virile Mapes, it was suggested he try his luck over at Columbia as a possible new western star. Timing was bad as the studio had just signed Charles Starrett. The studio asked Ted to start doubling for Starrett, thus began his stunt career. Ted doubled for Starrett for nearly 10 years besides picking up some nice featured roles along the way.
Also at Columbia, he worked in Russell Hayden and Bill Elliott features. During this period Ted can also be spotted in many Range Busters B's at Monogram.
Teaming up with ace director William Witney and others at Republic in 1937, Ted moved over to the valley studio for a whole slew of serials including "Hawk of the Wilderness", "Lone Ranger Rides Again", "Daredevils of the Red Circle", "Dick Tracy's G-Men", "Zorro's Fighting Legion", "King of the Royal Mounted", "Adventures of Capt. Marvel", "Phantom Rider", "Daughter of Don Q", "Son of Zorro", "Black Widow" and others as well as western features such as "Blue Montana Skies", "Three Texas Steers", "Wall Street Cowboy", "Arizona Kid", "Ranger and the Lady", "Lady From Louisiana", "Gauchos of El Dorado", "Calling Wild Bill Elliott", "My Pal Trigger", "Wild Frontier", "Fabulous Texan", "Outcasts of the Trail", "Brimstone", "Silver City Bonanza" and many more.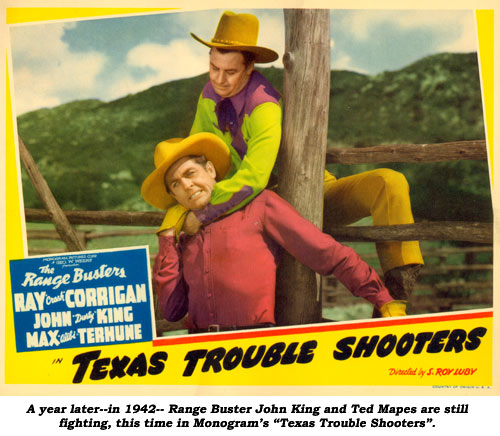 In 1940, Ted was seriously considered for the lead in the "Red Ryder" serial but studio boss Herbert J. Yates oddly went with the shorter Don Barry. A tough break for Mapes as it meant stardom for Barry and back to the rigors of stunts for Ted.
Ted also has the distinction of being in Wayne Morris' "Two Guns and A Badge", considered by many the last B-western series film.
Ted started a 17 picture association with Gary Cooper on "For Whom the Bell Tolls" that only ended with Cooper's death in '61.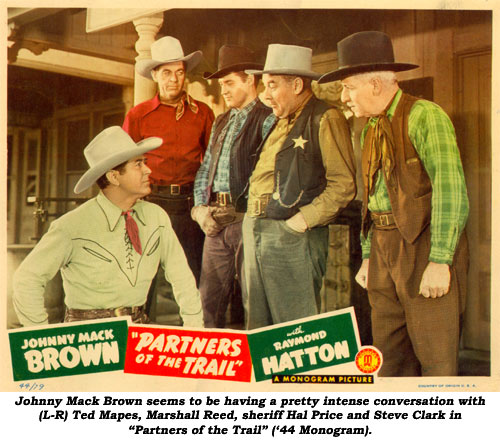 In 1950, Ted began a stint with another giant of the screen, James Stewart. Director Delmar Daves asked Ted to come to Sedona, AZ, to double for Stewart on "Broken Arrow".
After hundreds of films and thousands of stunts, Mapes called it a day in 1969 after Stewart's "Firecreek" and "Bandolero". However, he was not done with the film industry for he now started another career, monitoring animal action on film sets for the American Humane Association.
Mapes enjoyed his 40 year career in films and stated he loved working for Bill Witney and Joe Kane the best and he liked doing fights with Johnny Mack Brown more than any other actor. Johnny was "just super", he said. Mapes is in "Law Men", "Partners Of the Trail", "Flame of the West", "Frontier Feud" and others with Johnny Mack.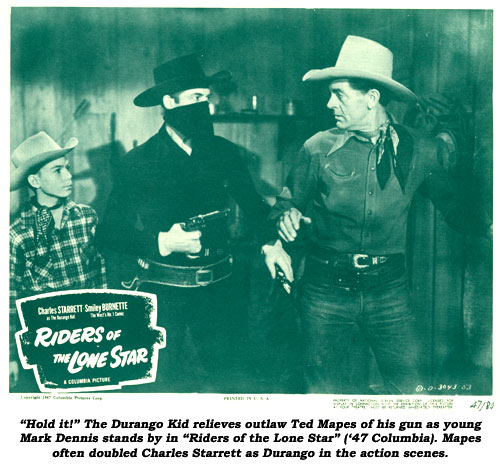 Ted died Sept. 9, 1984, at 82, but his stunt legacy lives on for all of us to witness in countless films and TV shows. Another classic stuntman…we salute Ted Mapes.