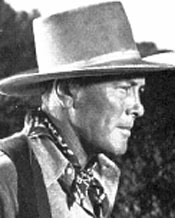 CLIFF LYONS
One of the best known names and one of the most recognizable faces in the stunt profession was Cliff Lyons. Born about as far from Hollywood as you can get, Cliff made his first appearance into this world July 4, 1901, at Madison, South Dakota.
For the early part of his life, Cliff lived on a farm with two brothers. His father was a veterinarian therefore Cliff developed his western ways and lifestyle being around animals. His Dad died in 1921 and, sadly, the family broke up. At this time Cliff teamed up with an uncle and started following the rodeo circuit. The two men eventually set up their own wild west show and traveled south to Nebraska and Kansas but soon went broke with this endeavor.
Shortly after this setback, young Cliff Lyons decided to try his luck in California and by 1924 was making a small living in silent westerns working as a cowboy actor and rider with Al Hoxie, Dick Hatton and others.
In 1928-'29 Cliff teamed up with famous stunt woman Ione Reed at Anchor Productions in a series of films for producer Morris Shlank who hung the nickname of "Tex" on his billing. Cliff "Tex" Lyons starred in at least seven lowbudget silents with titles like "Flashing Hoofs", "Saddle King", "Galloping Lover" and "Riddle Trail".
Cliff's other work in the last few years of the '20s was as heavies in westerns starring Bob Custer, Art Acord, Ted Wells and Cheyenne Bill.
Cliff never made the transition to talkies as a star as he was always nervous doing dialog in the forthcoming decades of sound. However, he did manage to play heavies in many early '30s Bs opposite Bob Steele, Tom Tyler, Buffalo Bill Jr., Bob Custer and Buck Jones. As talkies really took hold in Hollywood, Cliff got more and more into the stunting end of filmwork. Two of his earliest friends at this time were Slim Talbot, who was doubling for a new cowboy in the making named Gary Cooper, and Frank McGrath who many years later became known as Charlie Wooster on the long running "Wagon Train" TV series.
Today there are thousands of stuntmen in the business but in Cliff's heyday there were only a few. He and such other pioneers as Yakima Canutt developed and perfected many of the techniques in use today. Cliff would soon be at the top of his profession doubling everyone from Buck Jones, George O'Brien, Tom Mix, William Boyd, Ken Maynard, Gene Autry, John Wayne, Anthony Quinn, Bob Baker, Bill Elliott and so many others.
Cliff did a lot of second unit directing on such major films as "The Conqueror", "Taras Bulba", "Wagon Master", "From Hell to Texas", "Major Dundee", "Green Berets", "Big Jake", "Hondo", "The Alamo" and hundreds of lesser sagebrush quickies at Republic, Columbia and Mascot. Cliff also became a principal part of director John Ford's "family". You can spot Cliff in serials like "Tiger Woman", "Zorro's Black Whip", "Purple Monster Strikes" and "Phantom Rider".
At one time Cliff was elected to the board of directors of the Screen Actors Guild and served alongside future president Ronald Reagan whom he had doubled at Warner Brothers. After nearly six decades of doing and directing stunts, Cliff Lyons died January 6, 1974. He was survived by two sons and his former wife, the lovely western leading lady, Beth Marion.
Cliff Lyons was a tough man in a tough business, but he survived the early days of haphazard stunts and went on to create an impressive body of screen action. Truly one of the stunt pioneers.