FRED CARSON
As a youngster of 19, Fred Carson worked on Johnny Carpenter's western "Son of the Renegade" in '53. Carpenter was so impressed with the muscular 6' 4" youth that he helped Fred obtain his membership into the Screen Actors Guild.
Growing up in Texas, Fred was very handy with horses, rodeoed some, trick rode and trained horses with the best of them. In Fred's formative stunt years, you basically learned on the job. Fred mastered horse falls, fights, saddle falls, sword fights, cars and high falls. In plain words, Fred Carson was an all-around stuntman. He was also an expert gun handler and taught many an actor how to fast draw. Kirk Douglas, Victor Mature and Ricardo Montalban are just three top names he taught.
With Fred's black curly hair and fabulous physique he was soon cast as a killer, cowboy, Indian or Arab in such films as "Redhead From Wyoming", "Escort West", "Timbuktu", "Chief Crazy Horse" and is featured as Chief Thunderhawk, Vera Miles' love interest in "Charge At Feather River".
As Fred's reputation solidified, he was called upon to double for such stars as Victor Mature, Rory Calhoun, Jeff Chandler, Rod Cameron, Anthony Quinn, Charles Drake, Richard Boone, Marlon Brando ("The Wild One"), Rock Hudson, John Carroll, Clint Walker and Cesar Romero.
Fred first worked with Victor Mature on "Million Dollar Mermaid", an Esther Williams vehicle. The two men formed a life-long friendship and working relationship from this film and remained buddies for decades. Some of the titles on which Fred doubled and worked with Mature include "China Doll", "Big Circus", "The Egyptian", "Demetrius and the Gladiators", "The Robe", "Dangerous Mission" and "Las Vegas Story".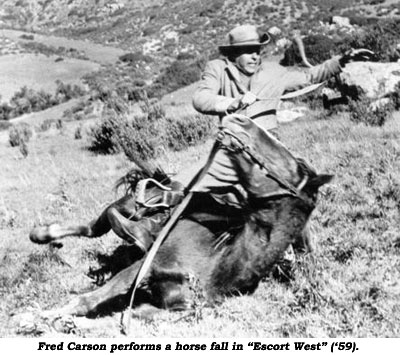 There would have been many more collaborations but many times Fred was booked for other jobs and couldn't get away to do Victor's films. One of these was "Skin Game" in which Fred played Sam Bass. James Garner knew of Carson's skill with a whip and insisted on him doing the picture.
TV beckoned Fred's talents and the list of his credits in this medium are indeed impressive, including "Branded", "Virginian", "Cheyenne", "Daniel Boone", "Laredo", "Wild Wild West" and "Tales of Wells Fargo" to name just a few.
Longtime friend and stuntman Bobby Hoy recalls, "When Fred walked into a room everyone would turn around, he had that stature. He was good looking, Indian type, but he was soft like a pussy-cat. He was really good on horses and motorcycles. I was there the day at Universal when he broke his hip. It was on one of those Arabian-type, 'tits and sand' we called 'em, pictures. The stuntman who was to double the actor doing the fall off a building in an Arabian-type town—I'd say it was about 30 ft.—was going to go into an awning then slide down the awning to the ground. Well, this stuntman never showed up. So they fit Freddy for the job. Fred thought it was already rigged. By the time he hustled and got into the clothes, Freddy went up and looked it over. Fine. But when he did the jump—or fall—the canvas broke, just ripped. Old stuff that'd been sitting in a warehouse for years and got moldy, and he broke his hip there. That affected him very much. He was able to come back, but it gave him enough trouble that he wouldn't jeopardize anyone else by taking something someone could get hurt on."
Fred became an accomplished jewelry maker and artist when he was away from the cameras. His daughter, Dixie, tells me, "Everything was hand made from silver, gold, turquoise, coral, opal etc. Mostly custom stuff. He also did wood carvings and painted."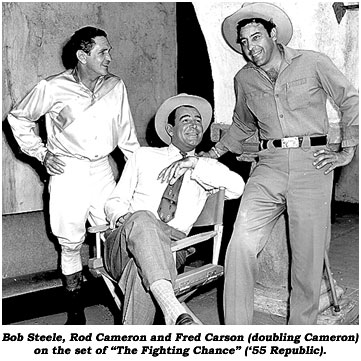 Born November 23, 1923, and growing up in Harlingen, TX, I don't think even Fred realized he would eventually become one of filmdom's top stuntmen, going on to appear in over 500 movies and TV shows. Fred was a lifetime member of the Stuntmen's Association and one of our most respected members. After nearly five decades in front of a movie camera, we lost Fred July 31, 2001, when he passed away of a heart attack in North Hollywood. As with so many of the great stuntmen, Fred Carson came to work to make "his actor" look good. He took great pride in his craft and if he went home bruised and bleeding, so what! He came to do stunts and Fred Carson was one of the best our profession had to offer.