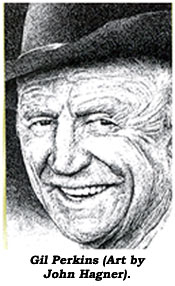 GIL PERKINS
Born in Melbourne, Australia, one of the giants of the stunt profession, Gil Perkins began his five decade stunt and acting career in 1929 when he doubled for Rod La Rocque in "The Delightful Rogue". Gil was soon on Hollywood's "A" list of stunt performers, appearing in such films as "King Kong", "Dodge City", "Capt. Blood", "Fort Apache", "Sea Wolf", "Moby Dick", "Hellzapoppin", "Virginian City", "Adventures of Robin Hood", "Dr. Jekyll and Mr. Hyde", "The Spoilers" (doubling Randolph Scott in the classic brawl with John Wayne, who was doubled by Eddie Parker), "Mrs. Miniver", "Father of the Bride" and hundreds of others including "Bonnie and Clyde" and "Walking Tall".
His first stunt coordinating job was "Whistling In the Dark" starring Red Skelton, for whom Gil usually doubled. Gil also put in time doubling for William Boyd on some of the Hopalong Cassidy features of the mid-'40s, including "Riders of the Timberline".
Gil was in at least nine serials, mostly at Republic, including "Spy Smasher" and "Son of Zorro".
Gil loved the motion picture industry and believed in a strong Screen Actors Guild. Perkins became a SAG member in '34, was elected to the board in '54, then a decade later was elected treasurer, a position he held for 17 years. After his retirement from the board in '81, the Guild named Gil it's Treasurer Emeritus. The following year he was honored with the Ralph Morgan Award for Distinguished Service to the Union.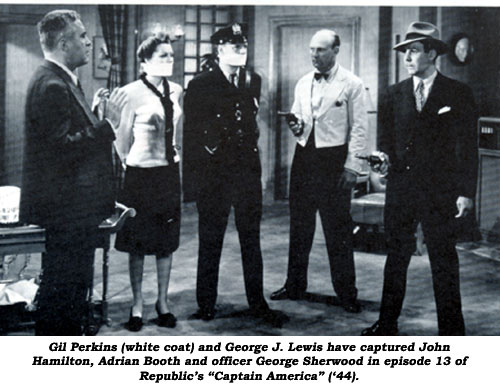 Gil was a founding member of the Stuntmen's Association of Motion Pictures, a longtime member of the Academy of Motion Picture Arts and Sciences and a longtime member of the Motion Picture and Television Fund that supports the Motion Picture Home.
Even with all these duties, Gil still found time to do stunts and parts in over 1,500 feature films and TV shows including "City of Badmen" (as prizefighter Bob Fitzsimmons), "Lust for Gold", "Brave Warrior", "Twilight on the Rio Grande", "A Distant Trumpet", "Brave Warrior", "Shootout At Medicine Bend", "Teenage Monster", "Gunsmoke", "Perry Mason", "Batman", "Bonanza", "Man From U.N.C.L.E.", "High Chaparral", "Stagecoach West", "Untouchables", "Greatest Show On Earth", "Bat Masterson", "Rawhide", "Black Saddle", "Wagon Train", "Bonanza", "Virginian", "Maverick", "Laredo" and "Mission Impossible".
I had the pleasure of working with Gil on a feature, "Under the Rainbow", starring Chevy Chase. He was a gentleman and a pro at all times. Gil Perkins and other stuntmen of his era were the backbone of the stunt profession as we know it today. We owe these early pioneers a debt of gratitude for the roads they paved and the doors they opened.
Perkins died at 91 March 28, 1999, at the Motion Picture Hospital in Woodland Hills, CA.