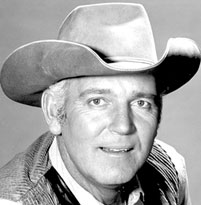 TERRY WILSON
Long before Terry Wilson found worldwide fame as Bill Hawks on the long running hit series "Wagon Train", he'd been a top Hollywood stuntman for years. Terry was born in Huntington Park, CA, September 3, 1923, where, in high school, he was considered a football star. Originally, Wilson planned to be a veterinarian, attending California Polytechnic School on a football scholarship. He enlisted and served with the Marine Corps from '43 to '46. After Marine Corps duty, Warner Bros. chose Terry amongst a group of athletes to train for the stunt profession with his initial specialties fistfights and horse work.
Terry worked as a stuntman and actor on such notable films as "Hondo", "War Wagon", "Montana Belle", "Red Badge of Courage", "Pillars of the Sky", "Legend of the Lost", "Belle Starr's Daughter", "Westward the Women", "Three Godfathers, "The Searchers", "The Conqueror" and "Wings of Eagles", to name just a few.
Terry was of big stature and sometimes doubled for John Wayne and his friend actor Ward Bond. A life long friendship ensued between Bond and Wilson and when "Wagon Train" became a series in '57, 10 years after Terry had begun doing stunts, Bond insisted his two friends, Terry Wilson and Frank McGrath, be hired as regular cast members. Terry had first met McGrath (who played cook Charlie Wooster) while making MGM's "Devil's Doorway" in '46. Terry rode with "Wagon Train" as scout Bill Hawks for it's entire eight year run. On the "Wagon Train" set, Terry earned extra respect by bulldogging a runaway horse and sharing his stunt expertise with actors and newcomers to this stunt field.
Robert Horton was scout Flint McCullough on the series and told WC, "Terry and I played football against each other in high school. He went to Canoga Park and I went to Harvard School. Wilson was on 'Wagon Train' originally as a stuntman and double for Ward. Gradually, as the series unfolded, he became somebody who had a line here and there, which grew so that he was recognized as one of the regulars. He was very much a part of the Ward Bond coterie along with Frank McGrath. They stuck together very, very closely. Very close to being sycophants, especially Terry."
"I do remember one day we were on the set doing a shot. I was on my Appaloosa horse with a travois (litter) attached behind him. I was carrying some woman from wherever I'd rescued her. I rode into the scene on the stage, got off, helped this girl off the travois, then handed my horse to my stand-in who was going to take him out of the shot. My stand-in did little things on the show like that besides standing in for me. As he took him away, the side-hook of the crossbar on the travois hooked itself in a wagon wheel. The horse turned around, saw this thing on his ass and went absolutely berserk! The travois was about 10-15 feet behind the horse's rear end. The horse ran to one end of the set and turned around. As he did, the travois knocked people down like they were ten-pins. He then ran back to the other end of the set…really berserk. He looked like he was making a beeline for me. I jumped on a wagon tongue. He came toward me as fast and as close as he could. At that time, Terry Wilson jumped on his head, put his arms around his neck and eventually grabbed him by the ear and pulled the horse right down on his knees. While he was on his knees, they undid the travois. As soon as it was off him, it was fine." Theoretically, Wilson saved Horton from serious injury.
In anticipation of Horton's departure from the series, Denny (Scott) Miller came aboard in '61 as scout Duke Shannon and recalls, "I was a stranger in a strange land. I was a basketball player at UCLA inserted into the cast of the number one show in the nation. Terry Wilson became my friend and buddy and guided me through it. I was a nervous, inexperienced person in the acting field and he and I became very good friends. He was one of the best stuntmen that ever lived. He was dependable, professional, all the good things…and a lot of fun. He had a quiet strength about him. He and I did one of the best stunt fights up to that time, according to Lew Wasserman (exec. officer and chairman of the board at Universal) in 'The Duke Shannon Story'. We ended up facing each other, both on our knees, too weak to stand up, but still strong enough to punch each other. Terry gave freely of his information about how to do the technique of stunt fighting. He was one of the best."
After "Wagon Train" ended it's run in '65 Terry kept active in films and television. He and his pal Frank McGrath were big hits on the rodeo circuit, also appearing at many prison rodeos to the delight of the inmates.
Terry was a good friend and mentor. I met him on "Dirty Dingus McGee" starring Frank Sinatra which we shot for director Burt Kennedy at Mescal, AZ. When Terry became an associate producer on Rod Taylor's western series, "Oregon Trail", he made sure I got some work on a few episodes.
After Terry's time in front of the camera had waned he ran a location ranch (where we shot some "Fall Guy" episodes) in the Simi Valley of California. He also became VP of a construction firm in Southern California. One of the truly nice guys and a stunt great, Terry Wilson passed away at 75 on March 30, 1999, at his home in West Hills, CA, leaving behind a fine legacy of work for all of us to enjoy.