BOB TERHUNE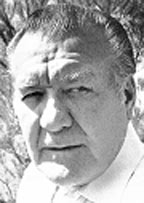 "Terrible" Terhune was his moniker in the stunt business because he knew no fear in professional or private life. His given name is Robert Terhune. A familiar last name to western buffs. Yes, Bob is the son of that great western sidekick, Max Terhune.
Born July 13, 1928 in Dayton, OH, Bob came to California in Sept. of '36. His dad, Max, was called to appear in Gene Autry's "Ride, Ranger, Ride". Bob grew up with the lore of the West all around him. Max bought Bob his first horse when he was 11 and made him ride it bareback for over a year. This early riding experience gave Bob valuable training which helped mold him into a top rodeo star and eventually a top film stuntman.
Bob entered the ranks of Screen Actors Guild in 1948, embarking on a tremendous stunt career. One of Bob's first film assignments was Lash LaRue's "Outlaw Country" as he carries Fuzzy off at the end of the picture. This led to many more acting and stunt jobs.
Bob's star was soon on the rise in Hollywood and he found himself more and more in demand by stunt co-ordinators and actors wanting him to double for them. When Bob was starting out in the film business most leading men were of big stature. Bob's 6' 2", 225 lb. frame was put to good use doubling for Lon Chaney Jr., Alan Hale Jr., Gene Evans, Chill Wills, Preston Foster, R. G. Armstrong, Clint Walker, Forrest Tucker, Burt Lancaster, Dan Blocker and many other top flight actors.
Bob has acted or done stunts in hundreds of films and TV series including "Gunsmoke", "Lawman", "High Chaparral", "Rio Bravo", "The Unforgiven", "The Magnificent Seven", "Cheyenne", "Death Valley Days", "Bonanza", "Rawhide", "Gold Of The Seven Saints", "The Cowboys", "Sugarfoot", "Surfside 6", "Ride The Man Down", "Rockford Files", "Gambler II", "Maverick" and so on.
A few times in his career Bob was called in to double for his Dad's old co-star, John Wayne.
Bob is a long time member of the Stuntman's Association. Today Bob is semi-retired in Florida and is a practicing minister. Bob and I have done dozens of films together over the last 30 years of our friendship. I treasure memories of working with the great stuntmen like Bob Terhune. Film fans and western action fans in particular owe a big vote of thanks to men like Bob Terhune, they have thrilled us for decades.