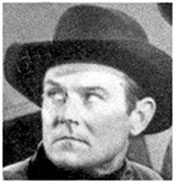 BOB WOODWARD
I'll never understand why Bob Woodward didn't get the recognition he deserved for his very prolific and enduring stunt career. He is as visible and active as any of the so-called well known stuntmen.
Born March 5, 1909, in Oklahoma, Bob first appeared on the Hollywood scene in '31's Tom Tyler film, "Rider of the Plains". He spent the next 30 years as a stuntman, actor and double for such stalwarts as Gene Autry, Lash LaRue, Jimmy Wakely, Dick Foran (although a little short for Foran) and Buck Jones. Woodward appeared in plenty more: "Fighting Texan", "Frontier Scout", "Taming of the West", "Billy the Kid in Texas", "Gauchos of El Dorado", "Cyclone Kid", "Sunset On the Desert" and "Firebrands of Arizona" among them.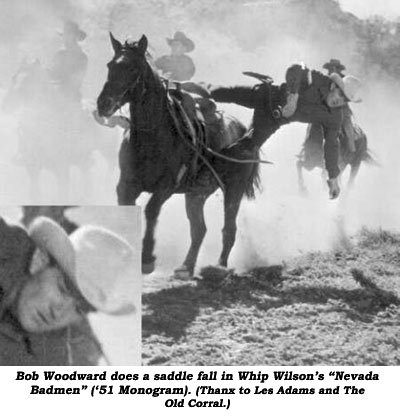 He and Sandy Sanders are the two doubles for Gene Autry that are easily discerned in the numerous brawls in each episode of "The Gene Autry Show", currently on DVD. Woodward can easily be spotted as he always ducked his head close to his chest.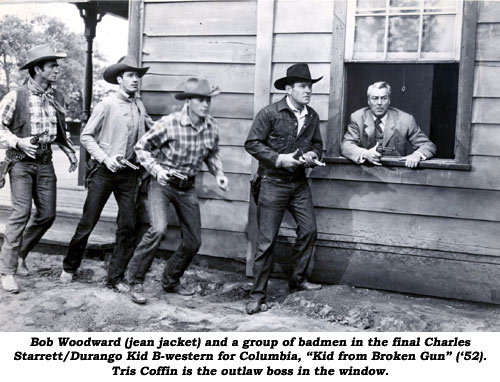 Besides being a good fight man, Woodward was adept at horsemanship as well as team and buggy driving, even showing up as the stagecoach driver of a 4-up team on occasion.
Woodward worked A-westerns too—"Cattle Queen of Montana", "Wyoming Renegades", "Apache Territory", etc. By the time most of the westerns being done in Hollywood were for the television audience, Bob easily made the transition to the small screen, appearing in and performing stunts on over 100 episodic westerns including "Lone Ranger", "Annie Oakley", "Kit Carson", "Buffalo Bill Jr.", "Cisco Kid", "Range Rider", "Wild Bill Hickok", "Tales of Wells Fargo", "Sgt. Preston", "Gray Ghost" and "Laramie".
When age and infirmity began to creep up on Bob, he kept his hand in doing bit parts and extra work on "Gunsmoke", "Wagon Train" and "Have Gun Will Travel".
After a four decade career in front of the camera, Bob Woodward succumbed to a massive heart attack February 7, 1972, in Hollywood, CA. He was survived by his wife and two daughters as well as a fabulous, productive career in stunt work that anyone can be proud of. WESTERN CLIPPINGS salutes Bob Woodward, another action actor who made us all sit up in our seats at the Saturday matinees.