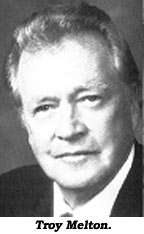 TROY MELTON
As one of the founding members of the Stuntmen's Association of Motion Pictures, the first and largest of the now many stunt groups across the country, Troy Melton was always interested in the welfare of his fellow stuntmen and the way the stunt industry was headed during early organizational days. There were no benefits, very little hospital coverage and not much respect for stuntmen before guys like Troy got involved in bettering their lot.
During the golden days of TV westerns, Troy was a prolific stuntman and actor on such early gems as "Rough Riders", "Annie Oakley", "Kit Carson", "Jim Bowie", "Lone Ranger", "Zane Grey Theatre", "Maverick", "Bonanza", "Rifleman", "Wanted Dead or Alive", "Laredo", "Whispering Smith", "Wyatt Earp", "Klondike", "Gene Autry", "Roy Rogers" (where he can often be spotted as a badguy and sometimes double for Roy), "Boston Blackie", "Peter Gunn", "Range Rider" and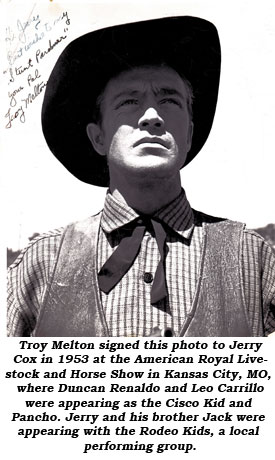 "Buffalo Bill Jr.".
While working on dozens of "Cisco Kid" episodes Troy would more often than not be doubling for Duncan Renaldo with Bill Catching doubling Leo Carrillo.
When Robert Conrad's action filled show, "The Wild Wild West", debuted on CBS there were a core group of stuntmen Conrad felt comfortable working with as he did almost all of his own stunts. Nearly all the action you see in the first year or so was done by Whitey Hughes, Bill Catching, Fred Stromsoe, Al Wyatt, Troy, and Robert Herron doubling for Ross Martin. Troy was an all around stuntman but his specialty was the rough and tumble fights.
During a career that spanned four decades Troy appeared in "Blazing Saddles", "Magnum Force", "Dirty Harry", "Every Which Way But Loose", "The Fall Guy", "Rawhide", "Big Valley", "Virginian", "Wagon "Train", "Davy Crockett", "Gunsmoke", "Have Gun Will Travel", "Sea Hunt", "How The West Was Won" and "Bat Masterson".
Troy was born in Jackson, TN, and migrated with his family to L.A. during the Great Depression. After serving in the Army Air Corps during WWII, Melton returned to L.A. and found sporadic work as an actor before embarking on a 40 year stunt career that sadly ended when he succumbed to cancer November 15, 1995.
Besides his film career Troy was an avid golfer and restaurateur. He owned the Playboy Restaurant on Melrose Avenue in Hollywood, located right next door to Paramount. It was frequented by himself and nearly all the Paramount employees for years. After a 26 year run, Troy sold the land to Paramount in 1988.
When we lost Troy at the age of 74 we lost one of the pioneers in the stunt field. He was a man I looked up to. Troy was well respected and admired. He is survived by a legacy of fine performances in hundreds of TV shows and films.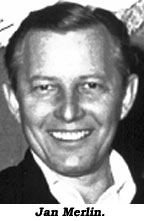 Jan Merlin as Lt. Kirby co-starred with Kent Taylor and Peter Whitney on the "Rough Riders" series from '58-'59 and remembers Troy Melton for WC.
"Troy Melton was hired to work from the very beginning of the series to double for Kent Taylor...and was used in almost every episode as background or member of posses and badman gangs and often had minor roles to play in the show. He was a talented stuntman and a wonderful guy to have working with us; fine sense of humor, always a total professional."
"On occasion Troy even doubled me, though I had my own double, a chap named Frank Ellis, who moonlighted as a rodeo clown whenever he could...and had made a name for himself in rodeo circles."
"I lost track of Troy after the series was discontinued...but renewed our acquaintance when one of my nieces informed me she was working as a cocktail waitress for somebody I knew...the proud owner of a place called Playboy at the corner of Paramount Studios...it turned out to be Troy! He kept that place for a number of years and was quite successful with it."
"I always felt Troy saved me from being badly hurt. I was supposed to jump my horse, Joker, over a fence during a chase scene and had complained several times to the director the horse was behaving badly and I was losing control of him. We tried to make the shot a couple of times but it was always messed up. Finally, Troy offered to do the jump for me. I told him I didn't trust the horse anymore and he believed I might have good cause. When he did the shot, the horse tore off on its own. It was only Troy's skill which prevented a really bad accident from occurring. I was given a new horse to ride from that day on. Joker was taken off the show."
"People who don't work in pictures aren't always aware of the dangerous, life-saving work stuntmen and women do for actors in film. Only in recent years have they been getting recognition and credit for it. I was proud to know Troy and grateful for his help and instruction during all those months we worked together."