RICHARD FARNSWORTH
Today, Richard Farnsworth is probably better known as an actor than a stuntman. But it was not too many years ago he was known as one of the best working stuntmen in Hollywood.
In 1940, Dick was a rodeo cowboy competing for 10 years through an era that saw the formation of the Rodeo Cowboy's Association. Dick was a bareback rider who occasionally rode bulls and also did some bulldogging with a young Ben Johnson and Slim Pickens, two other cowboys who would soon make their mark in Hollywood westerns. Dick was an expert horseman and all around cowboy.
After a few years of riding in posses or gangs at Republic, Paramount, Columbia and just about every other production company cranking out westerns, he moved into the stunt field and stayed there for the next 35 years.
Besides doing all the stunts we associate with westerns—fights, saddle falls, horse falls, high falls, drags and transfers to all sorts of moving coaches or wagons—Dick went on to double Montgomery Clift in John Wayne's classic "Red River", also Troy Donahue, Guy Madison (on "Wild Bill Hickok"), Gregory Peck, Henry Fonda and dozens of other top flight stars.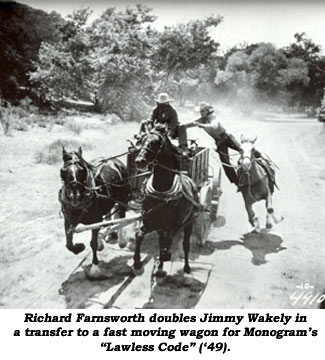 To list all of Richard Farnsworth's credits would take up this entire issue of WC and then some, but a few of these films are noteworthy and deserve listing. "The Plunderers", "Duel At Diablo", "Blazing Saddles", "Duel In The Sun", "Bonanza", "High Chaparral", "Daniel Boone", "The Outlaw, Josey Wales", "Gun-smoke", "Wanted Dead Or Alive", "The Soul Of Nigger Charley", "The Cowboys", "The Stalking Moon", "Misery", "Tom Horn" and hundreds more just as impressive along with almost every television western ever on the air.
In 1976, after 35 years of hard knocks, Dick was seriously thinking of retiring when he was asked to do a role in "Comes A Horseman" with Jane Fonda. The role was that of the old cowboy, Dodger. Audiences loved Dick's honest delivery of the dialogue and so did the Academy of Motion Picture Arts And Sciences, nominating him for an Oscar in the best supporting actor category.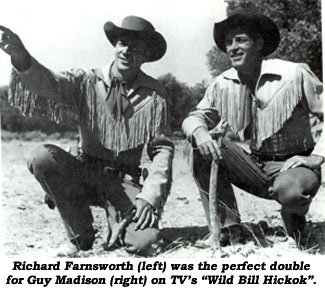 The ball was rolling, Dick followed up "Comes A Horseman" with his most famous part as "The Grey Fox". For this role, Dick won the Genie, Canada's equivalent of the Academy Award. When not on location Dick hung his hat at his ranch near Lincoln, NM, where he had a small herd of registered Longhorn cattle.
Having been lucky enough to have known Dick almost all my professional life (I met him on the third film I ever did, back in '64) it is with extreme pleasure I saw his success in the acting end of our business after all those years of making other actors look good. Richard Farnsworth was a real cowboy who lived most of his life on horseback, on camera and off. Anyone who met him was struck by his honesty and sincerity.
One of the all time great stuntmen suffered from cancer and to alleviate the pain took his own life at his home in Lincoln, NM, on October 6, 2000.
WESTERN CLIPPINGS ran other print articles on Farnsworth, reprinted below: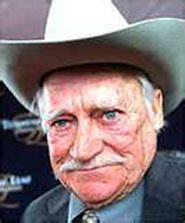 When the Grey Fox, two time Academy award nominee RICHARD FARNSWORTH, 80, died Oct. 6, 2000, of a self-inflicted gunshot wound on his 67 acre ranch near Lincoln, NM, the western world lost a true and longtime friend.
The former stuntman who began in the business in 1937 had been battling terminal cancer, even during the filming of his Academy Award nominated "The Straight Story", which no one on the set was aware of. The problem originated seven years ago with prostate cancer and had spread to his bones. Farnsworth's longtime fiancee, Jewel Van Valin, said, "Dick didn't want the world to know he was sick. He was in incredible pain. He was going downhill." Farnsworth lost the use of his legs in July following a spinal stroke which was treated at UCLA Medical Center. He then returned to his ranch for therapy and was on a walker. Even then he had hopes he could do a part next year in a film with Charlton Heston who called Dick "one of the good guys…one of the best."
In a conversation with longtime friend stuntman Loren Janes on Oct. 5, Dick talked of old times, thanked him for being a loyal friend but explained his excruciating pain in recent days, then asked Janes to deliver his eulogy when the time came. Janes did that at Forest Lawn services Oct. 16 attended by an estimated 500 friends. Red Stegall brought tears to many eyes when he sang Dick's favorite song, "Skyball Paint". Dick's longtime friend Wilford Brimley told the L.A. TIMES, "He was one of the best men I ever knew. A simple, honest man with a tremendous sense of humor and a joy to be around."
Born in L.A., Dick dropped out of school at 15 and went to work as a stable boy. When he was 18 he joined the Southwest rodeo circuit where his horse skills led to movie work in '37. After a few years riding in posses and gangs at about every studio, he moved into the stunt field and stayed there for the next 35 years.
Over the years, Dick doubled Guy Madison on "Wild Bill Hickok"; herded cattle in "Red River" where he doubled and taught Montgomery Clift how to roll cigarettes and crease a cowboy hat; doubled Kirk Douglas for 11 months on "Spartacus"; worked with Steve McQueen on "Wanted Dead Or Alive" (he still has McQueen's hat); doubled Henry Fonda in "Fort Apache"; doubled Jimmy Wakely; did stunts in Allan "Rocky" Lane westerns as well as big budgeters like "Arrowhead", "Indian Fighter", "Six Black Horses", "Hard Man", "Outlaw Josey Wales", "Tom Horn", "Major Dundee", "Stalking Moon", "High Plains Drifter", "Cat Ballou", "Paint Your Wagon", "The Cowboys", "Monte Walsh", "Rooster Cogburn", "Legend of the Lone Ranger" and TVers like "Bonanza", "Big Valley", "Roy Rogers", "Cimarron Strip", "High Chaparral" and others.
Turning finally to acting ("When the ground got too hard."), he received a best supporting actor nomination for "Comes a Horseman" in '78. In 1982 he won the Genie Award for Canada's Best Actor in "The Grey Fox".
Nominated again for an Academy Award for "The Straight Story" the year he died, even though he didn't walk away with the Oscar, Farnsworth's performance as Alvin Straight was the winner as far as we're concerned. Back home in Lincoln, NM, from weeks of interviews, TV appearances, magazine and newspaper articles, I asked Dick for his candid opinion of the Academy Awards. "Candid? That's kinda rough. Let's just say, the best person don't always win the race! The first Academy nomination I got for 'Comes a Horseman' in '78 (supporting actor), I didn't even have a press agent—I didn't even have an agent! That was my first attempt…that's what started me trying to be an actor for a living. Lotsa people wanted to see 'The Straight Story' that couldn't. That's Disney's fault. I have people telling me they were dying to see it but didn't want to drive 100 miles. I don't think it helped me a bit with voting by the Academy members. Naturally, I'm damned disappointed the way it turned out. You want that little guy in your hand is what you want! But, I'm tickled to death I got to do 'The Straight Story'! It's family oriented and for everybody—no four letter words, just a good down to earth story. It'll help family oriented films and that's good. Maybe it'll help some of the older guys in Hollywood get some work…Hollywood doesn't seem to need guys over 45 anymore." At 79, Dick was the oldest actor ever to be nominated for Best Actor.
Doing various interviews while promoting "The Straight Story", Dick appeared on Jay Leno's "Tonight Show". Leno rounded up a '50s Kellogg's Sugar Pops commercial for airing. When I asked him about it, Dick laughed loudly, "I was so embarrassed! That commercial was my first attempt at dialogue. That was in '54…and I went to '76 before I tried anything again. I can fall the old horse real easy, but gettin' down talkin' to Guy…two grown men eatin' those Corn Pops in the kitchen, Man! We broke up! I couldn't keep a straight face. (Laughs)"