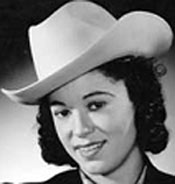 POLLY BURSON
For over 50 years Polly Burson has been hanging tough in the often dangerous world of film stuntwork. This fabulous lady was one of the most respected and honored stuntwomen in our industry.
Born Pauline Shelton in Ontario, OR, Polly came from a rodeo family. At 18 she married bull rider/horseback rider/cowboy clown George Mills but divorced six years later. Meanwhile, Polly rode relay and flat races besides being a trick rider. She performed in Madison Square Garden from '41-'44 with Buff Brady and others.
After a phenomenal career in rodeo, Polly decided she'd like to try her hand at films. Slow going at first, it took her three years to break in. She was asked by her then husband, stuntman Jerry Gatlin, if she'd like to try a 25 foot high fall off a rock in "The Purple Monster Strikes" serial shooting at Republic. As Polly would later state, "The highest I'd ever fallen was from a horse." But she accepted the job of doubling actress Mary Moore. Stuntlady Babe DeFreest (who had ridden with Polly's mother) doubled Linda Stirling as they fell together off the cliff for the conclusion of Chapter 12. Polly vividly remembers the day…April 16, 1945. She was on her way.
Polly married stuntman Wayne Burson (1920-1997) in '45. They divorced in '56.
The abundance of actresses could not ride, so because of her riding expertise, Polly soon found herself doubling for many ladies (including Dale Evans) being hired for the hundreds of westerns and adventure films Hollywood was grinding out. The stunt profession was still mostly dominated by men. Smaller men usually doubled for female stars, but during the making of "Perils of Pauline" (the somewhat white washed life story of early serial heroine Pearl White) the man doubling Betty was injured and Polly completely replaced him, doing everything required of her. It was her breakthrough film in 1947.
While doubling for Paramount's top star, Betty Hutton, in "The Perils of Pauline", Polly was called upon to do all the riding for Hutton, including a dangerous transfer to a moving train. What made this stunt even more dangerous was that she had to wear a lifelike mask of Hutton, which severely restricted her visibility. The stunt went off beautifully and is wonderful to watch.
Many years later, working on "True Grit" doubling Kim Darby, Polly had to fall in a snake pit in Colorado then finish the shot thousands of miles away on a soundstage at Paramount. Director Henry Hathaway was fond of telling Polly she'd done the longest fall in the business, starting in Colorado and ending in Hollywood.
The list of Polly's film and TV credits reads like a history of greats over the last 50 years: the "Crimson Ghost" serial, "McLintock", "Northwest Stampede", "Rodeo", "Rare Breed", "Heller in Pink Tights", "Night Passage", two Johnny Mack Brown Monograms, "Pillars In the Sky", "Westward The Women" as well as TV's "Big Valley" and "High Chaparral".
Polly was finally recognized for her accomplishments and honored with a Golden Boot award in '91, presented to her by lifelong friend and fellow stuntman, Henry Wills. In her acceptance speech, Polly stated the picture business had been good to her. She had fun doing it and loved every minute of her exciting career working with the great stars and directors. They made films she said, where they didn't cuss or take all their clothes off and hop into bed.
In my career, I've been very fortunate to have worked alongside Polly and it's one of my fondest memories Polly Burson was as tough as they come, a true pioneer and never less than a lovely lady dedicated to her craft. A credit to her profession.
At 86, Polly died April 4, 2006, in a Ventura, CA, hospital.
Peggy Stewart remembered Polly for WC, "Polly taught me a couple of tricks to do when I went out as Queen of the Rodeo. She took me down on the river bottom, she said to 'loosen me up.' (Laughs) I came from English riding and there's a big difference. She showed me the Hippodrome and other things to do when I went sailing around the arena at rodeos. Pat, her horse, actually taught me. He was marvelous. He was a stud, she and Pat would fight just like brother and sister. They'd just argue and carry on. She'd get so damn mad at him (chuckles) and he'd get stubborn and wouldn't do a thing. The Yrigoyen's taught her timing—like when she had to do a transfer from a horse to a wagon, or vice versa. Yak (Canutt) sort of had a team—he used Polly a lot."
Stuntman/actor Bobby Hoy worked with Polly innumerable times, especially on "High Chaparral". "God, we had a lot of great times. I re member we needed seven Indians to do a match up shot. They said we don't have seven guys to put the Indian costumes on. I said, 'We got Polly over there.' They said, 'You can't use Polly, she's a woman.' I said, 'For chrissakes, you put the leather on her, the Indian wig and the feather, you wouldn't know the difference.' So she was one of the Indians and we made some wild chases. That was 'Pillars of the Sky' ('56) up in Legrande, OR. She was the first woman to double a man."
"She was a dear person, a guy's gal. There was no pretense about her, she'd say what she thought. She was handy—she used to say 'It's dandy if you're handy, boys.' She was a great trick rider and that helped her in the picture business."
"She had the guts—one day, Bear Hudkins—they were wreckin' a wagon. It didn't work but it tipped. Polly went out…it got up in the air and just flung her outta there. She lit on her head and it cooled her. Knocked her out. The first assistant director looked at me…and I said, 'No. I'm not gonna do it.' He got mad. I said, 'Listen, when Polly wakes up and finds I'm in her costume, she'll kick the #%?# outta me. Just wait'll she wakes up…' She was just a little out, no concussion. She got back on the wagon, here they come, and this time it worked. She had that stick-to-it-tiveness. There were things about her you can't really put a price on."
Premier stuntman Jack Williams told WC, "Polly had a heart much bigger than her person. She was a true giver. Whoever was in trouble or in need found Polly at their side. We were at Chuck Roberson's bedside in a Bakersfield hospital the day before he died. I think Polly practically lived there. Hurts and heartbreaks seemed to leave her like raindrops and she saw the world through a funny lens. Always smiling, upbeat, full of stories, glass always full, lots of bounce, challenging life, are her hallmarks."
"She spent her life seeking adventure. One of her dreams was to sail the South Pacific in her own boat. She'd found sailing books describing lands unknown and far places inhabited by pirates and cannibals. She sold her house, bought a boat and a how-to book on navigation. She and an acquaintance set off for, first, Honolulu, then Tahiti. Instead of Gauguin, Polly found the digs of Eddie Burns and Marlon Brando and the cannibals had moved to Hollywood. Rather than animals on the beach, the place was alive with tourists and smog."
"It was Christmas of '71 and I had won a trip to Tahiti selling land. I asked a guy hosing his boat if he knew of Polly Burson. He rapped on the cabin and up popped Polly. Of the thousands of boats, I had stumbled on hers. She looked like a pretzel. The cabin overhead was all of 4 feet. I said 'Hi.' When she came to, I invited them to the hotel for a warm bath. We had dinner and I mused on the adventure she still faced to get home."
"Our paths first crossed at the Salinas rodeo in '31 when we both rode calves. The rope on mine turned and I still have a hoof mark on my lower lip. She left the world a better place and her spirit is a part of all who knew and loved her."
Looking back on 30 years of stunts, Polly said, "I loved every day I worked as a stuntwoman. The last (big) show I worked on was 'Earthquake' in '74. The worst I was ever hurt was when the dump tank of water broke, I was on the porch of a house when it hit. It pinned me down. The debris beat me up. I never worked a lot after that."