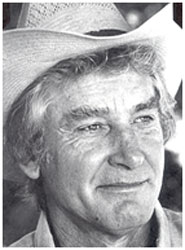 GEORGE ORRISON
With the Depression in full swing, George Orrison was born in Los Angeles, CA, October 30, 1929. His father moved the family to Bakersfield where he'd found work as a truck driver. George hated school and quit in his freshman year. In 1945, just as the war was ending, George enlisted in the Army at age 16 and was soon stationed in Alaska with the Army Corps of Engineers where he helped build the Alcan Highway.
Always athletic, George tried his hand at rodeoing at age 18 with bulldogging, bareback riding and some bull riding. While engaged in rodeoing George met a stuntman named Erwin Neal who introduced Orrison around Hollywood to already established stuntmen who helped George land the job of doubling for John Smith (on 60 episodes) of "Laramie". This was the beginning of an illustrious 40 year stunt career beginning in 1960.
Once established, George was eager to lend a hand to others. He was a great sport and loved his smokes and a good drink! Being an expert horseman George was always in demand for such TV shows as "Bonanza", "Tall Man", "Virginian", "Wide Country", "Guns of Will Sonnett", "Custer", "Road West", "Gunsmoke", "Wagon Train", "Outlaws" and hundreds more. George took the falls and did stunts in such major western films as "Cat Ballou", "Taggart", "The Plainsman", "Four For Texas", "Wild Country", "There Was a Crooked Man", "Blazing Saddles" and "Heaven's Gate".
Academy Award winning director and actor Clint Eastwood often requested George for his films and he worked with and often doubled Clint on such films as "Joe Kidd", "Pale Rider", "The Gauntlet", "Bronco Billy", "Escape From Alcatraz", "Unforgiven" and "High Plains Drifter" to name only a few.
Tall (6' 1") and lean (180 lbs.), George doubled for most of the leading men of his time including William Smith on "Laredo", Leslie Nielsen, Claude Akins, Hal Baylor, Lee Van Cleef, Lee Marvin, Richard Harris and Dan Duryea.
Besides horsebacking, George was an excellent swimmer, truck driver, motorcycle rider and heavy equipment operator, all good abilities for a top stuntman.
George met and married his lovely wife Treva in 1954 and the union lasted until George's passing on March 1, 2001, at the age of 71. His last film, appropriately, was with his old friend Clint Eastwood on "Space Cowboys".
An exceptional stuntman and person, George is still missed by everyone whose path he crossed. When stuntmen of George Orrison's calibre leave the scene there is a void that cannot be filled.