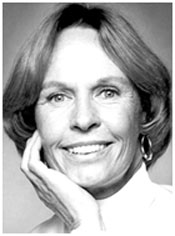 DONNA HALL
Donna Hall worked as a freelance stuntwoman for over 40 years. She's one of the few women in the history of motion pictures and TV to have driven and chased four and six-up teams. Donna came from a rodeo family and grew up around movie sets where her Dad, Frank "Shorty" Hall, worked as a jockey and stuntman doubling for such stars as Marion Davies and Mary Pickford.
Donna knew she wanted to be a stuntwoman during her first job at the age of eight when she was recommended for a riding gig on "Little Miss Adventure". She rode a thoroughbred horse out of the starting gate and did chases around the track. She worked once more at age 10 but didn't do any more movie work until after high school graduation from Burbank High in '46 when her stunt career started in earnest.
She worked with Clarence "Fat" Jones, a famous livestock supplier with 300 head of motion picture horses. Her love of riding and experience with horses allowed Donna the opportunity to work in the many westerns and TV shows Hollywood used to crank out. It was the best teacher Donna could have to perfect her profession.
She did transfers to trains, stagecoaches, wagons and jumps between teams. If this wasn't enough, Donna did saddle falls and bulldogs. Donna's mentor was the great stuntlady Polly Burson, and she's acknowledged she learned a lot from Polly. You see, when Donna started out in the stunt field, there weren't stunt co-ordinators like we know them today. Stunt people had to rely on other stuntmen to help them out.
Donna really enjoyed working on the Gene Autry produced "Annie Oakley" with Gail Davis. Doing two shows a week, Donna had the opportunity to do many stunts, including Annie's opening—standing-on-a-running-horse-and-firing at a hand held target.
Dick Jones, another professional who called Autry "Boss", told us, "Donna was a great gal and lovely little lady. She could do more on or off a horse than most cowboy stuntmen. Over the years I worked a lot with Donna. I found her to be handy and dependable. I enjoyed working with her. She was the type of person you could rely on. When you do some of the stuff we did, that's important. I was extremely proud to present her a Golden Boot award in 2000."
Stuntman Whitey Hughes once told us, "She and I were on an 'Annie Oakley'…one of my earliest jobs. George Archainbaud was directing. Donna's doubling Gail Davis. We're out at Iverson's at that famous outlaw shack. I was doubling the Indian kid. Annie had stashed him out there to hide him away from the heavies who'd found out where the kid was. She's coming out to save him, leading a horse she wants the kid to get on and ride away. Now the sun was going down. Archainbaud was yelling, 'Let's go! We're losing the light!' Here Donna comes, flying by, leading the horse. I run out of the cabin, jump at this horse but the horse ran out from behind Donna. I hit the ground and broke my leg. I got up and Archainbaud said, 'You all right, Whitey? Got another one in you?' 'Yes sir!' even though I knew I broke my leg. I didn't know Donna too well then, but I said to her, 'Snub that horse up real close to you so he can't get away from you.' Donna was as good a horsewoman as you wanna get, as good as anyone in the business. She came ridin' by and I went out on the porch, jumped, scissored that old horse and rode out. Got back to the camera and my leg was swollen up so bad they had to cut the boot off me. Finally they got a car to take me down to Chatsworth! I got to know her real well. We worked together quite a bit. Donna was a wonderful person!"
Donna attributes her 40 successful years in the business to luck and good timing. She was lucky enough to work during the golden era of westerns. When Donna was not working on a movie set, she'd perform trick riding at rodeos in Boston, Detroit and Madison Square Garden. Donna's riding skill was seen by crowds of 110,000 people at the biggest rodeo ever at L.A. Coliseum.
Some of the many stars Donna has doubled include Doris Day, Barbara Stanwyck, Joan Collins, Judy Garland, Jane Fonda, Debbie Reynolds, Shirley Temple and Ginger Rogers.
Truly a pioneer, Donna Hall, one of the founding members of the Stuntwomen's Association and married ot top wrangler Jay Fishburn, has taught hundreds of actresses and actors how to ride. Her equestrian expertise can be seen in such films as "Sand", "Cat Ballou", "Little Big Man", "Long Ride Home", "Cheyenne Autumn", "The Rievers", "Calamity Jane", "Maverick Queen", "From Noon To Three", "Annie Get Your Gun", "Big Country", "Westward The Women", "Outcasts of Poker Flats", "Rare Breed", "How the West Was Won" and "The Violent Men". She's also stunted on almost every TV western series ever on the air: "Kit Carson", "Cheyenne", "Have Gun Will Travel", "Wanted Dead Or Alive", "Lone Ranger", "Buffalo Bill Jr.", "Zorro", "Sugarfoot", "Gene Autry", "Wyatt Earp".
One of the best, Donna Hall succumbed with complications from pneumonia at 74 on August 7, 2002.