DAVE SHARPE
Among professional stuntmen, including myself, Dave Sharpe is one of the most revered of names, in a class by himself as was Jock Mahoney, Yakima Canutt, Henry Wills and others who more than excelled in their often dangerous profession.
Born in 1910, the St. Louis, MO, native grew up in Hollywood becoming interested in all athletics, especially driving, fencing and tumbling, becoming such a proficient gymnast and acrobat he won the Olympic Tumbling Championship two years in a row ('26-'27). His father, a Cavalry Major at Ft. Riley, KS, taught him to ride.
His earliest appearance in film was at age 12, a bit in Douglas Fairbanks Sr.'s "Robin Hood" ('22). Davey, the maestro of the flying leap, later became Fairbanks Jr.'s coach and stunt double in the '40s and '50s, including the stunt laden "Sinbad the Sailor" ('47).
Davey entered the film business in earnest in 1929, appearing as a juvenile at Fox, Paramount and Hal Roach…where he starred in the first eight Boy Friends shorts released through MGM ('30-'31). One member of the Boy Friends group was Gertrude Messinger to whom Dave was briefly married.
Davey then starred in some low-budget, all action shorts for William Pizor in '34 ("Crack Up", "Wild Waters") after which producer William Berke hired him to co-star with former Boy Friends co-stars Mary Kornman and Mickey Daniels in three 'Our Young Friends' fast action features ("Social Error", "Adventurous Knights" and "Roaring Roads"). Still maintaining his stunt reputation, he even doubled for Harold Lloyd in this period.
Davey found steady employment in the western saturated '30s—his breezy personality co-starred with Bob Custer, Bob Steele, Jack Perrin, Rex Bell, Tom Keene, Kermit Maynard, Harry Carey, Fred Scott, Jack Randall and Bill Elliott.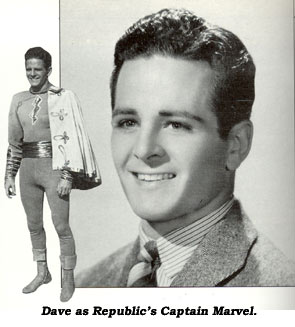 Davey's reputation as a stuntman began to flower when he joined Republic in '38 ("Dick Tracy Returns"), where, in addition to being co-hero in one of Republic's finest serials, "Daredevils of the Red Circle", he began to double their serial leads and take minor roles. Dave became a vital member of Republic's "stunt team" and worked in at least 27 of their 66 serials. His agility and smooth co-ordination can be spotted in "King of the Royal Mounted" and "King of the Mounties" (doubling Allan Lane), "Adventures of Capt. Marvel" (doubling Tom Tyler), "Adventures of Red Ryder" (doubling Don Barry), "Spy Smasher" (doubling Kane Richmond) and "Mysterious Dr. Satan" (doubling Robert Wilcox). In "Perils of Nyoka" Dave's stunting ability gained him top money on the serial of $350 a week. In his last serial before entering the Air Force, he really got a workout doubling for heroes, heavies, sidekicks and even Kay Aldridge in sequences not assigned to Babe DeFreest or Helen Thurston.
In 1941, veteran producer Ed Finney trio-cast Dave, LeRoy Mason and Chief Thunder Cloud in "Silver Stallion" at Monogram. Then when Ray "Crash" Corrigan temporarily left the Range Busters, Dave stepped in alongside John King and Max Terhune for four films in '42-'43. In one of the oddest B-westerns ever made, Dave actually exits "Haunted Ranch" midway to join the Air Force. Dave's leaving is explained away as suddenly joining Roosevelt's Rough Riders!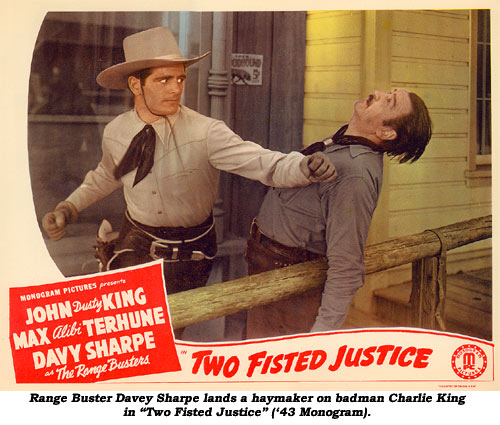 Distinguishing himself as a fighter pilot in WWII, Dave rose to the rank of captain. Returning to stuntwork after the war, he became one of the most sought after men in the business. His most notable post war acting was as a flashy gunman opposite Eddie Dean in "Colorado Serenade" ('46), but he was seen in many 3 Mesquiteers, Red Ryder, Roy Rogers and Monte Hale B's.
Throughout a six decade career Dave doubled for an amazing array of stars…Clayton Moore, Tony Curtis, Glenn Ford, William Holden, Alan Ladd and many a female star long before there were many women stunt professionals. Dave, with his ever present cigar, was a favorite of many directors…Bill Witney, John Huston, Jack Arnold, Blake Edwards, John Ford, Howard Hawks and others who often employed him as 2nd unit director.
When TV came in, it simply meant more work for the invaluable stuntman. He doubled Duncan Renaldo in "Cisco Kid", Guy Madison on "Wild Bill Hickok" and was often spotted on "Zorro" easily taking the most dangerous of tumbles and carrying off the trickiest riding scenes. It's estimated he worked on 4,500 shows throughout his career and somehow avoided a major catastrophe. He only incurred minor injuries and always bounced back with that amazing prowess of his.
At HoustonCon '73, Davey said, "Although I plan everything, I honestly believe Somebody up there likes me." Working for every studio in the business, some days Dave did stunts in five different movies or TV shows.
I only knew Davey late in his career and got to work with him on one of his last jobs. Director John Huston hired Davey to play a drunk who gets strung up by Paul Newman in "The Life and Times of Judge Roy Bean". "We were already on location in Tucson, AZ, when I heard Davey was on his way. I was naturally thrilled to meet him and sit around listening to all his yarns. It was a hoot being in his presence.
Shortly after this film was completed, Davey's health rapidly deteriorated and he checked into the Motion Picture Home with ALS and never recovered enough to check out. He passed away there March 30, 1980, at 70. A lot of us wanted to visit him, but he absolutely refused anyone an audience. He stated he did not want anyone seeing him down as he was.
David Sharpe was one of the best! Guys aren't coming along to replace these all-around stuntmen. Nowadays, most guys specialize in one thing and don't do it all like Sharpe, Canutt, Mahoney and the rest. Our saving grace is, we have our tapes to continually marvel at Davey's work. It was a special time in movie making when these guys were working, and it was a special treat for me to know and work with David Sharpe.