ALICE VAN
Most baby boomers grew up watching Roy Rogers and Dale Evans keep the West safe from bad guys. If you did, you also grew up watching Alice Van (Springsteen). Most of us just didn't know it at the time. Alice worked as Dale's stunt double in many of the Rogers/Evans big screen features and in about half of the duo's TV shows as well.
Alice and Dale remained close friends over the years. The two gals once went to Houston, TX, where the former stuntwoman was inducted into the Cowgirl Hall of Fame.
Born Alice Grace Van DerVeen in Denver, CO, July 12, 1918, Alice moved with her family at a very young age to Hynes, CA, where her father was in the cattle business. It was here her elder sister, Tilly, encouraged her into horsebacking, particularly trick riding, at about age 12. Tilly died at 19 when Alice was only 16, but Alice continued, moving to Chicago and making her debut during opening ceremonies at the 1932 Olympic games in L.A. and by 1933 was crowned World's Champion trick rider.
She continued performing fancy horse tricks at Cheyenne Frontier Days, Madison Square Garden and other top rodeos. She also excelled as a jockey and was the third woman to receive a trainer's license for thoroughbred horses. In 1937, at 18, she was invited by the Queen of England to ride in the annual Royal Easter Show in Australia, where she was the only American in the show.
Upon her return to the states, an offer came from 20th Century Fox where she doubled Dorothy Wilson in Will Rogers' "In Old Kentucky" ('35). After 6 months at Fox, Alice moved to Warner Bros. where, unbeknown to her at the time, she rode the most famous horse in movie history, Golden Cloud, as she doubled Olivia De Haviland in "Robin Hood". Of course, as we know, the horse eventually had a name change and became Roy Rogers' Trigger.
Alice also appeared in the entire Dick Foran WB western series. Lovely and talented, there was a time when Warner Bros. contemplated moving Alice from anonymity to stardom in an 'Annie Oakley' movie. Alice went to dramatic school at the studio and learned fencing—but gave that up when her instructor got too fresh with her and she whacked him for his trouble. Telling her not to come back, Alice returned to what she knew best…making famous actresses look good in the saddle.
Alice went on to double many recognized stars: Elizabeth Taylor in "National Velvet", Marion Davies, Jane Wyman, Ingrid Bergman, Ann Sheridan, Ava Gardner, Bette Davis, Doris Day, Susan Hayward, and Barbara Stanwyck in some "Big Valley" episodes.
Alice joined Republic circa 1944. This was the start of her life long friendship with Dale Evans. Alice doubled Dale almost exclusively during Dale's tenure at the studio. At one time Dale and Alice shared a house in Moorpark. Alice also doubled Peggy Stewart, Estelita and other Republic leading ladies. When Roy went into TV production, Alice joined the company, appearing in approximately half the episodes, mostly doubling Dale.
Alice worked on other TV series: "Annie Oakley", "Trackdown", "Wanted Dead or Alive", "Zane Grey Theatre", etc.
In '60 she married prolific director R. G. "Buddy" Springsteen, remaining married until his death in '89.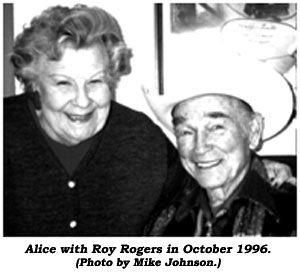 In the late '50s, Alice and Dale moved on to different professional projects, keeping in touch by telephone but not seeing each other for many years. It wasn't until '70, when Alice and her husband were having dinner at an Apple Valley restaurant, that Roy Rogers ran into them. He called Dale and the friendship was rekindled.
Alice was a guest at the Lone Pine Film Festival in '97 where a lot of her admirers got a treat listening to her stories during the stunt panel. Alice Van Springsteen, another of the unsung heroines of the stunt profession who always gave her all to make the shot and the actress she was doubling look better, died at 90, September 13, 2008, at a convalescent center in Point Loma, CA.