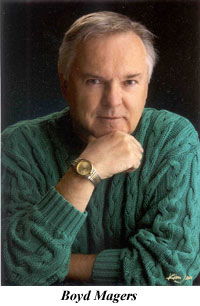 Knowledgeable about all phases of western films, noted western film and TV series author / researcher / publisher Boyd Magers is available in a variety of capacities to aid you in your western related projects.
As a respected panel moderator, over the last 15 years Magers has organized and moderated over 150 western celebrity guest star panel discussions and symposiums at various film festivals in Lone Pine, CA; Memphis, TN; Tombstone, AZ; Kanab, UT; Victorville, CA; Phoenix, AZ; Knoxville, TN; Charlotte, NC; Apache Junction, AZ; Sonora, CA; the Autry National Center in California; Herbert Hoover Presidential Library in Iowa and the Clinton Presidential Library in Arkansas.


For many of these western events he has contacted and booked the various western celebrities for their appearances.


Owning a vast collection of western movie and TV related memorabilia (various personal items belonging to everyone from William S. Hart to Clint Eastwood) Magers has staged memorabilia exhibits at the Clinton Presidential Library, the Herbert Hoover Presidential Library (twice) and the Kansas Historical Center.


From his vast knowledge of western film and TV series and 40 years of accessible research material, Magers has written and provided research (and often photos) for dozens of authors for individual books on westerns (including LEONARD MALTIN'S CLASSIC MOVIE GUIDE, SHOOT 'EM-UPS, VIDEO MOVIE GUIDE, FILMS OF HOPALONG CASSIDY, TIM HOLT, THE JIMMY WAKELY STORY, L.A. TIMES obituaries, FEATURE PLAYERS, and dozens more) as well as TV and straight-to-video documentaries on Gene Autry (for the Westerns Channel), John Wayne, Pioneertown, Dick Tracy, Roy Rogers (for "Entertainment Tonight"), Tombstone and Wyatt Earp, Charles Starrett, "TV's Greatest Heroes" and others. Magers also provides personalized research on a one-on-one level.


As an author Magers has written
WESTERNS WOMEN ('99)
LADIES OF THE WESTERN ('02)
SO YOU WANNA SEE COWBOY STUFF ('03)
THE FILMS OF AUDIE MURPHY ('04)
BEST OF THE BADMEN ('05), and
GENE AUTRY WESTERNS ('07).
He has also written and published
WESTERN CLIPPINGS,
a bi-monthly western film newsletter, since 1994 (over 82 issues) along with one-shots
TOP 100 COWBOYS OF THE CENTURY,
THOSE GREAT B-WESTERN LOCATIONS,
WESTERN MOVIE THRILLERS and
WESTERN LADIES #1-5.
Additionally, Magers wrote and published 33 issues of
SERIAL REPORT
from '99-'07 as well as dozens of articles since 1977 on western film stars in
COUNTRY STYLE,
BIG REEL (a regular column for eight years),
COUNTRY AND WESTERN VARIETY,
UNDER WESTERN SKIES,
FILM COLLECTOR'S REGISTRY,
CLASSIC IMAGES (a regular column for three years),
MOVIE COLLECTOR'S WORLD,
SONG OF THE WEST,
GENE AUTRY'S FRIENDS,
COWBOY COLLECTOR,
NOSTALGIA WESTERNS,
WILDEST WESTERNS,
and many more.


Drawing on his radio broadcasting background, Magers serves as co-host about once a month on KSAV (San Ramon, CA, and internet) radio's "Talking Television" with Dave White. Magers interviews a western TV series related star for an hour.
Born in Kansas City, Kansas in 1940, Magers grew up in Chicago, IL, Independence, KS, and Ponca City, OK (near the famed 101 Ranch), served two years in the U.S. Army with the Armed Forces Radio Network in Korea, then spent over 15 years ('62-'77) as Program Director/Music Director/DJ at various radio stations around the country under the air name of Alan Boyd before beginning the well-established VideoWest, Inc. in 1977, distributing film and TV westerns to collectors all over the world.
Now, Magers' over 40 years of knowledge, experience and research is at your fingertips for anything western film related, be it panel/symposium booking/moderating, research consultant, writing projects, radio interviews, memorabilia displays—simply contact Boyd Magers at (505) 292-0049. 1312 Stagecoach Rd SE, Albuquerque, NM 87123.