9-21-15—Jack Larson, 87, best known as Jimmy Olsen on "Superman", died September 20 at his Brentwood, CA, home. Was in two westerns, "Redwood Forest Trail" w/Rex Allen and "Star of Texas" w/Wayne Morris.
9-18-15—Legendary stuntwoman May Boss, 90, died September 16. Beginning as a rodeo trick rider, her first film was "The Story of Will Rogers" ('52). In her 51 year career hundreds followed including "Fort Dobbs", "Westbound", "How the West Was Won", "Nevada Smith", "Silverado", TV's "The Monroes" and others. Complete tribute in WC #128 (Nov./Dec.).
9-10-15—Dickie Moore, 89, best known to Western fans as "Cody of the Pony Express" in the 1950 Columbia serial that co-starred Jock Mahoney, died September 10.
9-7-15—Martin Milner, 83, star of "Route 66" and "Adam-12", died September 6. Born in Detroit he came to movies and TV in '47. Westerns include "Springfield Rifle", "Gunfight at the O.K. Corral" and several TV westerns.
9-7-15—The "Laugh-In" Sock-It-To-Me girl, Judy Carne, 76, died September 3. Married to Burt Reynolds from '63-'65. Seen on "Gunsmoke", "Bonanza", "Big Valley", "Alias Smith and Jones", "Cade's County".
9-7-15—Dean Jones, 84, best known for a slew of Disney films, died September 2 of Parkinson's disease. Seen on "Zane Grey Theatre", "Bonanza" and other TV westerns.
8-22-15—Melody Patterson, Wrangler Jane on "F-Troop", 66, died August 20 after multiple organ failure at a nursing home.
8-22-15—Anna Kashfi, 80, Marlon Brando's first wife, died August 21 in Kalama, WA. Co-starred with Glenn Ford in "Cowboy" and was on "The Deputy" and "Bronco".
8-19-15—Yvonne Craig, 78, best known as Batgirl on TV's "Batman", died August 17 from breast cancer that metastasized to her liver. Craig was seen on "Bronco", "Tales of Wells Fargo", "Laramie", "Wild Wild West" and other TVers.
8-4-15—Respected actress Coleen Gray, 92, died July 3 of natural causes. Seen in many classic Westerns including "Red River" w/John Wayne, "Fury at Furnace Creek" w/Victor Mature, "Apache Drums" w/Stephen McNally, "Arrow in the Dust" w/Sterling Hayden and dozens of TV Westerns. See interview here.
11x8 1/2" Coil Bound Wall Calendar
$24 Postpaid in U.S.
(Foreign inquire)

LIMITED PRINTING! ORDER NOW!
WESTERN CLIPPINGS
1312 STAGECOACH RD SE
ALBUQUERQUE, NM 87123
12 ALL-TIME FAVORITE TV WESTERN SERIES—
"Bonanza", "Tales of Wells Fargo", "Laramie", "Have
Gun Will Travel", "Maverick", "Gunsmoke",
"Rawhide", "Virginian", "Sugarfoot",
"High Chaparral", "Wagon Train", "Cheyenne"
Please note we have just added more lobby cards for sale.
Listings for films starting with "P" thru "Z" are now posted. Also several new Gene Autry lobby cards under various letters have been added.
We also now have a page of Sunday and Daily comic strips dating from 1904 on up for sale. Please take a look! More will be added continually.
Be sure to check out our new Western Artifacts section including a radio interview with Will "Sugarfoot" Hutchins. More artifacts added frequently.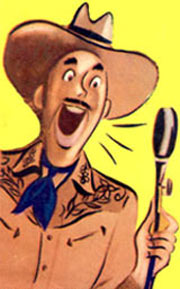 Welcome to Western Clippings, an online supplement to our print version of WESTERN CLIPPINGS which is now in its 20th year. (Click on "Subscribe to WESTERN CLIPPINGS" in our menu.)
For current subscribers of our magazine, this website in no way changes our print edition six times a year.
This website will be a constantly updated, evolving site, with new articles, reviews and sales items added continually. Look for new articles and photos in the "Do You Remember…", "Comic Book Cowboys", "Will Hutchins—A Touch of Hutch", "Serial Report", "Characters and Heavies", "An Interview With…", "Best and Worst of the Silent Westerns", "Western Treasures" and "Film Festival Fotos" sections to be added regularly, with already posted articles always available in our archives for each section.
Sales material—original movie posters (western and non-western), lobby cards, and much more will all be available for purchase as well as superb high quality laser copies made from our extensive collection of over 5,000 western lobby cards. We'll also have thousands of toys, books, magazines, collectibles and miscellaneous other memorabilia for sale. We hope you'll keep coming back to this site as new material will be added to all categories continually.
We also have a section enabling you to order direct from us several of our books devoted to westerns. You may also subscribe to our print edition of WESTERN CLIPPINGS and purchase available back issues of WC and SERIAL REPORT.
This "home page" will be devoted to news and information about upcoming western film festivals, western star obits, movie news and other immediate information that will be covered in more detail in subsequent print issues of WC.
We hope you'll put www.westernclippings.com into your "Favorites" and visit us often.
Thanx and enjoy—
Boyd Magers
© Entire contents of this website and all pages copyright by Boyd Magers 2008-2013.